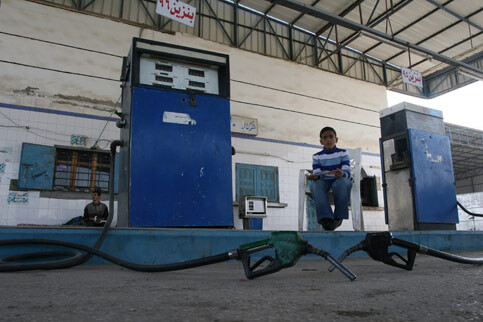 With the majority of gas stations closed in Gaza due to the escalating fuel crisis, a group of local Gaza taxi drivers shared the fuel in their cars' tanks, for the sake of going back home, rather than earning a living under already dire economic conditions.
Majed Abu Sam'an, a driver of a Hyundai taxi minibus, was parked along with other drivers in mid-day Tuesday, 4 December 2007, siphoning gasoline from his car's tank into that of another.
"We are helping him so he can go back home, as he has been stuck here in Gaza City since the early hours of morning. We went to all the gas stations but they were closed, no fuel to buy," says Abu Sama'an, amongst idle drivers at a taxi stop, near Gaza's Shifa Hospital.
Next to the hospital lies one of the largest gas stations in the city, al-Khuzendar station.
On the roof of the station is a newly installed, well-dressed scarecrow, slightly different from his cousin who can be seen in farm fields to keep birds away.
This scarecrow is not meant to frighten passersby, but apparently to attract people's attention to the fuel crisis. It was accompanied by many posters affixed to fuel machines reading, "No gasoline, no benzene, no gas."
The well-dressed roped scare crew is labeled, "the responsible."
Ma'moun al-Khuzendar, the station owner and a member of the gas station syndicate in the Gaza Strip, explained, "This is a message of protest to all those responsible for our current fuel crisis. Those who are responsible should be held accountable, as we are being forced to close down our stations and stay idle."
Al-Khuzendar's station is not a unique case. The majority of Gaza's stations have been shut down as well.
The current crisis began in October when Israeli Defense Minister Ehud Barak ordered large cuts of fuel supplies to the coastal region in what he said was an attempt to prevent Palestinian resistance factions from firing homemade shells onto nearby Israeli towns. The fuel cuts shortly followed the Israeli cabinet declaring Gaza an "enemy entity" on 19 September 2007.
Al-Khuzendar said, "Israel used to supply the Gaza Strip with almost one-third of its daily fuel needs, estimated at 160,000 liters. But on Sunday, the Israeli authorities further reduced the amount to 90,000."
The reduced amounts have prompted the gas stations to shut down to protest to the Israeli measure, said al-Khuzendar.
"Ninety-thousand liters would never meet the needs of life here; we don't have other alternative sources of energy, we do not have coal or wood. We are dependent on gasoline for all aspects of daily life," al-Khuzendar added.
He explained that the syndicate of gas traders made all possible contacts in order to smoothly resolve the crisis, yet there was no response to their appeals so they decided to refuse the reduced amounts.
The shortage of fuel in Gaza has also caused other sectors to protest, as scores of medical workers marched in the streets today for concern over the crisis' possible impact on essential health care.
Gaza's hospitals have been reportedly scaled back health services due to the crisis.
In response to the standoff, Israeli and Palestinian human rights groups have filed an injunction against the measures with the Israeli high court, arguing that the fuel cuts harm Gaza's civilian population.
The Israeli high court ruled last week that Israel's October decision to reduce fuel supplies to the Gaza Strip should remain and the ruling found that the policy does not pose harm to the civilian population.
The fuel cuts are but one of a series of punitive measures imposed on Gaza after the "enemy entity" declaration. Israel has maintained its closure of the Gaza Strip and increased military strikes ostensibly in reaction to the launching of homemade rockets from the Hamas-ruled strip onto nearby Israeli towns.
Several human rights groups have described Israeli polity one of "collective punishment," while United Nations Secretary-General, Ban ki-Moon has urged Israel to reconsider such actions.
Rami Almeghari is currently contributor to several media outlets including the Palestine Chronicle, aljazeerah.info, IMEMC, The Electronic Intifada and Free Speech Radio News. Rami is also a former senior English translator at and editor in chief of the international press center of the Gaza-based Palestinian Information Service. He can be contacted at rami_almeghari at hotmail.com.
Related Links