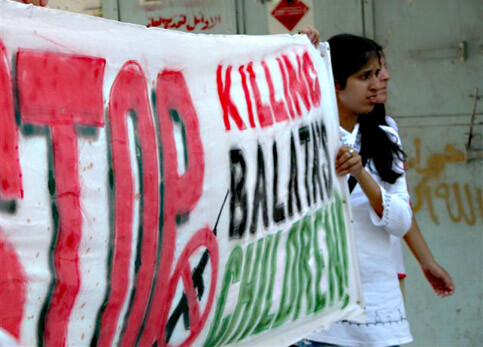 Israeli and Palestinian authorities must take concrete steps to put an end to the suffering of Palestinian women, who have been affected in every aspect of their lives by the conflict, Amnesty International said in a report published today.
"Palestinian women have borne the brunt of the escalation of the conflict and decades of Israeli occupation, while in Palestinian society they are subjected to a system of laws and norms that treats them as unequal members of society," said Amnesty International.
The report Conflict, Occupation and Patriarchy: Women Carry the Burden examines the impact on women of the spiralling violence and unprecedented level of restrictions of movements imposed by Israel on Palestinians in the Occupied Territories, as well as increased violence against women in the family and discriminatory laws and practices.
Sweeping restrictions have led to unprecedented levels of poverty, unemployment and health problems for the entire Palestinian population in the Occupied Territories. Mobility restrictions, refusal or delay of passage at Israeli army checkpoints, blockades and curfews, have caused multiple complications for women in need of medical care, and in some cases have even resulted in the death of patients.
Scores of women have been forced to give birth at checkpoints, by the roadside, and several have lost their babies because Israeli soldiers denied them passage. The fear of not being able to reach hospital in time to give birth has become a major source of anxiety for Palestinian women throughout the Occupied Territories. Rula Ashtiya was forced to give birth on a dirt road by the Beir Furik checkpoint after Israeli solders refused her passage, on her way to Nablus hospital. Her baby died a few minutes later:
"…At the checkpoint there were several soldiers; they ignored us…. I crawled behind a concrete block by the checkpoint to have some privacy and gave birth there, in the dust, like an animal. I held the baby in my arms and she moved a little but after a few minutes she died in my arms."
"Israel as an occupying power has an obligation to ensure adequate medical care for Palestinians in the West Bank and Gaza Strip, and especially pregnant women, according to the Fourth Geneva Convention, but Israel has consistently disregarded its obligation and the army has often impeded access for Palestinian women, children and men to healthcare facilities" said Amnesty International.
Medical organizations are concerned at the high percentage of pregnant women suffering from anemia and at the low rate of survival for women suffering from breast cancer in the Occupied Territories.
"Blockades and restrictions imposed by Israel have also had other negative consequences for Palestinian women, impeding their access to work and education facilities, and isolating them from their families and support network. This has been particularly detrimental for women who live far from their families and who are experiencing difficulties or abuse in their marital relationships," said Amnesty International.
More than 4,000 homes and vast areas of agricultural land have been destroyed by the Israeli army since end of 2000, leaving tens of thousands of Palestinians, most of them women and children, homeless and destitute. Women have been particularly affected by house demolitions and by the increased tensions which often develop within the families as a result.
The report signals that violence against women in the family has increased in the past four and a half years, as increased militarization of the conflict and the ensuing deterioration of the security and economic situation have exacerbated existing problems of gender inequality and control of women by males in Palestinian society.
Existing laws discriminate against women and provide little or no protection to victims of family violence, Palestinian law enforcement and judicial institutions have often been unwilling or unable to enforce the law, and Palestinian security forces have largely been largely incapacitated by the Israeli army. Moreover, in the current situation of conflict and increased external threat it has been more difficult for victims to complain about issues concerning family violence and "honour", which are considered as a private matter in Palestinian society.
Although there are no reliable statistics, violence against women in the family, including sexual abuse, rape and so-called "honour" killings in the Occupied Territories have reportedly increased in the past four and a half years but often those responsible for such killings have not been brought to justice.
Palestinian women and girls at risk of being killed by their families, have often been unable to escape to safety because of blockades and restrictions imposed by the Israeli army.
Rufayda Qaoud, aged 17, was raped by two of her brothers and when her family discovered that she was pregnant, she was killed by her mother. The mother, who contends that she had to kill Rufayda to protect the family's "honour", has not been prosecuted.
"The PA must take measures to eradicate violence against women and to prevent, investigate and punish violations against women," said Amnesty International. "They must reform all legislation discriminating against women including articles in the Penal Code which provide for lenient punishment for crimes committed on the grounds of 'honour' or exemption from punishment for rapists who marry their victims."
Israel must put an end to the regime of blockades and restrictions as currently imposed in the Occupied Territories, ensure prompt passage and access to adequate medical facilities for pregnant women and others in need of medical care, and stop the destruction of Palestinian homes and property.
To download the full report click here.
To take action click here.
Related Links
Conflict, Occupation and Patriarchy: Women Carry the Burden (

PDF

) Amnesty International (March 2005)