Kufr Sur is an isolated village of 1000 people situated between Qalqilya and Tulkarem in the West Bank. The bulldozing for the Apartheid Wall has begun, totally destroyed 10 thousand dunums of land belonging to 53 families. All this destruction was just to build the 10 kilometers of wall in this area!

In this area, the Wall is being built far inside the Green Line, cutting directly through Palestine.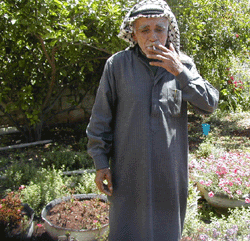 The people of Kufr Sur had already lost much of their land when the settlement Sal'eet was built virtually on top of the village houses, separating the villagers from their lands. From the edge of Kufr Sur, the settlement is much less than a stone's throw away.

The settlement exists inside an electric fence and does not use the land it has occupied, which remains on the other side of its fence. Nevertheless, the settlers persist in preventing the people of Kufr Sur from tending to this part of their land.

The Apartheid Wall is the latest in many catastrophes for this village. The land to the west of Kufr Sur is rocky, mountainous and not fertile. It's a real disaster that the fertile land to the east has been bulldozed for the wall, and annexed into "Israel".
The Apartheid Wall also totally divides Kufr Sur from Tulkarem, where many villagers work. "They are going to make a siege along the road," says the High School English teacher, Abu Qusai.

"We want to complain to the whole world. Our problem is getting bigger and bigger. Where will we go just to live in peace? Today is better than tomorrow. The wall will isolate us from our lands, put us out of work and we will suffer in the future."

"We hoped that the settlement will be removed in the future as it is an obstacle between the village and its lands. But, instead, the Wall! This problem is not for our generation but will go on into the future," says Abu Qusai.

"We are going to be transferred in the future to another country. This is a border, not a security fence. We Palestinians insist on living in peace and security but instead we live like animals in this part of the world. Israeli soldiers forbid any one of the Palestinians to do anything without permission, although we are people. They have decided to dismiss us out of our land, says Abu Qusai."
Khadija is one villager who lost all her land because of the Apartheid Wall. She is a widow with several handicapped children to support. Now Khadija has only the small piece of land next to her house to plant crops to feed her entire family. She wept openly throughout our interview. Her 32 year old son says he has lost his future. "We are nine people in a small house, and we are hurting psychologically". He was building a house. Now he cannot complete it.

Abu Qusai is angry and does not know what can be done. "You have a report now that we complain about this. Will you give us a case of wheat or flour or rice? Is this the end of the problem? My land is my soul. Can you return my soul to me? No, the land needs to be returned back to its owners! We have to struggle. But things are uncertain."