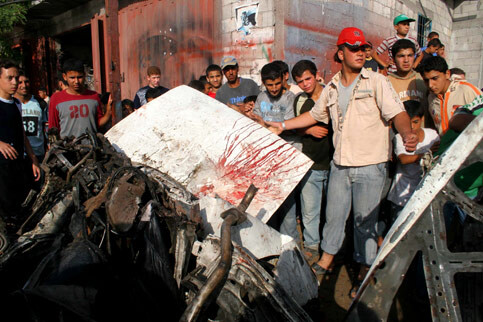 The Israeli Occupation Forces (
IOF
) launched two air strikes on targets in the Gaza Strip yesterday. Two attacks targeted a metal workshop in the middle Gaza refugee camp of al-Maghazi, killing four Palestinians and destroying the workshop. Earlier, another attack targeted a car in south Gaza's town of Khan Younis, killing three.
According to the Center's initial investigations, at approximately 8:10pm on Saturday, 30 June 2007, an Israeli warplane fired a missile at a metal workshop in the al-Maghazi Refugee Camp when the owners and workers were inside it. Four Palestinians were killed. They were identified as:
46-year-old Salah Abdul-Hafiz Quffeh;

24-year-old Iyad Salah Abdul-Hafiz Quffeh;

46-year-old Samir Ali Abu Musallam; and

22-year-old Ali Ahmed Al Aidy.
Two others were also injured in this attack: 25-year-old Said Al Belbeisi, and 23-year-old Imad Salah Quffeh. The latter was reported to have sustained serious injuries.
About three hours later, an IOF's F-16 fighter attacked the same 1,000-square-meter workshop again, destroying it completely. This attack caused varying damages to many adjacent homes and structures, including the building of al-Maghazi Municipality.
At approximately 5:15pm on the same day, an IOF warplane fired a missile at a car on the al-Sikka Street in the center of Khan Younis hitting it directly. This attack destroyed the car and killed the three Palestinians who were inside it. Seven passersby were injured. Those who were killed were identified as:
24-year-old Ra'id Fuad Ghannam;
42-year-old Ziyad Shaker Ghannam; and
38-year-old Muhammad Khamis Al Ra'i.
Al Mezan Center for Human Rights strongly condemns
IOF
's wanton extra-judicial killings and targeting of civilian objects in dense neighborhoods in Gaza. This conduct is indicative of flagrant disregard of Israel's obligations as an occupying power under international humanitarian law (
IHL
), which absolutely prohibits targeting civilians and civilian objects and the excessive use of unnecessary, disproportionate of force. It further constitutes a violation of the internationally acknowledged human rights standards, which oblige all states to respect and protect human rights in all the territories under their effective jurisdiction and control.
Al Mezan Center highlights that IOF's attacks aggravate an already grave situation in Gaza owing to its continued sealing off of Gaza, illegal grabbing of land and exhaustion of Palestinian resources in the West Bank and — together with the international donors — imposing sanctions. These measures have created a serious economic setback and a humanitarian crisis; both of which infringe on Palestinians basic rights; especially the rights to life, to food, to health, to education and to adequate housing. The intensity of the implications of this crisis increase every day and put at risk the most vulnerable and weak in OPT.
As such, Al Mezan reemphasizes that international law obliges Israel to uphold IHL and IHRL in its treatment of the Palestinian population under its occupation in OPT. The Center calls on the international community to provide effective protection for all Palestinians in the OPT, which constitutes one territorial unit, and to take all the necessary measures to respect the moral and legal obligations towards them.
Related Links