This week, people around the world will sing "O little town of Bethlehem" and say "peace on earth, goodwill to all people." However, in the land where Jesus was born, there is no peace and people suffer from daily violence. Imagine if, today, Joseph and Mary would leave from Nazareth to Bethlehem. Would they manage to arrive in time for their son's birth? Would they be allowed to pass through various checkpoints and roadblocks?

Joseph and Mary would have to travel through Jenin, Nablus, Ramallah and then south through Jerusalem to finally reach Bethlehem. It is doubtful whether they would reach Bethlehem. All entry and exit points to the West Bank and Gaza, even mountainous paths and dirt roads, have been closed. Israel's siege takes the form of over 150 military blockades that have been erected throughout the West Bank.

If Mary and Joseph were to arrive in Bethlehem, not only would they need permits to pass the roadblocks and checkpoints, but they would also have to make a detour to get into the town. The main historic street leading into Bethlehem is being completely cut off by Israel's Wall. The main entrance to Bethlehem is also being cut off, making way for settlements, displacing more Palestinian families and separating others from their olive groves.

Surrounded by Israel's Wall on two sides and with many restricted roads and roadblocks, Bethlehem has become a prison. The illegal barrier cuts through several kilometers of Bethlehem and it is expected to stretch across more than 420 miles. With one quarter completed, the barrier has already disrupted the lives of thousands of Palestinians who have been cut off from their lands and have been prevented from reaching other villages and population centers.

To a visitor wishing to reach the holy sites in Bethlehem, the concrete barrier erected at the entrance of the city is the most visible manifestation of its physical separation from other towns and villages. For Palestinian residents of Bethlehem, the Wall is the latest of a series of restrictions, including dirt mounds, road gates, checkpoints and roadblocks - known collectively as 'closure' – that have been implemented over the past decade and which cut the historical road that connects Jerusalem to Bethlehem and Hebron in the south.

Joseph and Mary would arrive at a town surrounded by a combination of nine Israeli settlements, a stretch of the Wall, roads restricted to Israelis and a multitude of checkpoints, earth mounds and roadblocks. Approximately 78 physical obstacles surround Bethlehem today, along with the Wall, which is nearing completion along the northern and western sides of the city.

Instead of a bustling cultural and spiritual center hosting tourists and pilgrims from around the world, Joseph and Mary would experience Bethlehem as an isolated town, with boarded up shops and abandoned development projects. The age-old link between Jerusalem and Bethlehem is nearly severed as a result of Israeli policies including settlements, a great number of physical barriers and roads restricted to Israelis.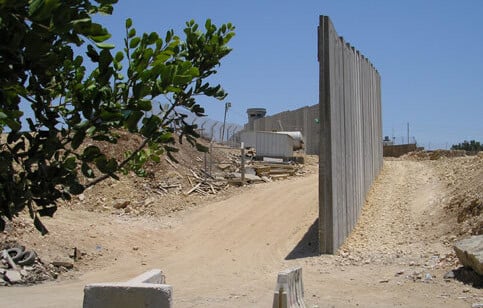 Without a political settlement that can remove the host of physical obstacles, including the Wall, and the influence of Israeli settlements, the future for Bethlehem residents looks bleak. Restricting access to Jerusalem's and Bethlehem's holy sites runs the risk of aggravating religious divisions in an area that has historical and religious importance for those of the Christian, Muslim and Jewish faiths alike.

Joseph and Mary would find little reason to rejoice this Christmas in Bethlehem, which has seen nearly a tenth of its' Christian population go abroad in the past four years to escape the town.

If Joseph and Mary would finally be able to reach Bethlehem, they most probably would not have a hard time finding a place to stay. Most hotels are empty, closed, shelled or burnt. There are no tourists and the Nativity Church, built on the spot where Jesus was born, is empty. The tourism industry in the birthplace of Jesus had been strangled by Israel's restrictions on the movement of visitors. A total of 2071 Palestinian Christians from the region have gone abroad since September 2000. In the past four years 28 hotels, 50 restaurants and 240 souvenir workshops have closed.

While the world sings "peace on earth", Palestinians living in Bethlehem are not allowed to go to work, school, or hospitals. They might be able to see light stars in the sky above the town, however, there is a great chance that they might see Israeli Apache helicopters instead.

Arjan El Fassed is one of the founders of the Electronic Intifada. Annet Meeuws lived in the occupied territories from 2001-2002. This article is an updated version of an op-ed they both wrote in December 2001, "From Nazareth to Bethlehem, anno 2001", which was published in Ha'aretz, Frankfurter Zeitung, Seattle Post-Intelligencer, El Pais, Rocky Mountain News, Berliner Morgenpost, Cronica, and NRC Handelsblad.

Related Links