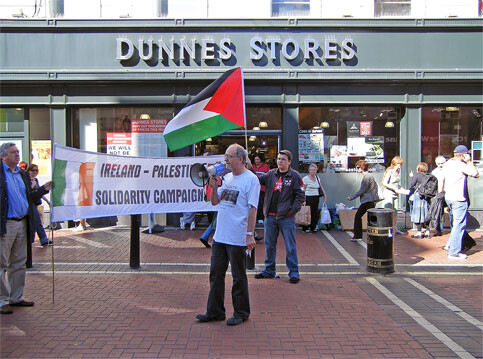 Shops and supermarkets across Ireland were picketed on Saturday as the Ireland-Palestine Solidarity Campaign (
IPSC
) commemorated the anniversary of the Sabra and Shatila massacres with a National Boycott Israel Day.
IPSC members targetted retail outlets in Dublin, Belfast, Cork, Limerick, Galway and Sligo, to send a message to Irish retailers that continuing to trade with Israel while it obliterates Palestine is grossly unethical and gives both financial support, succour and legitimacy to Israel's escalating and unchecked violations of Palestinian human rights. The National Boycott Day was also intended to educate consumers as to the extent of Israeli goods in their shops.
Irish supermakets, all year round, stock a wide range of Israeli fruit and vegetables. Disgracefully, over the last six years, as Israel has killed thousands of Palestinian civilians and devastated the Palestinian economy and society, Irish trade with Israel has increased exponentially. A full 3,000 tonnes of Israeli vegetables have been imported to this country since Israel escalated its violent crackdown on the Palestinian civilian population starting in 2000.
Yet there are impressive precedents for a successful boycott movement in Ireland. Indeed, in 1880, the first person to be placed in this "moral Coventry", to be isolated "from the rest of his kind as if he were a leper of old," was an Irish landlord named Captain Charles Cunningham Boycott. A century later, the Irish Anti-Apartheid Movement led a hugely popular boycott campaign against Apartheid South Africa.
This movement originated in 1984 with the refusal of Dunnes Stores workers to handle South African goods. Today, many of the stalwarts of that campaign, including a number of past chairmen of the IAAM, and some of the original Dunnes Stores strikers, have lent their support to the campaign to isolate Apartheid Israel.
For its associations with this first Anti-Apartheid movement, and because it is the larget Irish-owned supermaket chain, Dunnes Stores has been chosen as the symbolic focus of the IPSC's efforts to remove Israeli goods from Irish shelves. On Saturday the campaign to boycott Israeli goods was re-launched, with guest Palestinian and Israeli speakers, outside a Dunnes Stores outlet in the centre of Dublin.
Speaking at the event, the IPSC's Raymond Deane recalled the example of the courageous strikers of 1984, and called on workers again to refuse to deal with goods tainted by racism and oppression. Ali Abunimah, co-founder of EI, said that nearly 200 Palestinian civil society organizations, including trade unions, professional associations, women's organizations and student bodies had appealed to the world to stand in solidarity with them by taking boycott actions. Abunimah pointed out that there are over 10,000 Palestinian political prisoners including many of their democratically-elected representatives kidnapped and held hostage by Israel, as millions of Palestinians live under Israeli siege and curfew, deprived of food, employment, medical care and other basic freedoms. He said that people in Ireland could through peaceful, principled actions and individual choices help bring freedom to Palestine for all Israelis and Palestinians, just as they helped bring freedom and reconciliation to South Africa.
Finally, Angela Godfrey-Goldstein, of the Israeli Committee Against House Demolitions, stressed that there was no movement within Israel capable of forcing Israel to relinquish its oppressive control over Palestinians, and that while Israel enjoys impunity from world governments, it falls on civil society to boycott and isolate it in order to ensure its compliance with international law. She added that once this system of oppression is dismantled, there is no obstacle to Palestinians and Israelis living together in harmony and cooperation.
As well as this re-launch, other shops across Dublin and throughout the country were picketed all day by IPSC supporters. Some pickets simply involved leafletting customers as they went into the shops, while others took the form of boycott actions, with volunteers filling baskets and trolleys with Israeli goods, bringing them to the till, and loudly demanding that they no longer be sold.
IPSC members have been encouraged by the sympathetic response to such actions, not only from customers, but in many cases also from staff and even management. Coinciding with a call by Irish academics for a moratorium on EU aid to Israeli academia, National Boycott Day was yet another indication that people are beginning to listen to the call from Palestinians, and that Apartheid Israel is finally en route to isolation.