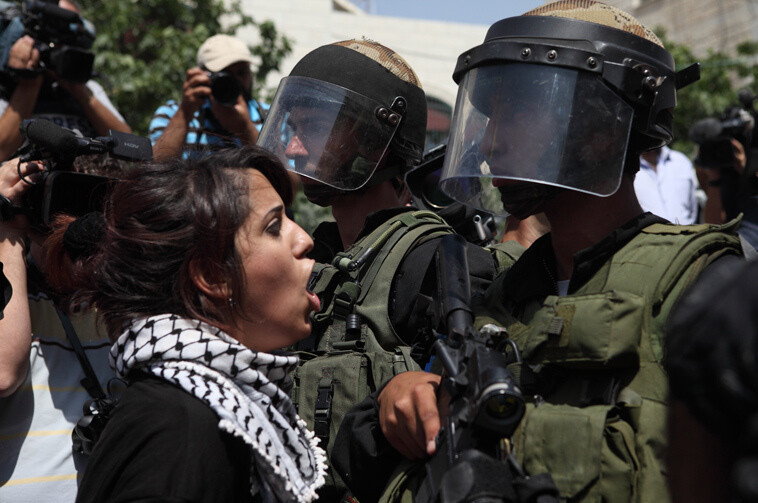 BEIT HANOUN, occupied Gaza Strip (IPS) - It is a scene replayed weekly in Palestine. In Gaza, groups of chanting demonstrators walk towards the boundary with Israel, singing, chanting, dancing. Ayat al-Masari, 20, walks with the masses. An English major at Gaza's Aqsa University, the young woman is among many women who regularly attend Palestinian protests.
"I joined this demonstration and the one on Nakba Day because I am Palestinian and we have been refugees for over 60 years," she says referring to the 1948 forced expulsion of approximately 750,000 Palestinians from their land to make way for the Jewish State of Israel. Smiling but firm, the young woman voices what Palestinians have been saying for decades: "We suffer from the occupation; it is time for it to end."
While the protests throughout many Arab nations are being called a Facebook revolution and are analyzed as movements of the frustrated and Internet-savvy youth of oppressed countries, the protests in Palestine are extensions of protests past, the continued call for justice, the end of the Israeli occupation and the right of Palestinian refugees to return to their land.
The latter right is enshrined in various United Nations resolutions, including UN Resolution 194 passed the year of the Nakba, Resolution 242 passed in 1967, the year of the Naksa or "setback," and Resolution 3236, passed in 1974 and stating "the inalienable right of the Palestinians to return to the homes and property from which they have been displaced and uprooted, and calls for their return."
History of popular struggle
During the first Palestinian intifada (uprising), Palestinians used techniques like nonviolent protests, as well as general strikes, and boycotts of Israeli goods to protest the Israeli occupation and control of Palestinian land.
Since mid-2000, Palestinians in the occupied West Bank, including East Jerusalem, have organized weekly nonviolent protests against the wall Israel is building throughout the West Bank and against assaults and house-occupations by Israeli colonists.
Since 2008, unarmed demonstrators in the Gaza Strip have protested Israel's imposition of a "buffer zone" of 300 meters along Gaza's boundary with Israel, opposing the no-go zone itself and the reality that Israeli soldiers shot on Palestinian farmers and civilians even up to two kilometers from the boundary.
As a result of these protests, many have been killed and hundreds wounded, many seriously, by Israel's firing of live ammunition, and close-range firing of rubber-coated steel bullets, tear gas canisters and sound bombs at unarmed protesters' bodies and heads. Basem Abu Rahme, 29, from Bilin village near Ramallah, was one of many who was killed when an Israeli-fired, high-velocity tear gas canister struck him in the chest when fired from just forty meters away.
The 15 May 2011 Nakba Day demonstrations saw more than a thousand Palestinians protest near Erez in Gaza's north, as well as thousands more along the Lebanese and Syrian frontiers and in the occupied West Bank. At least 16 demonstrators were killed by the Israeli army, including one in Gaza, and hundreds wounded by a barrage of live machine gun fire, rubber-coated steel bullets and tank shelling. In Syria, some protesters were able to bridge the fence and enter the Israeli-occupied Golan Heights.
Naksa day protests
June 5, the Naksa, (the day of the setback) is the anniversary of the 1967 Israeli occupation of the Syrian Golan Heights, the Gaza Strip and West Bank, including East Jerusalem and the subsequent forced expulsion of 300,000 more Palestinians from their land.
While Lebanon's demonstrations were prevented by Lebanese security, demonstrations went on throughout the occupied West Bank as well as by Palestine supporters worldwide.
At Gaza's demonstration, protesters gathered on the road to Erez but were stopped by Palestinian police before nearing the border.
Rachad, 25, from Jabaliya in Gaza's north, helped to organize the two demonstrations in the Gaza Strip. "Our committee coordinated with Palestinians in the West Bank, Syria, Lebanon and Jordan to hold protests on Nakba and Naksa days," he said.
Use of force against demonstrators
Protesters at Qalandiya near occupied East Jerusalem said Israeli soldiers repressed the demonstration with live fire, rubber-coated steel bullets and the chemical water cannon used on Gaza's fishermen.
Reports from ongoing protests in the Syrian Golan Heights cite at least 22 killed by Israeli soldiers, including one child, and more than 325 wounded, according to Al Jazeera.
Prior to the 5 June protests, Israeli Prime Minister Benjamin Netanyahu said Israel had the right to defend its borders and Israeli soldiers would use "necessary decisiveness" to protect the border. Critics and Palestinian protesters ask, what are Israel's borders, when Israel continues to occupy the Golan Heights, the West Bank, including East Jerusalem, and the Gaza Strip?
"Our message is simple," said one of Gaza's protest coordinators, Rachad. "The life in refugee camps is terrible, whether in Lebanon, Syria, or Jordan. We want justice, we want freedom, we want Israel to abide by international law and UN resolutions and allow Palestinian refugees to return to our homeland."
All rights reserved, IPS - Inter Press Service (2011). Total or partial publication, retransmission or sale forbidden.
Tags