I couldn't check my e-mails for a couple of days. Israeli soldiers have been occupying our apartment building. The occupiers came on Tuesday afternoon and evicted us from our apartments. They forced us in one apartment. The building consists of 29 apartments. In fifteen apartments residents live, while the other tenants are either out of town, working abroad or spending some time away of the harsh conditions imposed on Nablus.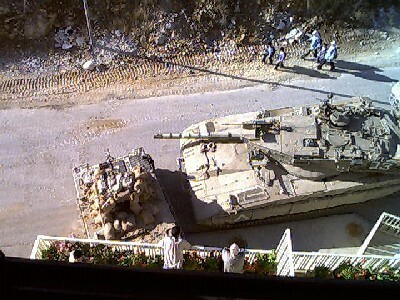 The Israeli soldiers evicted us from our own apartments and forced us all, some fifty persons, including women and children, in our neighbor's apartment. A few hours later, late in the evening, they allowed us to divide ourselves among three apartments.

My family and I spent the night with two other families, fifteen persons, in one apartment. The four of us, my wife and two daughters and I, slept in one room. The soldiers forced us to keep all apartments open and used more than ten apartments for their lodging and 'work'.

They ordered that every door must be kept unlocked and nobody was allowed to move in the building without their permission.

The occupier allowed my wife and I to get some things from our apartment. We were escorted by an Israeli soldier. At first, the sight looked horrible, more than ten Israeli soldiers were in my home. Three were using my dining room as a desk. My daughter's bedroom door was closed and were not allowed to go in.

My office at home was also locked. We had to argue with the Captain to allow me in to get some things. Inside my office room, there were a lot of bags placed on the floor. A couple of soldiers were inside. I don't know what they were doing there.

That evening I was called to the hospital for a D & C (a common gynecological procedure) and had to get permission from the commander of the Israeli soldiers to get an ambulance to come and take me. He escorted me downstairs to the ambulance and checked the driver's identification and searched the ambulance.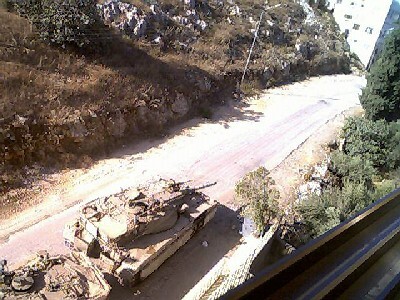 I told him that I would return in an hour and that I needed to know whether the soldiers would allow me back in the building. They did and one of them escorted me back when I returned.

The following morning, we asked the soldier at the apartment's door to call the Captain to allow us to leave for work. The Captain kept us waiting for more than two hours and finally we called the Red Cross.

A Swiss representative came and we asked whether the occupiers would allow us to leave the building and move to stay with relatives. They allowed us to go to our apartment and get things we needed. My wife and children gathered some clothes, the girls' school books and bags, I got my computer and we left and are now staying with my mother in law.

At this moment, our apartment building is the only building in Nablus physically occupied by Israeli soldiers. Nobody knows why and when they will leave. What I know for sure is that once they leave, we will need more than a week of work to clean the apartment before moving back. I only hope that they don't loot, steal and plunder the place.

Dr. Yacoub Alul is an anesthesiologist, who lives and works in Nablus.