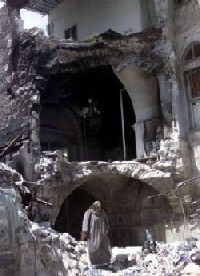 'Greetings from your friend Alaa', starts a message from one of my best friends in Nablus. We used to be neighbors in a neighborhood called Ras al-Ain. Since Israeli forces entered the city, we had been out of touch. Israel had disconnected communication, except from a few Israeli mobile phone companies, in the city. The normal telephone lines, the internet, electricity, and other means of communication were disrupted.
'On April 5, Israeli tanks stopped in front of our building. Israeli soldiers stepped out, shouting, and pointed their guns at our faces. We were shocked. All residents of the building had to stay in one room. We were with seventeen persons, not allowed to talk or move. The Israeli soldiers started searching the building, moving every object in every room. While we were waiting, the Israeli soldiers were pointing their guns at us. My pregnant sister was afraid and wanted to use the bathroom, however, the soldier refused to let her go, unless he would accompany her. While the Israeli soldiers were occupying the entire five-floor building, we sat in two rooms. We asked the soldiers whether we were allowed to bring some basic needs. My father, who had a stroke two nights ago, could not find his medication. We only had the clothes we were wearing.'
Ala's family are originally from Jaffa. His family fled their home town in 1948. Once again they were homeless in their own home. The building, in which Ala' and his family lives, is located just next to the old city of Nablus and overlooks it. When I used to live in Nablus I visited them almost daily. It was just five minutes down the road. Ras al-Ain, the Citadel of the Martyrs, is a popular quarter of Nablus and was my temporary home in Palestine for two years.
'The Israeli soldiers started to use our building as a military post and used us as human shields. Since there had been resistance in the old city, the Israeli soldiers preferred not to enter the Kasaba, but instead, to shell and destroy the old city with missiles. When the soldiers started to shoot, the whole building was shaking. They wanted to destroy and kill as much as possible. When one shot was fired from the old city, they would indiscriminately shell the whole area in response. All windows were broken. It was cold. We did not have electricity or gas to heat. We did not have enough batteries. We could only listen to the headlines of the news on the radio.'
'One night they took away my younger brother. He was wearing jeans and shoes. They did not tell us where he would be taken. The only word in Arabic they know is 'uskoud', meaning, shut up. We were afraid that he was taken away to be used as a human shield. When my younger brother understood that he was taken away to be used to enter the old city, he started shouting to warn anyone in their way. The Israeli soldiers got angry and started to beat him heavily. They continued to take him to several homes, entering from the roof and pushed him in front of them. They fired their gun while they rested it on my brother's shoulder.'
'My brother fainted and he was beaten again. Fortunately, after a few hours they brought him back. He was bleeding heavily. He lost his conscious again. Today, he still suffers both physically and psychologically from what he had to experience. My older brother was taken immediately after the Israeli soldiers entered the building. After one week, we got him back.'
The Israeli forces used the building of Ala's family as a military post. Residents who were arrested were brought to the building.
'We could hear the interrogation, the beatings, the cursings. Once they put detainees on the stairs because there was no room anymore. We could see them blindfolded and their hands tied behind their backs. They were interrogating one of the detained and when he refused to give an answer they shot him in his stomach. The Israeli soldiers were afraid to carry him so they forced us to carry him to the tank.'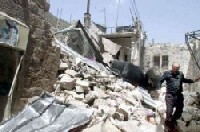 'One week of fear came to an end when the Israeli soldiers left the building. They did not tell us. Our neighbours came to open the door and told us that they had just left. We went quickly upstairs to see what had happen to our appartments. My mother preferred to stay downstairs. She was afraid to watch what they had done.'
'More than one hundred Israeli soldiers had stayed in our building, turning it into a military camp. They have stolen computers, eight mobile phones, gold, as well as other things we discover every day.'
'When I entered my own appartment I preferred to leave it immediately. I saw my books, diaries, and memories in the bathroom. I see bullet holes everywhere. It is hard to watch the wall on which I have stuck my best memories, pictures, and poems, and see it sprayed with bullet holes.'
'Eventhough, we are back in our appartments, we are not back at normal life. There is no water, no electricity, everything needs to be cleaned. The soldiers left piles of garbage. We wanted to gather the neighbors and started ti clean the streets. However, when the Israeli soldiers noticed that we broke the curfew, they came at night with some tanks and shot in our direction to scare us. Since then, we are afraid to sit on our balcony or to walk in the street.'
'After ten days, since the Israeli forces entered Nablus, they allowed us to buy some food. There was no food to buy. We started to check with family members, relatives and friends and found out that people we know were either killed, wounded or arrested. Every family has a disaster.'
'Personally, the biggest disaster is the old city. Many homes, old, traditional homes were completely destroyed. The places I always talked about, and the places that have my proud were destructed. I could never imagine that this would take place and this would happen to my old city. I cannot forget the beautiful narrow streets where I used to ride my bike or walk, chatting with friends, the places I used to go at night.'
'My daily schedule is turned upside down. I continue to repair my flat, watching the news, looking for any sign of hope. I don't like to talk politics. Many things has changed in my mind. I feel that nobody has the right to live in peace, when I have to live in such horrible situation. I have nightmares. When I don't sleep I head the voices of the brutal soldiers in the streets, cursing at us, in our language. They shoot at night to make us afraid.'
'Twelve days ago, a building in our street, less than forty meters away, has been completely destroyed. Eleven people were living in that building. The family that lives there was poor. Missiles struck the building and was destroyed completely. The family has been buried in the rubble. We could not reach them. Nobody dared to leave their home. They would be shot and killed immediately. After a weeek, when the curfew was lifted for a few hours, we rushed to the building and started to remove some cement blocks. We found the body of the father. We could hardly recognize him. We continued digging. We found the grandfather and the wife of the dead man, they were still alive. Then we found absolute horror. The bodies of eight children, all were dead.'
'I am not optimistic at all. The world will be hold to account. Nobody seems to respect our desire to live in peace. Our life is cheap. However, the real problem is not here, it is on CNN, where I could see disgusting interviews with American and Israeli commentators. I could not even find a difference between them.'