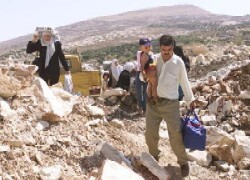 Isolation has become a fact of daily life for Palestinians. It is being applied in an arbitrary and wanton manner on a massive scale with no regard for legal norms and humanitarian standards. The occupier today partially lifted the curfew, the collective house arrest, on Hebron and Ramallah for residents to stock up on food and supplies. The occupier will reinstate the curfew on Ramallah at 5 pm and on Hebron at 7 pm. In Nablus, yesterday, thousands of residents went outside, as they were released for six hours on the 30th day of the imposed curfew.

The curfew was lifted from 8 o'clock in the morning until 1 o'clock. Ala used this opportunity to take international volunteers on a visit to the refugee camps in Nablus.

First they went to see the rubble of the Ajouri family home in Askar refugee camp. The home was demolished on Thursday night. 'We were shocked when we saw that the occupiers did not only demolish this house, but also demolished five other homes, belonging to the neighbours', said Ala.

Seventy-two refugees were living in these shelters. They were given five minutes to leave their homes. At 2 am, the occupiers invaded Askar refugee camp and told the neighbours and the Ajouri family. One of them told one of the soldiers: 'I sell gas, there are many gas tanks at the entrance of my home. Let me remove them first.' The soldier replied: 'tove' ('very good').

Moments later, everything was destroyed. The neighbours said: 'We are not part of this all, we are neighbours, we just live here. Who will blame us if we retaliate?' Did this action created seventy-two potential bombers?

Abu Muhammad, one of the residents, told Ala: 'I fled from Haifa in 1948. I did not carry anything with me. I was twelve years old. I arrived to this refugee camp and lived in a tent for a few years. I had to re-start my life once again. I could build this home through fifty years of labour. Now, I see it all destroyed, just in front of my eyes. How will I come to live Israel?'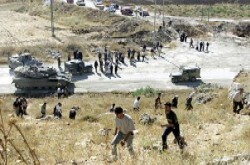 'How will I accept what cannot be accepted by any human being? I was not even allowed to save my photo album. We were forced to leave our home. We were only dressed in our night clothes. It reminds me of 1948. Fifty years of my life were lost, once again. I am homeless, once again. I am a refugee to the refugees. They will host me for a few days, but not forever. Who will host me and my married sons and their families? Why do I have to be a refugee?'

Ala told me that he could not find the answer to his questions. He felt powerless. He also felt that any reaction would be justified.

Finally, while they were looking at some kids collecting clothes between the rubble of the homes, Abu Muhammad showed Ala the top of a distant mountain. They saw hundreds of villagers climbing the mountain, up and down, through dirt rouads. They were using these tracks because the main roads have been destroyed by the occupiers and their bulldozers. 'What a trip, in dust and heat', Ala thought.

They left Askar refugee camp and returned to Nablus' city center. They saw thousands of residents rushing to buy basic food supplies. 'What an unbearable life', Ala said, 'if this situation will prolong any futher, Israel should prepare itself for a big challenge, since it is creating three million potential bombs'.

- The two pictures show Palestinians bound for Nablus from a outlying village walk past a mound of earth Israeli army vehicles put over a road on the outskirts of the West Bank city of Nablus, Saturday, July 20, 2002. For roughly a month, the Israeli army has enforced an off and on curfew in Nablus (AP Photo/Nasser Ishtayeh).