I am pleased to announce the Off-Broadway premier of My Name is Rachel Corrie at the Minetta Lane Theater in Greenwich Village. As witnessed earlier this year through the swell of controversy surrounding the production, My Name is Rachel Corrie is a truly unprecedented theatrical event and a rare opportunity to experience Rachel's personal courage through her own words. And for those of us who are committed to a just and peaceful resolution to the Palestinian-Israeli conflict, this play is a must see. Supporting truthful representations of the Palestinian reality in the
US
will open the door to more of these emerging projects which will broaden the discussion and strengthen the "conventional wisdom" push for a lasting resolution. Please lend your voices of support by attending this limited run!
WINNER! BEST PLAY - BEST ACTRESS - BEST DIRECTOR - 2006 London Theatregoers' Choice Award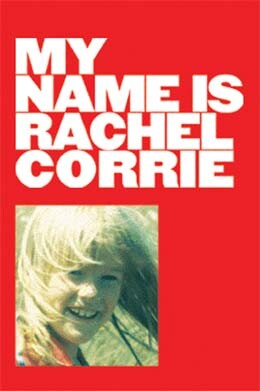 My Name is Rachel Corrie
Sunday, October 15th, 2006 - Sunday, December 30th, 2006
Minetta Lane Theatre
18 Minetta Lane
New York City , New York
Reviews
"DEEPLY, AUTHENTICALLY HUMAN. If Rachel's Corrie's views provoke emotions and inspire debate, isn't that part of the purpose of art?" - Elysa Gardner, USA Today
"HEARTBREAKING URGENCY. AN INVIGORATINGLY DETAILED PORTRAIT OF A PASSIONATE IDEALIST. Rachel Corrie had a voice that was emphatically her own. There's a redeeming grit in her writing and a feeling of energy that could burn. Her sense of the world gone so awry that it forces her to question her 'fundamental belief in the goodness of human nature' is sure to strike sadly familiar chords." -Ben Brantley, The New York Times
"Here is a play where the real dialogue begins when the curtain comes down. Rachel Corrie was a powerful writer - charming, quirky, funny - and given to painting strong images in a memorable voice. Artfully adapted by Alan Rickman and Katharine Viner. My Name is Rachel Corrie is theater that not only stirs our hearts but sticks in our heads" - Newsweek
Synopsis
Taken from the words left behind in the diaries, letters and emails of American activist Rachel Corrie, MY NAME IS RACHEL CORRIE chronicles the human, social and political evolution in the life and controversial death of a young woman. The play traces the life of Rachel Corrie From her early days in Washington State, through her experiences as an activist seeking to learn more about the community within Gaza . Performed by Megan Dodds, MY NAME IS RACHEL CORRIE has been developed by Alan Rickman and Katharine Viner, in collaboration with Royal Court Theatre's International Department and produced with the kind permission of Rachel Corrie's Family.
Showtimes:
Tuesday - Saturday at 8pm
Sat & Sun at 3pm
Sun at 7pm
Tickets:
$45 - $65 ($25 Student Rush 2 Hours Prior to Curtain - Cash Only w/ID and Subject to Availability)
http://www.ticketmaster.com/venue/24586/
Tuesday night talkback performances:
Tues. Oct. 24 - Panel to include: Dan Harris and Alisa Solomon.
Tues.. Nov. 7 - Panel to include: David Hare, Tony Kushner, and Robert O'Hara. Moderator: Gregory Mosher.
Tues. Nov. 14 - To be announced.
Additional dates to be scheduled.
Related Links