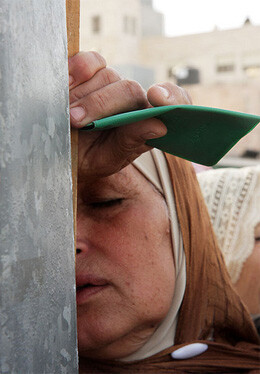 One of the most traumatic effects wrought upon Palestinian society by the 1948 Nakba, or the dispossession of historic Palestine, is the physical separation it forced upon Palestinians, between those in the diaspora and the refugees, between those living in the Palestinian territories occupied in 1967 and those who became citizens of Israel. Yet this process is ongoing to this very day, and targets even individual families, like mine. This is our story.

My dad was born in the Gaza Strip in 1962, the son of refugees, and left to the United Kingdom along with his wife and first son (myself) in 1990 to pursue his PhD at the University of Bradford. By 2004, I had a brother and two sisters, and our entire family moved back to Palestine, this time to the town of Ramallah in the occupied West Bank. My father was working as a foreign journalist licensed by the Israeli Government Press Office and we were living in our country on yearly renewable Israeli work visas.

In 2005, I was turned back by Israeli border agents at the Sheikh Hussein Bridge as I attempted to cross into Jordan to visit my aunt. The agents told me that since I was born in the Gaza Strip in 1988 I had been issued a Gaza ID by the Israeli occupation authority and was therefore not allowed to legally reside in the West Bank. Additionally, I was informed that from then on, Israel would not recognize my British passport. I was able to return to Ramallah that day, but for the next four years I risked daily arrest by Israeli troops on the way to Birzeit University, where I was studying, and for a year after that while I was working in Ramallah. This summer, I left the West Bank to find work abroad, and was told by the Israelis that I would not be allowed to return home.

Despite this reprehensible situation, the rest of the family was thankfully spared such hardship. My dad continued working relatively unhindered as he moved across what is now Israel, the occupied West Bank and Gaza, and my mother and siblings enjoyed freedom of movement across the West Bank and inside Israel. This all changed very suddenly last August when, on a routine trip to Gaza where my dad had several assignments and where he wanted to visit his ailing father, he was detained by Israeli security at the Erez checkpoint, and was harassed, stripped of his press credentials and told — as I was four years earlier — that his British passport was worthless in Israel. He was also informed that he too had an Israeli-issued Gaza ID and thus would be treated as a Gazan, deprived of the most basic freedom of choice and movement and barred from ever returning to his wife and children in Ramallah. He was sent into Gaza, where he appealed to Israeli rights organizations, and as a British citizen to the British consulate and to former Prime Minister Tony Blair, now the Quartet's Middle East envoy, for the right to leave Gaza and see his wife and children, if only for a day. The Israeli organizations were unable to help, the consulate was unable to circumvent a wall of Israeli bureaucracy, and Tony Blair chose to ignore our letter calling for assistance. In order to save his job, my dad had to give up hope of being allowed back into the West Bank, and left Gaza through Egypt in December.

At the time that my dad was stripped of his press credentials and work visa, my mother and siblings back in Ramallah were forced to accept their own Israeli-issued ID cards. Incredibly, my mother was given a Gaza ID despite being born abroad, raised in the West Bank and still owning a copy of her original West Bank ID! She now lives in constant fear of arrest and deportation by Israeli troops; if she were to leave the West Bank she would also be banned from returning to our family and home in Ramallah.

Meanwhile my brother and sister, who were both born in the UK and are now university students, have bizarrely been issued with West Bank ID cards, even though their parents and older brother were given Gaza IDs.

As a result of all of this, our family has been torn apart. My father is finally out of Gaza, but he is unable to see his children unless they travel abroad to meet him. My mother is in the West Bank, afraid to even leave Ramallah and risk being detained and deported at an Israeli army checkpoint. She is unable to leave the West Bank while my father and I are unable to enter. We don't know how long it will be before we can see each other again — the Israeli authorities have said that they will not change my mother's ID.

Israel has treated my family like criminals for being Palestinians. We have been punished, displaced and deprived from each other's company. Our extended family was torn from its land in 1948 and expelled to refugee camps. In the 1990s, Israel's policy of closure solidified our separation, particularly from my father's side in Gaza. Now Israel's racist and draconian demographic policies have separated my parents, my siblings and myself, just like they separate Jerusalemites who wish to marry other Palestinians from the West Bank, or Palestinian citizens of Israel who are legally barred from marrying Palestinians from the West Bank and Gaza.

This is one of the many faces of the ongoing Nakba today, and I urge more individuals and families who have suffered like this to speak out. The world must realize the true nature of Israeli apartheid, and the cruel separation of families is one more reason why Israel must be boycotted.

Mohammad Alsaafin is from the Palestinian village of Fallujah, ethnically cleansed by Israeli forces in 1949. He was born in the Khan Younis refugee camp and lived in the UK and US, before moving back to Palestine to study at Birzeit University.