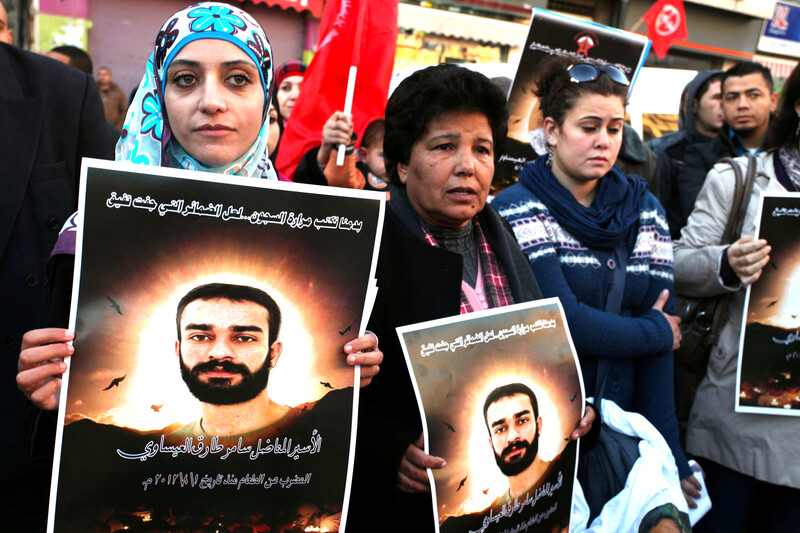 Samer Issawi has just turned 33. He spent his birthday on hunger strike.
On Sunday I phoned his sister Shireen. "Save Samer, he is dying," was the first thing she said. Samer had gone without food for 138 days.
"The last news we got was on 14 December when the Israeli occupation court refused to release Samer on bail. I have received news from different sources indicating that my brother has recently started suffering from severe pain in all of his body especially in his muscles, abdomen and kidneys.
"He has an acute vitamin B-12 deficiency. His body has begun to eat his muscles and nerves. It seems he has lost the control of his limbs as a result of malfunction of the nerves. His vision is frail as a result of fainting four to five times a day and his body is covered with bruises. He is vomiting blood, his heart is weakening and he can barely breathe."
I asked Shireen: "When have you seen your brother?"
"Like a skeleton"
"No one has met or spoken to him since his current arrest. I have seen him on Thursday [13 December] when he appeared in court. He looked like a skeleton sitting in a wheelchair, and he can't move or walk. My brother was put in the slaughterhouse of Ramleh Prison Hospital during his first month of the strike. A month later he was put in a small cell as a punishment. He suffered the solitary confinement in a two-meter square room, meant to pressure him to end his strike."
"Where is he now?" I asked.
"He is still in a small dark room in Assaf Harofeh hospital. He is kept in isolation; no one can see him, not even his loved ones. The only human contact he has is the guards, who misleadingly wear white uniforms. His legs are tied with shackles that look even bigger now against his tiny skeleton."
Loss of consciousness
Shireen spoke of how her brother lost consciousness seconds after being given a medicine by the Israeli prison authorities on 9 December. It was two days before he regained consciousness. "There is no doubt that they want to kill him," Shireen said.
Samer Issawi wrote a letter about the incident, which was translated and published by the Ahrar Center, a prisoner rights group, on 12 December.
"I take B-12 injections because I have damage to my nervous system and I have pains in my eyes, nerves, abdomen, hands and muscles," he wrote. "And I can't stand. They told me that they will give me an injection weekly in order to help my nervous system. My pain in my kidney and hands is increasing. The pain in my head is like the electrical shock and I have continuous diarrhea due to the fluids they give me in hospital. I have blood in my urine twice a week.
"They put me in an isolated room in the hospital with plastic doors so that they can't hear me when I call them. I accepted to take fluids and vitamins because the intelligence promised me that my file is 80 percent finished.
On Wednesday, they gave me a medicine. I slept for two days. After two days I found myself on the ground."
I also phoned Samer's father, Tareq, on Sunday. Our conversation focused on the effects that Samer's hunger strike is having on his mother.
"Her condition is worsening each day," Tareq said. "She was shocked and kept looking at her son's face when she attended the court hearing on Thursday. She could not endure seeing her son losing more than half of his weight. She screamed at the judge's face, 'Your apartheid regime is illegal and we do not recognize it. Samer will be released, whether you want it or not.' I do not know how to describe this, but my wife is just a mother with a heart.
"Her physical and psychological condition is now more at risk than ever. She cannot endure seeing her own son dying. She spends most of her day at hospitals and every single moment, she repeats the same plea: 'can't anybody help my son to be free and to live?'"
Malaka Mohammad is an English literature student at the Islamic University of Gaza.
Tags