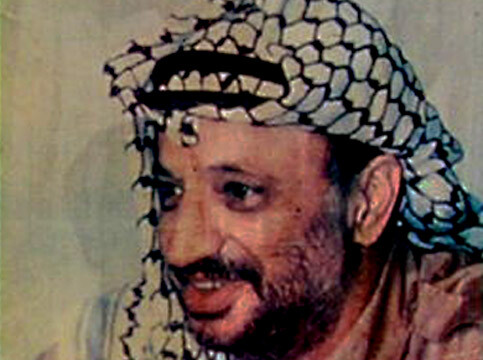 We all cannot sleep, this Friday early morning. Mary, Jara and I sit around the

TV

to watch the latest news about Arafat. The best news on offer is the announcement that he is not yet dead but in coma, a "reversible coma," it is said later on. Palestinian spokespersons in Ramallah and Paris were yesterday contradicting each other. I am reminded of the repeated complaints, at a recent conference, by young Palestinian media students about the presence of multiple spokespersons at the

PNA

. Jara solemnly announces that she hopes that "our leader will not die." Mary tells about the students at Bethlehem University who yesterday were repeating a slogan about the Palestinian struggle often used by Arafat himself: Ya jabal, ma hizzaq reeh ("Oh mountain, don't let the wind shake you"). Now Arafat himself is shaken. Mary gets angry when she watches settlers dancing and celebrating in the streets of Jerusalem: Hayawanaat ("animals"), she throws out.

Yesterday she and our friend expressed their genuine sadness about Arafat's situation. Standing near our door-post the friend pointed at an orange-colored butterfly on the wall. "Usually this type of butterfly is said to bring good news, but now there is nothing of that. Look at Arafat," she continued, "how he was humiliated during the last years, left alone in his dilapidated bunker, never treated as a president should be treated. He is like the Palestinian people, he was walked upon like we all are walked upon. Nobody cares." She thought that Arafat should have better stayed in the Muqata'a in Ramallah, in his working place. Struggling against his illness he should have remained among his own people rather than allowing himself to be dependent upon an Israeli permission to leave Ramallah and his country. "It doesn't feel good." Afterwards, Mary directs herself at me: "When you have your radio interviews, tell the people that it was Sharon and Bush who killed him!"

I am a little taken aback by her anger. I myself had met Arafat twice, once in Tunis, deep in the night, and at another occasion in Ramallah a few months ago. Unlike many other visitors, I was not at all impressed by his personality and temperament, his so-called "radiating warmth," as it is said. I found him a diminutive figure with a fabulous memory, certainly not a person that puts a spell on you. The likely reason for the difference between Mary and me is that she is a Palestinian and I am not.

Arafat is for Palestinians a very concrete person as well as a symbol. Concrete, because many, many Palestinians have met him personally. How often was I surprised to see a random barber or restaurant owner here in Bethlehem proudly taking out and showing a picture of himself in the company of an ever-smiling Arafat. (I myself too, had kept over the years a picture of me and Arafat deep down in cupboard. Watchful visitors could glimpse it. Tongue-in-cheek I used to tell them that we kept it there so that I could handle the security police once they were after me.) Arafat was also available for concrete personal help, such as when he was willing to pay the hospital costs of somebody who was poor, or intervening in a family feud. "Should he do that as a president?" I ask Mary, who shrugs her shoulders, not interested in political theory, at least not for now.

Arafat was not just a concrete father figure, he was also "larger than life," as Hanan Ashrawi commented last week. A father of the nation who as a symbol somehow could escape all the rightful criticisms that were leveled against him, of corruption, nepotism, and divide-and-rule. It was not him who was corrupt, people used to say - "after all, look at his simple style of living." The blame was put on his advisors, the "corrupt clique around him."

I am pretty sure that Mary in the mid 1990s voted for Arafat as a president, although she afterwards consistently refused to acknowledge that, probably because she did not want me to categorize her as an "Arafat supporter" or that I would start a sermon, or because she herself later on felt too ashamed about Arafat's incompetent handling of the Palestinian Authority. But the more the symbol was attacked by the Israelis, and the more he was kept under siege, the more she once again began to feel for him. In a way, she feels that now a part of herself is dying, too, under the heavy burden of oppression that is hidden under the medical straw breaking the camel's/Arafat's back.

What will happen when he passes away? How should he be buried? Arafat himself wants to be laid at rest near the Haram al-Sharif, near the Al-Aqsa Mosque. The Israelis don't want him there, but say that he would be allowed to be buried in Abu Dis. Just behind the Wall, as if symbolically kept outside Jerusalem. What could be more humiliating? "What we should do," our friend says, "is organizing a march without any weapons, with an enormous amount of people behind the bier. Just walking and continuing to walk. Would the Israelis shoot at us?" "No," I say, "but they would probably create a human or non-human barrier, as they are used to do. Then you can start a waiting game."

Meanwhile people are holding their breath for what may happen the morning after. The grocery owner next door says that he is afraid that the Israeli army will re-enter Bethlehem. Would there be chaos in the Authority? "It's already chaos," people tell me. There is also a whispering concern, at least among some in Bethlehem, about the position of Christians in Palestinian society. Arafat is often considered here a kind of guarantee against infringements upon the position of Christians. His marriage with a Christian woman and his good relations with Church leaders are quoted as proof. But now the mountain shakes, how strong will be the foundations of Palestinian society? Recently, our friend was advised by her foreign employer that she might better leave the country. "He said 'There is no future for the Christians here.' Imagine, he just talked like the Israelis. I was so angry, I didn't know what to say."

Officially, political leaders and Palestinian commentators stress the strength of the institutions of the Authority and the PLO. Moreover, there are no strong political contenders waiting in the wings, at least not ones who possess a broad popular base, except for Marwan Bargouti, who is however in Israeli prison. Hamas is known not to go for an open confrontation with the Palestinian Authority. It will not prepare for a sudden putsch, knowing that the large majority of the people would not support this. I myself think that power struggles are likely to come but not immediately and not very openly. After all, nobody except the ruling government in Israel is helped by a breakdown in political or social control in Palestine. A big issue will be the elections, which should happen not long after Arafat's death. How can they be organized in a situation of the Israeli army coming in and going out the Palestinian areas at will, and how can the Palestinian inhabitants of East-Jerusalem participate?

Jara somehow feels the heavy weight of the moment. This summer she and I watched the Olympic Games and while she loudly cheered with me the large Dutch group of waving sportsmen and sportswomen entering the stadium, she withdrew into a solemn silence when the Palestinian delegation, two or three persons, entered the crowd, with the leading woman controlling a smile and keeping her fingers high in a V-sign. A rare moment of national dignity.

At school, Jara learns about the national symbols, the flag, the Al Aqsa Mosque, Saladin liberating Jerusalem. Tamer too likes to go to his school, that is, the kindergarten, and he carries his schoolbag proudly on his back. "Bakussik," he told Mary yesterday morning at the moment of departure. He conjugated the Dutch verb kussen [to kiss] in the Arabic manner: I kiss you. Afterwards Mary murmured, "I hope that he will not be governed by the Israelis."

Related Links

BY

TOPIC

: Yasser Arafat

Toine van Teeffelen is development director at the Arab Educational Institute (AEI) in Bethlehem and local coordinator of United Civilians for Peace.