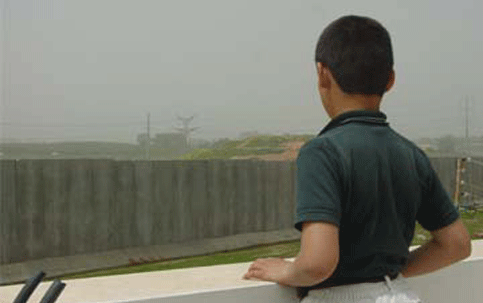 On the West Bank, in the Occupied Palestinian Territories, farmers live in tents on their croplands. Students protest the dissection of their campus. A merchant, newly displaced from his home, points to a house just beyond a tall concrete barrier and says, "I still have the key." By any name —- separation barrier, security fence, transfer wall —- the controversial enclosure under construction within the West Bank to protect Israel from the infiltration of suicide bombers and armed militants violates international humanitarian law and threatens Palestinian communities and livelihoods. Israel's leadership must balance its right and duty to protect people from attacks with its obligation to ensure freedom of movement and access to employment and basic services, such as health and education, for Palestinians. The lives and individual well being at stake are of equal importance.

Frequently compared to the Berlin Wall, the barrier is more than twice as high and, with an expected span of some 400-600 miles, will be about four times as long. Its route does not run along the Green Line (225 miles), which demarcates the pre-1967 Israeli border, but passes well inside the West Bank. It is composed of concrete and electronic fences, pyramids of rolled barbed wire, surveillance cameras, watchtowers, roads, trenches, barricades, and rare gates that openly irregularly to enable the passage of people and goods. The still-evolving structure will have geopolitical, economic, social, and cultural implications for years to come. "The fence is killing any possibility of a State, and will escalate defacto transfer of the population," one human rights officer told Refugees International.

The Israeli human rights organization B'tselem estimates that the barrier will likely cause direct harm to at least 210,000 Palestinians residing in sixty-seven village, towns, and cities. It threatens to displace some 90,000 Palestinians from their homes and leave many others without access to farmlands, jobs, health services, education, neighbors and families. Some 200,000 people in East Jerusalem will be totally isolated from the rest of the West Bank. The wall is likely to restrict movement of women more than men. In interviews with UN Relief and Works Agency (UNRWA) staff members, families indicated that, for cultural reasons, women might be reluctant to submit to searches at the crossing points along the length of the wall, or their husbands or male relatives might object to their doing so.

The wall violates international humanitarian and human rights law. For example, the Fourth Geneva Convention [article 53] prohibits the destruction of real or personal property unless absolutely necessary for military operations. The rights to work and to an adequate standard of living are violated when Palestinians are separated from their workplaces. The barrier will almost certainly mean the end of Palestinian migrant labor in Israel. The employment problem is especially grave near Jerusalem where most of the residents are dependent, directly or indirectly, on work in East Jerusalem. The wall infringes on the right to property. Thirty-six communities (72,200 people) living east of the barrier will be separated from their farmland, but even those who remain with their land in enclaves will have little ability to market their produce elsewhere. Most of the land affected is under private Palestinian ownership and contains orchards, field crops, and greenhouses. Some 80,000-100,000 fruit and olive trees have already been damaged or uprooted.

Sixteen months into construction, disruptions of daily life are serious. The first phase, primarily carried out in the northwest edge of the West Bank, passes through the governorates of Jenin, Tulkarm, and Qalqiliya, an area that includes some 37 percent of all agricultural land in the West Bank and accounts for 45 percent of the total agricultural production. Between 2 and 3 percent (45,000 acres) of Palestinian West Bank land is now on the Israeli side. Construction is also progressing in the Jerusalem and Bethlehem areas. B'tselem estimates that thirteen villages (11,700 people) will be isolated between the barrier and Israel, cut off from nearby urban centers. Nineteen communities (some 128,500 people) have been or will be turned into enclaves. In Jayyus 480 out of 550 families have lost their sole means of livelihood. All seven of the town's water wells are behind the wall. The average per capita water consumption is five times below the World Health Organization's minimum standard. Overall, it is estimated that Palestinians will lose nearly 18 percent of their share of the basin's water.

Nine of the villages that will become enclaves west of the barrier do not have medical clinics. One Palestinian Red Crescent Society officer told RI that the organization has already had to open two new medical points and anticipates the need for more. Then he noted, "but we need medical supplies to open them." Some 7,400 students will be directly affected by the wall in the Tulkarm, Qalqiliya, and Jenin areas. Teachers who live in Tulkarm and Qalqilya teach in schools in neighboring villages and face problems in reaching their schools.

The World Bank's report on the wall suggests that some 25 to 30 percent of the individuals in the wall-affected communities are registered refugees. Qalqiliya town has 4,000 refugee families. According to UNRWA, their hospital and other facilities will be hermetically sealed. Tulkarm town (3,700 refugee families) will have a wall on its western side and a "depth barrier" to its east which will seal in Tulkarm camp (15,600 registered refugees) and Nur Shams (8,000 refugees). Several villages in the northwest Jenin district have large numbers of refugee families. Refugees will not necessarily suffer more than the general population, but the overall decline in living standards will increase humanitarian needs. Further, additional wall-induced migration or displacement is possible. One refugee told RI, "The wall turned everything upside down."

The wall is more than just a wall. It represents the failure of the government of Israel and the Palestinian Authority to establish the terms of a durable peace and of the international community to respond to violations of international humanitarian law. The sheer scale of the wall will permanently re-order the border and, in doing so, expropriate Palestinian land and other property. While there is no certainty that the barrier will stop or even curtail violence, it is already exacerbating economic fragmentation and social upheaval. It is, in the words of Hanna Nassar, the Mayor of Bethlehem, a tragedy for generations.

Refugees International therefore recommends that:

The Government of Israel: Immediately halt construction on the barrier and fully explore alternatives to ending Palestinian attacks within Israel, alternatives that are compatible with its obligations under international humanitarian and human rights law.

The Government and people of the United States: Bring pressure on the Government of Israel to comply with its obligations as an occupying power under international law and to halt construction on the barrier. Examine the regular updates issued by agencies following the development of the project and, if possible, visit and talk to people on both sides of the wall.

Director of Research of Refugees International Maureen Lynch just completed an assessment mission to the Middle East.