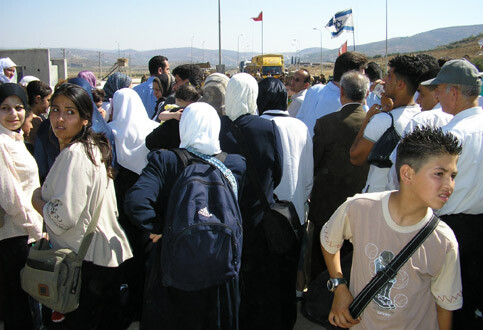 JERUSALEM
— Dr. Nabil Qassis, Minister of Planning, and Mr. Piers Cazalet, Acting Consul General of the
UK
to the Palestinian Authority, and Mr. Andrea Tamagnini, Special Representative a.i,
UNDP
, will approve a generous grant of £950,000 in support of the Ministry of Planning's commitment to mainstreaming the issue of poverty reduction in its humanitarian and developmental planning instruments. The signing ceremony will take place in the Ministry of planning in Ramallah, at noon.
The grant, funded by The Department of International Development, of the Government of the United Kingdom will kick-start the Palestinian Pro-poor Participatory Planning (PPP) project to be implemented by the Ministry of Planning (MOP) in joint partnership with the United Nations Development Programme/Programme of Assistance to the Palestinian People.
"This initiative will complement and deepen the Palestinian Authority's commitment to making sure scarce resources are better allocated in line with people's priorities on the ground despite the difficult challenges due to the Occupation and worsening human security". Said H.E. Dr. Qassis.
The Consul General of the UK reaffirmed the commitment of his Government to supporting the Palestinian development process by saying "The initiative will promote coordination with line Ministries and civil society for inclusion of the voices of the poor in ministry and donor decisions".
The UNDP Special Representative spoke of UNDPs mission and experience of forging ahead to improve the lives of the Palestinian people through the joint partnership that has spanned over 25 years. "This initiative will support UNDPs global mission to engender a culture of participation and dialogue in development planning in all the countries and programmes that it operates in." said Mr. Tamagnini.
The main goals of the PPP project are to strengthen the capacity for the Ministry of Planning (MOP) to deliver a poverty- focused and broadly owned Medium Term Development Plan; Institutional arrangements at district level for partnership and advocacy for poverty reduction are established and capacity strengthened; At the national level, sector planning units/departments are formally linked to the MOP and the PPP is able to influence key national polices and programmes; The National Commission for Poverty Eradication is expanded and effective; Capacity for participatory planning for poverty reduction is strengthened in the West Bank and Gaza Strip; and, an effective donor mechanism supports the PPP.
The PPP initiative is the second phase of the joint Ministry of Planning and UNDPs Palestinian Participatory Poverty Assessment Project completed in August 2002, also funded by DFID.
UNDP is the global development network of the United Nations system. It advocates for change, and links countries to the knowledge, experience and resources their people need to improve their lives.
More Information
Ehab Shanti, Communications Officer, Tel. +972-2-6268229 - e-mail: ehab.shanti@undp.org; or Dania Darwish, Tel. +972-2-626-8200 - e-mail: dania.darwish@undp.org; New York: Nadine Shamounki, Communications Officer, Tel. +1 (212) 906-5171 - e-mail: nadine.shamounki@undp.org; or William Orme, Media Section Chief, Tel. +1 (212) 906-5382 - e-mail: william.orme@undp.org.

Related Links