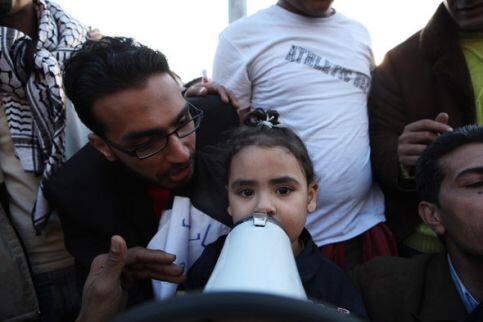 CAIRO (IPS) - Organizers called it Egypt's "million man march." Whether they achieved that targeted head count is unclear, but their message was unequivocal.
"Mubarak get out!" protesters chanted.
Tuesday's rally in downtown Cairo was the largest anti-government demonstration in modern Egyptian history, drawing the full spectrum of Egyptian society. Wave after wave of men, women and children poured into the central square from morning until well after the government's 3pm curfew.
It was the eighth consecutive day of protests calling for Egyptian President Hosni Mubarak to step down. Earlier this week the 83-year-old dictator, who has ruled Egypt for thirty years, appointed a vice president and changed his cabinet to appease the public's growing anger. Protesters say he has missed the point entirely.
"You can shuffle the cabinet as much as you want, Mubarak," says Ahmed Refaat, a carpenter. "But we will not stop until you leave."
Refaat complained of high unemployment, rising living costs and endemic corruption. Like most protesters, he accuses Mubarak and his cronies of accruing extravagant wealth at the expense of the Egyptian people.
"When Mubarak's gone, Egypt will regain her pride," he says.
The location selected for Tuesday's demonstration could not have been more appropriate. Midan Tahrir, or Liberation Square, is the epicenter of downtown Cairo and lies in the shadow of the iconic Mogamma Building, a nerve center of state bureaucracy. It is also where the "Day of Anger" protests kicked off 25 January, ending in violence by police forces against demonstrators.
Riot police were conspicuously absent from the anti-government demonstration — a first for Egypt. Mubarak made good on his pledge to keep police out of Tahrir Square, and that soldiers stationed at the entrances to the square would not interfere with the demonstrations.
"Mubarak pulled out all police from Egypt for 48 hours and led the country into anarchy," says Fatma Ibrahim, a shopkeeper's assistant. "He cannot send the police back now to beat demonstrators. We need those police to catch all the criminals and murderers he let out of prison to create trouble."
The unprecedented promise of security for demonstrators led to a carnival atmosphere that attracted young and old, men and women, and every political stream. Liberals, Nasserists, Marxists and Islamists rubbed shoulders. People spoke with unusual candor.
"I'm 52 years old, and I've never seen a real election in my life," says Mohamed Hassan, a schoolteacher. "We want Mubarak out, and free and fair elections. We have doctors and engineers in this country working as factory drivers, and most of my graduates are still living at home after ten years. Mubarak and his family have robbed Egypt of everything, even dignity."
Tuesday's anti-Mubarak demonstration coincided with a nationwide general strike. Stores have closed, and factory workers vowed not to resume work until Mubarak steps down. All train services have been canceled, and thousands of passengers remain stranded at Cairo airport.
The strike adds to the country's growing economic crisis. All banks are shut, and the stock market closed after falling 16 percent in two days before officials halted trading last week. Most supermarkets have either been looted or are running out of stock.
"We will suffer until Mubarak goes, but we want our blood to mean something," says Refaat.
Rights groups say more than 100 Egyptians have died in protests since 25 January. They warned that the true number may be much higher as a partial communications blackout has restricted the collection of data.
No clear leader has emerged in Egypt's popular uprising, which was inspired by similar events in Tunisia. Protesters are unified by their conviction that Mubarak must leave, but do not agree on how quickly, and who should manage the country until elections can be held.
"It is very important that the protesters choose who will speak for them," says political analyst Amr Hashem Rabie. "They must have one voice to articulate demands to the Mubarak regime and set an agenda for a political transition."
A planned march to the presidential palace in Heliopolis, seven kilometers from Tahrir Square, never materialized. Some protesters vowed to hold the march on Friday — if Mubarak is still in power then.
"Right now he is in his palace watching us on the television," said one demonstrator. "I want him to feel it. We will take our protests to his door so he can hear the [police] gunfire and smell the tear gas."
All rights reserved, IPS — Inter Press Service (2011). Total or partial publication, retransmission or sale forbidden.
Related Links