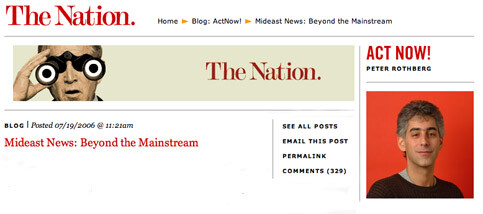 For coverage of the unfolding conflagration in Lebanon and beyond, the best English-language newspaper coverage has been that of David Hirst at
The Guardian
(such as
his latest op-ed
), and Robert Fisk at
The Independent
, who has won numerous awards for his
reporting
on the Middle East. His
Elegy for Beirut
, published in the July 19
Independent
shows why.
My colleague Stan Alcorn helped put together a round-up of other good sources, including history professor Juan Cole's popular Informed Comment blog, which aggregates the world's reporting and offers his "informed commentary" on current events throughout the Middle East. The Truth Laid Bear is a less discriminating collection of political blogs and websites on the Middle East, and includes bloggers throughout Lebanon, Israel, and Palestine. If you have Internet Explorer or Firefox 1.5, check out "map view" to see a cool interactive map featuring bloggers across the region. From an unscientific survey, the better blogs seem to include Beirut Spring and From Beirut to the Beltway. The Angry Arab News Service offers less polemical content than its name would suggest, though the especially disturbing pictures of children killed in recent bombings do inspire anger, among other emotions. Faithful reader ZERO made a good suggestion with Global Voices, which carries many interesting non-US weblogs. The Electronic Intifada is a good portal for news, commentary, analysis, and reference materials about the Israeli-Palestinian conflict from a Palestinian perspective. Since Israel's attack on Lebanon began, the site has posted 112 articles from the ground on the conflict while continuing to keep track of simultaneous Israeli aggression in Gaza. And check out Electronic Lebanon, a new section of the site devoted exclusively to the new (but old) Israeli invasion.
I also wanted to plug an essay by Larry C. Johnson which I read at Alternet and which I think reminds us of some important facts. "Israel is not attacking the individuals who hit their soldiers. Israel is engaged in mass punishment. How did Israel respond? They bombed civilian targets and civilian infrastructure and have killed many civilians. Let's see if I have this right. The Arab "terrorists" attack military units, destroy at least one tank, and are therefore terrorists. Israel retaliates by launching aerial, naval, and artillery bombardments of civilian areas and they are engaging in self-defense."
And, of course, there's always Al Jazeera and, for a good counter-point, the excellent Israeli daily newspaper Haaretz. Finally, for good background, see the Nation Books' edition of Fisk's Pity the Nation: The Abduction of Lebanon and Hirst's The Gun and the Olive Branch, a classic, myth-breaking general history of the Israeli-Palestinian conflict.
Please use the comments section below to let me know what sources I should have included in this survey but didn't. I'll also soon be highlighting some concrete ways we can try to help stop the immediate violence—25 Israeli and 295 Lebanese civilians have been killed to date—and aid the innocent victims caught between Hezbollah and Israel.
EVENT NOTE
If you happen to be in or around New York City this weekend, my friend Anthony Arnove is staging an emergency forum to discuss ways to help stop the Israeli attack on Lebanon. It's taking place this Saturday, July 22, at 5:00pm, at the Judson Memorial Church at 55 Washington Square South. Featured speakers include Arnove, Huwaida Arraf, co-founder of the International Solidarity Movement, and Jafer Al Jaferi of the National Council of Arab Americans.
Related Links