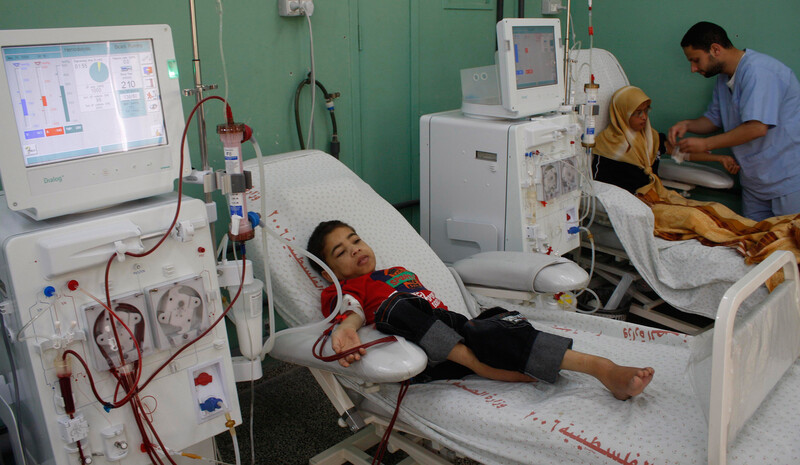 GAZA CITY, occupied Gaza Strip (IPS) - "During the first years of the siege, we could still manage, but nowadays we have no alternatives," says Dr. Hassan Khalaf, Deputy Health Minister in Gaza. "It is a major crisis: many health services have stopped, and I'm afraid this will spiral out of control, because Gaza doesn't have the essential medicines and supplies needed."
Cancer, kidney, heart and organ transplant patients, as well as patients needing routine surgeries, including eye and dental surgery, have been suffering for the last five years under the Israeli-led, internationally-backed siege of the Gaza Strip. Year by year, the warnings of Gaza's health crisis grow more dire, with the latest warning from Gaza's Ministry of Health stating the Strip is at emergency levels of medical supplies.
Following the democratic elections in 2006 that brought Hamas to power, the population in Gaza has been constrained under a siege which bans food items, construction materials and school supplies among thousands of items. Medical supplies and equipment do not escape the blacklist, which for years now has deprived Palestinians in Gaza of basics like baby formulas, antibiotics and MRI and X-ray machines, which Israel reasons could be used for "terror" purposes.
While alarming zero-stock levels of drugs were already being reported in 2007 — when 80-90 of the 480 drugs deemed essential were at zero — Palestinian physicians could still find ways around the shortages.
The International Committee of the Red Cross in November 2008 reported that "medical staff try to cope by using the next best solution which is not always a good one — for example, if they need tubes for a medical procedure, they will use a tube size smaller or bigger than the appropriate one."
Medical system under attack
While the alternatives were not optimal and could result in inadequate and painful treatments, there were at least alternatives. But with each year of the total siege on Gaza, particularly after the 23 days of Israeli war on Gaza in 2008-2009, the already dilapidated medical system in Gaza has been rendered more sickly. During the Israeli war on Gaza, Israeli warplanes bombed more than half of Gaza's hospitals, as well as 44 clinics and the medical storage facility of the Palestine Red Crescent Society.
In February 2011, an Israeli bombing destroyed a medical warehouse in Jabaliya. "We lost a large amount of stocks we had finally received from Ramallah just a few days prior to the bombing," says Dr. Khalaf.
In June 2010, the World Health Organization (WHO) issued a call for "unimpeded access into the Gaza Strip of life-saving medical supplies, including equipment and medicines, as well as more effective movement of people in and out of the territory for medical training and the repair of devices needed to deliver appropriate health care and respond to the population's humanitarian health needs."
But prolonged shortages of medical supplies have set-off new alarm bells.
"During 2008, Gaza received less than half of the needed medicines and supplies," says Dr. Khalaf. The WHO reported that in 2010 Gaza received even less, only 40 percent of the Strip's needs transferred to Gaza. "As of now, in 2011 we've received only third of what is needed," says Khalaf.
With years of delays by both the Israeli-led siege and the Ramallah health ministry, Gaza's zero-stock items list — now at 180 items — has grown as has the number of items temporarily restocked in hospitals and clinics.
"We're missing painkillers and anesthetics, cancer and epilepsy drugs, antibiotics, infant formulas, medicines for dialysis, even rubber gloves," says Khalaf.
The ministry's warning is echoed by the WHO, the International Committee of the Red Cross and the Palestinian Centre for Human Rights (PCHR), which noted on 13 June that Gaza has not received medical supplies since February 2011. PCHR reports that the medical shortages affect "ICUs, nurseries of premature infants; operation rooms; anesthesia and recovery; emergency; cardiac catheterization; hematology and oncology; nephritic diseases; and pediatrics."
According to Dr. Khalaf, hundreds of patients await "eye surgeries, endoscopic, vascular and pediatric surgeries, and neurosurgery" among others.
Ramallah's "intentional negligence" of Gaza health crisis
A group of Norwegian doctors surveyed Gaza's hospitals and clinics in February this year. Their study, reported in The Lancet medical journal, highlighted the difficulties for cancer patients in Gaza who receive only part of their chemotherapy treatments. Many have died as a result.
"Oncologists said 100 of 260 cancer patients at Gaza's largest hospital were unable to receive effective treatment because the required combination of several drugs was not obtainable," reported The Lancet.
To alleviate the current medical crisis, the ICRC on 14 June gave its stocks of medical supply to hospitals in Gaza. The Ramallah-based Ministry of Health announced it would send medical supplies from its warehouses and that Egypt would soon send essential medicines.
Having dealt with the issue of delayed and banned medical supplies for years, the Ministry of Health in Gaza sees this as a temporary and insufficient fix.
"Israel and the Ramallah government hold mutual responsibility for Gaza's medical crisis," says Dr. Khalaf, citing Israeli obstacles and delays on permissions and shipments via the Israeli-controlled crossings — as well as what he says is the Ramallah ministry's intentional negligence.
"When international donors first cut aid to Gaza, it was resumed via the Ramallah government, with the understanding that Gaza receives 40 percent of the total donations, according to our population needs," he says.
This system worked until the ministry in Ramallah stopped coordinating with the ministry in Gaza, relying instead on its own contacts in Gaza.
Dr. Khalaf believes neither the Israeli siege nor the Ramallah government's reluctance to send medical supplies to Gaza could occur without international compliance. "It is intentional, it's part of the siege on Gaza's government," he says. "The international donor countries and Ramallah health ministry give us temporary, interrupted solutions."
Whether or not it is intentional, the severe lack of medical supplies harms Gaza's 1.6 million residents, not the Hamas government.
All rights reserved, IPS - Inter Press Service (2011). Total or partial publication, retransmission or sale forbidden.
Tags