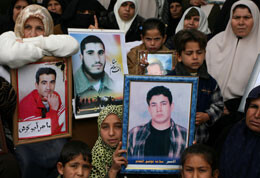 The Palestinian Centre for Human Rights (
PCHR
) is deeply concerned over the death of Fadel 'Ouda 'Atiya Shaheen, 47, from al-Jalaa' neighborhood in Gaza City, who had been detained by Israeli Occupation Forces (
IOF
) in Be'r al-Saba' Prison, as there are indications that his health condition deteriorated and the administration of the prison failed to offer him appropriate medical treatment.
Shaheen died in Be'r al-Saba' Prison on 29 February 2008. PCHR has learnt at the time of writing this press release that his body is being brought into the Gaza Strip through Beit Hanoun (Erez) crossing after an autopsy was performed in an Israeli forensic medicine institute. His family is expected to receive his body in the upcoming few hours. Shaheen was arrested by IOF troops positioned at the then Abu Houli checkpoint in the central Gaza Strip on 15 October 2004. A bill of indictment was presented against him on 16 November 2004, and he was sentenced to 8.5 years of imprisonment.
Shaheen's brother told a PCHR lawyer on 16 October 2004, when he authorized PCHR to pursue the case, that Shaheen was suffering from diabetes and was regularly injected by insulin in order for his health condition to be stable. A lawyer delegated by PCHR, who visited Shaheen in the prison, repeatedly indicated that Shaheen was suffering from acute diabetes.
According to information available to PCHR, Shaheen's health condition recently deteriorated as he suffered from a blockage of arteries and hypertension in addition to chronic diabetes. These facts raise suspicions about the causes of his death as PCHR has repeatedly received information about medical negligence and the failure of Israeli prison authorities to provide Palestinian prisoners in Israeli jails with appropriate medical care.
Shaheen was the second Palestinian prisoner to die in Israeli jails in les than two months. In 2007, five Palestinian prisoners died in Israeli jails; four of them died because of medical negligence whereas the fifth one was shot dead by IOF troops who stormed the Negev Prison.
PCHR calls upon the international community and concerned international bodies to immediately intervene to end the suffering of Palestinian prisoners in Israeli jails, as detention condition in Israeli jails are inhuman and violate international humanitarian law and Standard Minimum Rules for the Treatment of Prisoners.
PCHR reminds the international community of the at least 11,000 Palestinian prisoners detained in Israeli jails and detention centers, including the 720 form the Gaza Strip whom IOF continue to detain in violation of international law, as these prisoners must have been released when the IOF commander in the Gaza Strip issued a statement ending the Israeli military government in the Gaza Strip.
In light of Shaheen's death and Israel's insistence to continue to detain Palestinian prisoners and efforts to enact new laws and amend existing ones to be able to continue to have the authority to interrogate and prosecute Palestinians from the Gaza Strip:
1. PCHR calls upon the international community to form an impartial commission of inquiry immediately so as to determine the circumstances surrounding the death of Shaheen and to declare the results of investigation.
2. PCHR calls for forcing IOF to commit to Standard Minimum Rules for the Treatment of Prisoners and improved detention conditions of Palestinian prisoners.
3. PCHR calls upon concerned international bodies to intervene to ensure the providing of appropriate medical care to hundreds of Palestinian prisoners who suffer from diseases and whose lives are threatened because of medical negligence.
Related Links