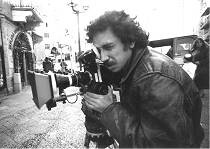 In a 28 July 2004 letter to Israeli Public Security Minister Tzachi Hanegbi,
RSF
called for a "thorough and open" investigation into a brutal assault on Israeli filmmaker David Benchetrit, who was left barely able to walk after being attacked in front of the Defence Ministry in Tel Aviv on 21 April.
"We would like to see the police investigation pursued with the utmost vigour so that the perpetrators of this shocking violence are arrested and punished in keeping with the seriousness of the attack," RSF said in its letter. The organisation insisted in particular on the need for "full co-operation between the defence ministry, in front of which the assault took place, and the public security ministry, which is in charge of the police investigation." The organisation also asked to be kept informed of the progress of the investigation, the results of which should be made public in about two weeks.
The hard-hitting documentary filmmaker was attacked as he prepared to enter the Defence Ministry for an appointment with ministry spokesperson Ruth Yaron, in connection with a film he is making about Israel's conscientious objectors.
He was stopped by a security guard and told to identify himself. When he did not respond quickly enough, he was beaten by the guard, who may have taken him for an Arab, according to the filmmaker. Three other guards then handcuffed him and began striking him with the butts of their guns, as he tried to tell them he was a journalist and had an appointment.
Benchetrit still has great difficulty walking as a result of multiple right leg fractures and suffers from lingering effects caused by the blows to his head, including memory lapses and difficulty concentrating.
On 26 April, RSF wrote to Israeli Defence Minister Shaul Mofaz expressing shock over the assault and calling for a "swift and full investigation" into the incident. In his 5 May reply, Mofaz said he was sorry about the incident but that security forces had acted in a professional manner. No mention was made of opening an investigation into the case.
More Information
Séverine Cazes-Tschann at

RSF

, 5, rue Geoffroy Marie, Paris 75009, France, tel: +33 1 44 83 84 84, fax: +33 1 45 23 11 51, e-mail: moyen-orient@rsf.org, Internet: www.rsf.org.

Related Links
Israeli documentary filmmaker brutally assaulted by Israeli security guards,

RSF

(26 April 2004)