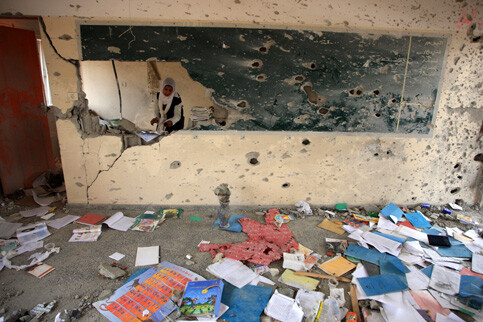 Samira Qishta, a mother of 12, rushed to her house in the al-Brazil housing project of Rafah City, right after the Israeli army declared a halt to its attacks on the coastal region on 18 January.
"My God, what has happened? was it an earthquake? I cant believe my eyes!" This was Samira's reaction when she saw her devastated house.
The three-week-long Israeli war on Gaza has ceased, yet the repercussions may be felt for years to come. There are thousands of grieving families, thousands of homes have been reduced to rubble and much of the infrastructure has been destroyed. The scale of the destruction caused by round-the-clock bombardment can be seen in Rafah City, on the Gaza-Egypt border.
Inspecting the ruins that used to be her family home, Samira exclaimed, "May God take revenge on both Arabs and Israelis, for what they did to my house."
"We have nothing to do with underground tunnels, as you see, our house is located more than 300 meters away from the Philadelphi Route [the name Israel gave to the border zone]," Samira says while inspecting the debris-covered sofa and broken window of her living room.
Due to the tight two-year-long Israeli and Egyptian blockade on Gaza, Palestinians have been forced to dig tunnels to Egypt to bring in much-needed supplies. Israel claims these tunnels are used for bringing in weapons and heavily bombed the densely-populated border area in an attempt to collapse them.
Samira's neighbor, Faten al-Shaer, a mother of six, was sitting in front of her own house, which was so badly damaged it is no longer habitable.
"Before the war began, we used to see many goods and commodities coming through the border area," Faten said, "We used to see food, clothing and other necessities like fuel. We have never seen weaponry."
"We lived in this house for more than 40 years, since my eldest brother was only three. And you see now, not only our house is destroyed, also our history is ruined. What can I say? May God take revenge on all those who did this to us!"
"May God takes revenge on those that did this to us!" — these same words are heard all over the Gaza Strip.
In the border neighborhood of al-Foukhari in Khan Younis another "earthquake" occurred. Hassan al-Semari spoke with outrage at the destruction inflicted in this area by Israeli tanks.
"I have lost my house, I have lost my house! The walls are almost knocked down! Twenty livestock of mine were killed and my farmland completely razed. May God take revenge on those responsible!"
In the al-Zeitoun neighborhood to the east of Gaza City in the north of the Strip, where Israeli attacks were even harsher, most residents were forced to flee their houses, and upon their return have been completely shocked at the widespread destruction.
Rafiq Dalloul was forced to flee with 80 other family members to another family's house, further from the Israeli attacks. Upon returning to the area, he only uttered, "May God take revenge on all those responsible!"
"As we were taking shelter in a relatively remote house, three Israeli tank shells hit that house. What we have seen during the Israeli attacks on Gaza, was the most horrific thing in more than 40 years," he said.
Initial estimates of the damage caused by Israel's attack on Gaza which began on 27 December rise to about USD 2.5 billion. More than 1,300 Palestinians were killed, at least one third of them children, and more than 5,300 were injured.
Israel claimed that the attacks were to stop rocket fire by Hamas, when in fact there had been no such rocket fire until after Israel violated the agreed truce by attacking the Gaza Strip and killing six Palestinians on 4 November, ending four months of calm.
Israeli and Hamas officials are set to renew Egyptian-mediated talks over a longer truce and reopening of border crossings. So much suffering could have been spared if Israel had not launched its war against an entire population.
Rami Almeghari is contributor to The Electronic Intifada, IMEMC.org and Free Speech Radio News and is a part-time lecturer on media and political translation at the Islamic University of Gaza. Rami is also a former senior English translator at and editor-in-chief of the international press center of the Gaza-based Palestinian Information Service. He can be contacted at rami_almeghari A T hotmail D O T com.
Related Links