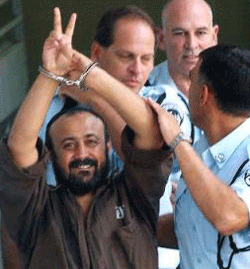 As Palestinians marked the third anniversary of the intifada, at the Tel Aviv District Court, member of the Palestinian Legislative Council, Marwan Barghouti, who was detained by Israel since April 2002, presented his closing arguments. He warned that the price of peace for Israelis is independence for the Palestinian people from the 36-year-old Israeli occupation. He said: "The occupation cannot continue over the Palestinian people who want freedom and independence like every other people in the world."

Speaking in Hebrew as he gave his own defense, the senior Fatah leader warned that if Israel continued its occupation, it would have to accept a one-state solution, which is something the Jewish state would never agree to.

"There is one solution: two states for two peoples, or one state for two peoples. Otherwise there will be bloodshed," he told the court in his closing statement, which lasted an hour.

So far, the Palestinian MP has rejected the legitimacy of the Israeli court to judge him. Accordingly, he has refused to have legal representation and has chosen to defend himself instead. "The court serves Israeli occupation and there is no justice in this justice system towards the Palestinian people," he said.

Barghouti asked his Israeli Judges, "Why don't you refuse, like the [Israeli] pilots, who reached a conclusion that they are committing war crimes?" You should refuse to judge me, just like the pilots oppose the occupation."

Barghouti, who represented himself, restated that the fight against occupation must continue "every minute," arguing that, "a man cannot be a Palestinian leader if he does not fight the occupation."

Barghouti is not the only Palestinian prisoner. There are some 6,000 Palestinians in Israeli detention centers. The number of those detained includes 175 juveniles and 70 women. Approximately 800 persons are held in administrative detention, that is detention by administrative order rather than judicial procedure. There have been serious complaints about the treatment of prisoners, including overcrowding, disgusting prison conditions and lack of proper medical care. They also include inhuman and degrading treatment, sometimes amounting to torture.

"I am a human being who was born and grew up and lived under Israeli occupation," said Barghouti. "I understand what occupation is," he told the three-judge panel that heard the case against him. "Maybe for you it is the control of another people, running their affairs, but for us occupation is killing and murdering the life of a peaceful people … To die is better than to live under occupation."

Barghouti began his speech with a minute of silent prayer. He then announced he had decided not to speak because, he said, the judges had already decided their ruling.

Related Links:

Want Security? End the Occupation, Marwan Barghouti, The Washington Post (15 January 2002).
Marwan Barghouti presents charge sheet against State of Israel (3 October 2002).