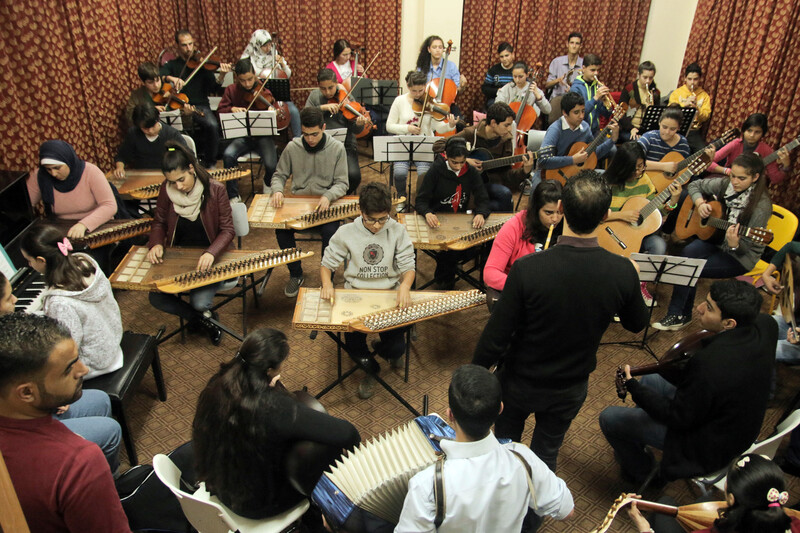 Eight years of suffocating siege, three devastating Israeli assaults and longstanding Palestinian political divide have negatively impacted all aspects of life in Gaza — including its music.
There is only one music school in the tiny coastal territory, and only children are taught there.
The Gaza Music School was opened in October 2008. It was bombed by Israel and destroyed two months later.
Located in Gaza City, the school was rebuilt and has recently become a branch of the Edward Said National Conservatory of Music in the West Bank.
"Nowadays, we have 207 students in the school, aged between 6 and 12 years old," said Gaza Music School director Ibrahim al-Najjar.
"We have a highly qualified group of teachers. Some of them are from Russia, Ukraine and Romania, teaching students Western and Eastern musical instruments."
Encouragement
Seraj Sersawi, 17 years old, is among the school's advanced students. He is about to graduate after eight years of studying the oud, a traditional Middle Eastern stringed instrument similar to the lute.
"I started going to the school in 2008," Seraj said. "I wasn't sure then of my talent, but with time, and the help of my parents and the teachers at the school, I was encouraged to believe in myself."
The teen said that music has changed his life.
"In 2012, I was chosen to be a part of an exchange project between Palestine and Sweden," Seraj explained.
"This golden opportunity helped me [discover] other cultures and other types of music," he said. "It also allowed me to meet a group of highly qualified players, some of them famous, and benefit from them."
But Seraj will have to travel outside Gaza to pursue further studies in music technology and music production.
"My teachers taught me that music is about being a human," he added. "For me, I'll always belong to this place."
Innovators
Ahmed al-Haddad is 19, too old to study guitar at the Gaza School of Music. But there are few qualified instructors outside the institution, so he turned to the Internet to learn how to play.
"I noticed my interest in music since childhood," al-Haddad said. "But unfortunately, when I decided to buy a guitar at the age of 15, my family refused for traditional and religious reasons."
That didn't deter him.
"When I bought the guitar, I didn't receive any encouragement or help. But I believed in myself and started watching lessons on YouTube," al-Haddad said. "I practiced a lot until my family appreciated my talent."
In more than one way, al-Haddad and others like him in Gaza are paving new ground.
"The majority of the people of Gaza are used to listening to traditional songs and Eastern music, which have no guitars," he said. "Fortunately, the new generations try to be up to date, so the guitar started to become a very familiar instrument."
Al-Haddad has even greater ambitions than popularizing his instrument.
"My dream is to travel all over the world, and to have a rock and roll band," al-Haddad said.
"Nowadays, I play guitar in some bands in Gaza," he added. "Most of them don't play the type of music I prefer, but for me it's the only opportunity to practice and to improve my talent."
Mousa Tawfiq is a Palestinian student and musician based in Gaza City.
Tags