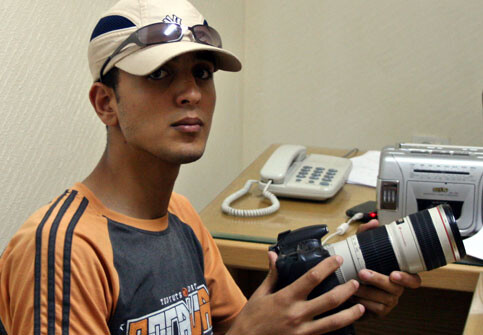 Ma'an
photographer Mohammad Az Zanoun was a witness to the Israeli force crimes on Saturday morning, but the Israeli occupation army prevented him from transmitting these crimes into pictures. They shot at him and splinters from their projectiles seriously injured him. Zanoun was taken to hospital for treatment.
Mohammad Az Zanoun, 20, is a new recruit who suddenly found himself in the middle of a war. He insists on being the messenger of his people because he wants to tell the world about his people's suffering through photos and pictures. He thought that his honest photos might move the hearts and conscience of the world.
The young photographer was seriously shot and injured by shrapnel from Israeli projectiles. One hit his mouth and teeth and cut his finger. The other hit him on his body. In spite of that, he continued to work, strangely insistent. Then the Israeli soldiers aimed their weapons directly at him and shot him in the stomach. He fell instantly to the ground with his camera.
Eyewitnesses said that he fell to the ground shouting, "Where is the camera? There are many photos in it which are witness to the killing of Palestinians; there are many photos of the Palestinians who have been killed."
Zanoun rejected his mother's request that he return home after the Israeli tanks entered the area of Zaitoun where he lives. He insisted on continuing his work, as he believes he is contributing to a cause, the cause of his people. This is what he said to all those who called for him to return. He told them that he has learned in order to serve his people and their just cause.
He was taken to a hospital in a civilian car as the ambulances were not able to reach him. He is currently undergoing a serious operation in the Shifa'a hospital. His colleagues were able to see him when he was admitted to the operating theatre for surgery.
Miraculously, Zanoun escaped injury when an Israeli projectile landed among a group of Palestinians in Beit Lahiya on Thursday. He took many photos of the victims of Thursday's deadly strikes and sold his photos to many famous news agencies.
Related Links