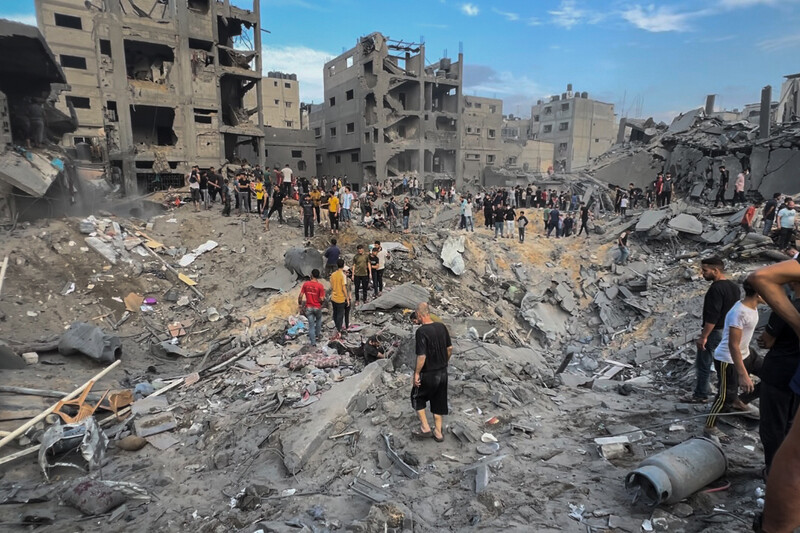 I was raised in Jabaliya refugee camp, northern Gaza.
The first intifada erupted right in the heart of our camp during 1987. I was born three years earlier.
My father gave my brother the name Hatem as a tribute to Hatem al-Sisi, the first Palestinian killed in the intifada.
All the joy and success in my life has been overshadowed by sorrow.
As a child, I heard the stories told by the elders of my family about the first intifada. Stories about the activities of Israeli soldiers: arrest campaigns, house raids, curfews and camp closures.
All of these had a major effect on my family and our neighbors. I witnessed many tragic events in the camp.
Over time, a love for learning grew inside me. I decided to travel for educational reasons.
I studied in several countries, including Malaysia, Singapore, the US and Iceland. Today, I am in Belgium.
But I often returned to the camp. Wandering the streets brought back memories of my childhood.
I would inhale the scent of the land I grew up on.
Massacre at a market
Among my childhood memories are the times I spent in my grandfather's home in Block 5 of the camp.
As a young boy, my mother relied on me to help provide for the household.
My father worked in Israel's clothing industry throughout the week. He would only be in Gaza on Fridays and Saturdays.
Like other children in the camp, I went to buy groceries for my family.
The Jabaliya market was in the adjacent Block 4. It wasn't just any market but the market for all the towns and villages in the governorate of North Gaza.
The market started at the intersection of al-Ajarma Street with Turk Street, leading north to Beit Hanoun and Beit Lahiya. It began with the al-Ajarma bookshop, followed by al-Kholafa Pharmacy, next to which was a shawarma restaurant.
Nearby was the al-Talouli Electric Store, which sold hardware. It was a place where my father and his friends from the al-Talouli and al-Madhoun families gathered from the 1980s onwards.
As children, we would pass these places on our way to school, the health clinic run by the UN agency for Palestine refugees (UNRWA) or other shops in the market.
The al-Talouli Electric store is located at the center of the market. Earlier this week, Israel subjected that area to heavy bombardment.
Hundreds of people were killed in the massacre. Many of the dead were my relatives, neighbors and friends.
I don't understand why this market was subjected to so much violence.
Less than 24 hours later, Israel carried out another massacre on the other side of the camp.
The Six Martyrs neighborhood in al-Faluja – an area within the camp – was bombed. Perhaps we should rename it the Hundred Martyrs or even the Thousand Martyrs neighborhood.
Nobody will know for sure how many people have been killed until all the rubble is cleared and all the martyrs are counted.
Is there any guarantee that there won't be a new massacre in the coming hours?
Nothing can stop my tears from falling at this moment.
Death is everywhere in Gaza. The situation is far worse than all the previous massacres and tragedies we have gone through.
Nothing is left
Jabaliya is a camp with small alleys that is still being targeted in Israel's air strikes.
Buildings with concrete walls that were three or four floors high have disappeared. A huge number of smaller homes made from asbestos and tin sheets have been destroyed, too.
Nothing is left in the Jabaliya market except large craters.
I saw images of houses in which my friends and neighbors lived being destroyed. They include the home of my childhood friend Yunis al-Assi.
Getting information about who was killed in massacres is very difficult.
I cannot contact friends and family in northern Gaza because they have no internet connection. So I don't know if my friend Fayez lost his family or not.
Fayez himself was probably not at home as he works as an ambulance driver with the Palestinian Red Crescent. But I don't know that for certain.
But I did see my friend Ahmad Abu Nasser appearing in a video saying, "Three of my children were killed. I'm looking, oh God, for one who might still be alive."
Khalid, another friend of mine, remarked with astonishment about how one small alley has been transformed into a wide square. All the surrounding buildings have been flattened.
I haven't been able to reach Khalid directly. But I heard him make that comment in a Telegram video.
Followers of fashion
My friend Tareq Hajjaj was killed during October. Tareq and I went to school and remained friends afterwards.
We were friends despite being rivals. We were among the top-performing students at school, especially in English and math, although we engaged in some reckless behavior as teenagers in high school.
We were followers of fashion and used to mingle with and tease girls from the neighboring girls school in the al-Faluja area of Jabaliya refugee camp.
We even established what we called a political party and distributed flyers to school students about it.
This week's massacres caused people to scream. Others tried to lift the rubble and dig with their hands, searching for their relatives and neighbors.
But the most painful thing was the muffled cries of people trapped under the rubble. Children, women, elderly people who have not been heard or recorded with cameras.
Today, I can only visit the camp virtually – by looking at the screen on my phone. I fear greatly for my family, neighbors and friends.
Everywhere in Gaza has been under a merciless attack since 7 October. But what pains me most is knowing that so many bombs have been dropped on civilians in Jabaliya refugee camp.
The pain and sorrow I felt seeing how places I got to know so well during my childhood were wiped away is indescribable.
I am unable to help people in Jabaliya camp practically at the moment. But my determination to raise awareness about Palestine has only increased.
I am determined to share the stories of Palestinians with the world.
Despite being far from my homeland, my heart still beats with love for Jabaliya refugee camp and its people. I will work with all my strength to make a difference and to alleviate their suffering.
Tamer Ajrami is a student of political science living in Belgium.
Tags