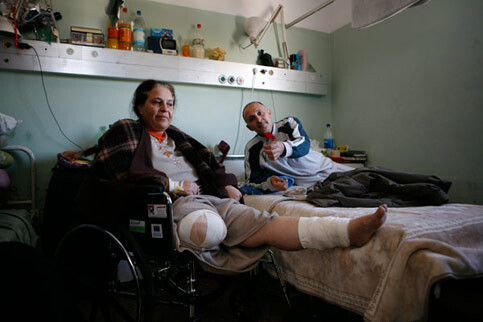 Amidst the thousands of people injured during Israel's three-week bombardment of the Gaza Strip are many whose lives will be permanently affected because they lost limbs.
Suheir Zemo, a 47-year-old mother of seven, lost her right leg after an Israeli missile crashed into her home in the Tal al-Hawa neighborhood of Gaza City in mid-January, at the height of the Israeli attack.
"I was in my bedroom when a rocket landed in the room. Suddenly my leg started bleeding severely. Then my husband risked his life and took me to hospital as ambulances were not allowed into the area, said Suheir sitting in a wheelchair at the al-Shifa hospital in Gaza.
At al-Wafa rehabilitation hospital in eastern Gaza City, a number of amputees recently began the rehabilitation process. Al-Wafa is the only private rehabilitation center in the Gaza Strip, but even it was not spared damage in the Israeli attack.
In one of the hospital's rooms lie two young men in their early twenties; the first had his right leg amputated, while the second had his lower limbs severely injured, preventing their use completely.
"It was almost 1:15 pm, when an Israeli tank shell hit our home in the Shaaf area of Gaza city. Only my father, my friend and myself were inside the home when it was struck," said Maher al-Habashi.
With signs of agony on his face, Maher added, "we ran out of the home and suddenly two rockets fired by a drone hit the three of us. My father and my friend died, while I felt paralyzed, realizing I was hurt."
The young man who lost his right leg, Yehya Abu Saif, 20, described how was he injured on 3 January, when Israeli warplanes targeted a mosque in the Jabaliya refugee camp in northern Gaza.
"We has just finished the evening prayer and as we got out of the mosque a rocket landed among the worshipers including myself. Later on I realized I was injured and as you see I had my leg amputated."
"Why do they attack mosques, why?" Yehya asked, "is this their alleged democracy?"
As the only facility of its kind in Gaza, al-Wafa is set to receive more people who have lost limbs to begin a rehabilitation process that can take weeks, months and even years. Patients receive physical, functional, psychological and clinical support, and may receive cosmetic or other surgery to prepare them to use prosthetics.
The number and severity of injuries as a result of the Israeli attack were unprecedented and unfamiliar to Gaza's doctors.
Dr. Fawzi al-Nabulsiya, chief of intensive care at Gaza's al-Shifa hospital said: "Many of these cases we haven't observed before. The weaponry used is very effective, leading to amputation of limbs, especially the lower ones, spinal cord and cases of deep coma. The ICU here received 283 cases, equaling the total of cases we often receive in a period of six or seven months."
Such an emergency situation, created by the Israeli war on Gaza, has pushed the Hamas-run health ministry to transfer hundreds of patients to hospitals outside of Gaza, mainly in Arab or Islamic countries.
However demand is still high, especially for treatment and rehabilitation of people with disabilities. Hammam Nasman, spokesman of the health ministry in Gaza drew an image to the health service in Gaza under these circumstances.
"The ministry of health does not have institutions that carry out rehabilitation, therefore, the ministry buys the service from other institutions. Actually, many Arab or Islamic countries extended a hand of assistance, for example, a Turkish institution called IHH has opened a branch in Gaza City, it is preparing to provide prosthetics."
Medical sources in Gaza estimate that the number of injuries due to the recent attacks on the coastal Strip has risen to 6,000, and the death toll more than 1,350, half of them women and children.
Rami Almeghari is contributor to The Electronic Intifada, IMEMC.org and Free Speech Radio News and is a part-time lecturer on media and political translation at the Islamic University of Gaza. Rami is also a former senior English translator at and editor-in-chief of the international press center of the Gaza-based Palestinian Information Service. He can be contacted at rami_almeghari A T hotmail D O T com.
Related Links