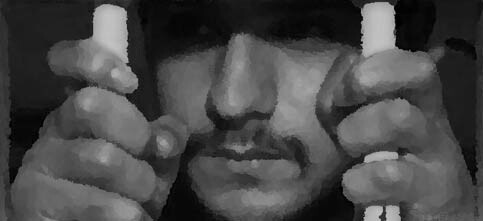 "We remind you that you should fast tomorrow and the day after in support of your brothers, the striking prisoners," a short mobile phone message (

SMS

) widely sent to dozens of friends in Nablus said. Nader Hamid, a young man in Nablus, said that he sent

SMS

messages to his colleagues to brief them on the strikers' news and to urge them join solidarity campaigns with the prisoners.

Aron Gandhi, the grandson of the Indian leader Mahatma Gandhi, who arrived in the region this week, called for putting an end to the suffering of the Palestinian people. He announced that he would launch a hunger strike tomorrow in support of the Palestinian prisoners.

Today, Abdullah Daoud Abul Qassem, who was deported to Mauritania from the Nativity Church in Bethlehem two years ago, has gone on hunger strike in solidarity with the Palestinian prisoners.

The Palestinian Prisoner's Society yesterday said in a statement that Abdullah was one of the Palestinian activists "temporarily" deported in 2002 following the Israeli invasion of Bethlehem and the siege of the Church of Nativity. Since then the deportees have not been allowed to return home.

Meanwhile, the mother of two prisoners Amer and Ahmed Atta Sha'ban Abul Kheir is on hunger strike for the eleventh day running. Her son Amer's trial was held a couple of days ago in Salem military court where he was sentenced to ten years. She described her son's condition as very bad, noting that he lost a lot of his weight as a result of his hunger strike in Shatta prison.

The mother of the prisoner Rami Salem, who was sentenced to 13 years in prison, and has currently spent two and a half years of them in Hadarim prison, told reporters that she would continue her hunger strike until the prisoners break theirs. "We demand that the Arab and world countries to stand by the prisoners, because they defend a cause, and we call on the Palestinian communities in Europe and the United States to intensify their activities and solidarity demonstrations with the prisoners," Um Rami said.

She conveyed a message to her son, Rami, whom she has not seen for six years now, asking him to continue with his hunger strike until their demands for better detention conditions are met.

Yesterday, leaders of Hadash took part in a one-day hunger strike, in solidarity with Palestinian prisoners, at a protest tent near Umm el-Fahm. Among those who took part in the protest hunger strike in Umm el-Fahm were MK Muhammad Barakei and MK Issam Mahoul, as well as Nazareth Mayor Ramez Jeraise, and Shawki Khatib. They were joined by Jewish peace activists as well as council leaders from towns and villages in the area including, according to reports, Umm el-Fahm Mayor Sheikh Hassan Abdel Rahman.

Hadash established a protest tent near St. Mary's well in Nazareth shortly after the launching of the hunger strike by Palestinian prisoners and has staged demonstrations outside main branch offices and the Megiddo, Hadarim, and Shata prisons.

In Asseira Al-Shamaliya near Nablus, Palestinians pitched a tent that grouped villagers wishing to express solidarity with the striking prisoners. Ahmed Younis, speaking on behalf of the committee grouping relatives of prisoners in Israeli prisons, said that the tent was a clear message to the world that the Palestinian people were all supporting the striking prisoners. He criticized the media for not according adequate coverage of support activities and urged the Red Cross and other international agencies to intensify visits to the prisoners.

Outside the Palestinian Legislative Council in Gaza, artists and film makers joined the solidarity hunger strike. Fayeq Jarada, a Palestinian film maker, told reporters that he went on this solidarity hunger strike on behalf of the Association of Palestinian Film Makers for Cinema and Television, in order to shed some light on the suffering and struggle of the Palestinian prisoners.

"Our hunger strike will continue as long as Palestinian prisoners continue with theirs, and as long as Israeli violations of the prisoners' human rights continue," Jarada said.

Several Egyptian artists and writers have sent letters of solidarity with their strike. The Jordanian Artists' Syndicate is holding a meeting to organize a sit-in to show solidarity with their Palestinian peers. Jarada said that there are projects to produce documentaries about the hunger strike, noting that several films were made before about the suffering of prisoners inside Israeli jails, including one he directed called "Away from the Sun".

For its part, the professional syndicates union in Jenin city today issued a statement supporting the prisoners' legitimate protests and demands. The union organized a march today that headed to the solidarity tent in central Jenin, urging the world community to back the prisoners.

Related Links

BY

TOPIC

: Detention and Torture

This report was compiled from a variety of online sources by EI's Arjan El Fassed.