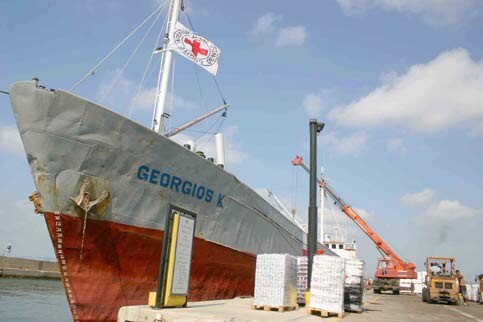 TYRE
- Despite being granted safe passage by Israel for some of their humanitarian convoys, relief agencies say limited security clearances, bombed access routes and intensified fighting between Hezbollah militants and the Israeli Defense Forces (
IDF
) are hampering their aid efforts.
The current conflict between Israel and Hezbollah began on 12 July after Hezbollah captured two IDF soldiers. Israel says its aerial bombardment of parts of Lebanon is aimed at dismantling Hezbollah's "terror infrastructure".
Hezbollah has responded by firing thousands of rockets into northern Israel and has demanded the release of hundreds of Lebanese from Israeli jails and Israel's withdrawal from all Lebanese territory.
The IDF has imposed a land, sea and air blockade on Lebanon for the claimed reason of preventing weapons and supplies reaching Hezbollah. As such, all trucks transporting goods within Lebanon must obtain security clearance from the IDF to guarantee safe passage.
"The question is whether the Israelis will deny access to any one area for too long," said Roland Huguenin, spokesman for the International Committee of the Red Cross (ICRC) in the southwestern port city of Tyre.
Having secured safe passage after days of delays, Huguenin said Israel continued to deny security clearances to some aid convoys attempting to deliver food and medication to villages in the hills south and east of Tyre.
According to Christopher Gunness, the United Nations spokesman in Jerusalem, Israel does not forbid any convoy from reaching the villages of south Lebanon, but has advised relief agencies against sending more than one truck at a time for security reasons.
By way of airdropped leaflets and local Arabic language media, the IDF continues to repeat its calls to civilians in southern villages to evacuate their houses and move north. "The IDF does not consider the citizens of southern Lebanon enemies and does not wish to cause them harm," read an IDF statement.
Though food aid has been reaching many of the villages, large areas of the south are without running water after the region's main pumping station was destroyed by an IDF missile strike.
An ICRC water engineer arrived in Tyre on Tuesday to assess ways of solving the water crisis. Huguenin estimated that hundreds of water trucks would have to begin delivering water to outlying villages, many of which are inaccessible after Israeli airstrikes on most of the main access routes. He said the ICRC would try to deliver fuel to those houses or locations where generators could be used to pump water from wells.
The World Food Programme (WFP), which is coordinating UN and other humanitarian aid in Lebanon, said on 1 August that only one of three convoys planned to make food deliveries to the villages of Tebnin, Rmeich and Naqoura had been granted security clearances by the IDF. Six trucks of food had been sent to Tebnin, instead of the 18 planned.
"We are increasingly frustrated that our convoy movements are being hampered, leaving people in the south stranded for what is now nearly three weeks. We have no time to waste - they are running out of food, water and medicine. Many are poor, sick, or elderly and could not be evacuated earlier," said Amer Daoudi, WFP Emergency Coordinator.
"We ask all parties to this conflict to allow these convoys to move, otherwise we are going to see even more tragedy and more suffering than we've seen so far."
WFP also cancelled a planned convoy to the southern town of Marjayoun on 30 July, after the IDF refused to give it clearance.
However, the IDF has told WFP that two ships carrying 87,000 metric tonnes of fuel will be allowed to dock in the capital, Beirut, and the northern port of Tripoli.
Related Links
This item comes to you via IRIN, a UN humanitarian news and information service, but may not necessarily reflect the views of the United Nations or its agencies. All IRIN material may be reposted or reprinted free-of-charge; refer to the copyright page for conditions of use. IRIN is a project of the UN Office for the Coordination of Humanitarian Affairs.