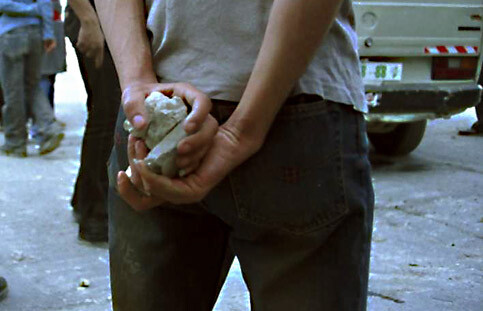 After months of media reports highlighting the role of children in the Palestinian Intifada, the 2004 Global Report on the Use of Child Soldiers has found that this phenomenon remains the exception rather than the rule in Palestinian areas, although one which needs to be taken seriously.
The global report, issued by the Coalition to Stop the Use of Child Soldiers on November 20 to coincide with the UN Children's day, indicates that all groups involved in the West Bank and Gaza Strip have had a history of child recruitment. This includes the military wings of Hamas, Fatah and the PFLP, as well as the Palestinian Authority and Israeli Occupying Forces.
In the case of militant groups, the report found that they have been involved in the recruitment of children for raids on Jewish settlements, have supplied children with small explosive devices, and in the worst cases, used children in suicide bombings on Israeli targets. However, while there have been at least nine documented suicide attacks involving minors, this remains a small fraction of the problem in other conflict zones such as Africa, where there are an estimated 20,000 children involved in active combat roles in Sudan alone.
Meanwhile, the report stated that both Israeli and Palestinian government forces have been implicated in the misuse of Palestinian children. While the Palestinian Authority has recruited some under-18s for its security forces, the Israeli army and intelligence services have sought to recruit children as informers, often putting pressure on them to collaborate. The high level of child arrests has been important in this light, involving the detention of around 350 minors a year. Some of these children have reported torture and are often treated in ways which fall short of international standards on juvenile justice.
The report indicated that efforts are underway to try to change societal attitudes to the involvement of minors in the conflict by local human rights groups and others. This has led to a growing awareness of this phenomenon, although further efforts are still needed, the report concluded.
Catherine Hunter is a Middle East Consultant for the Coalition to Stop the Use of Child Soldiers.
Related Links