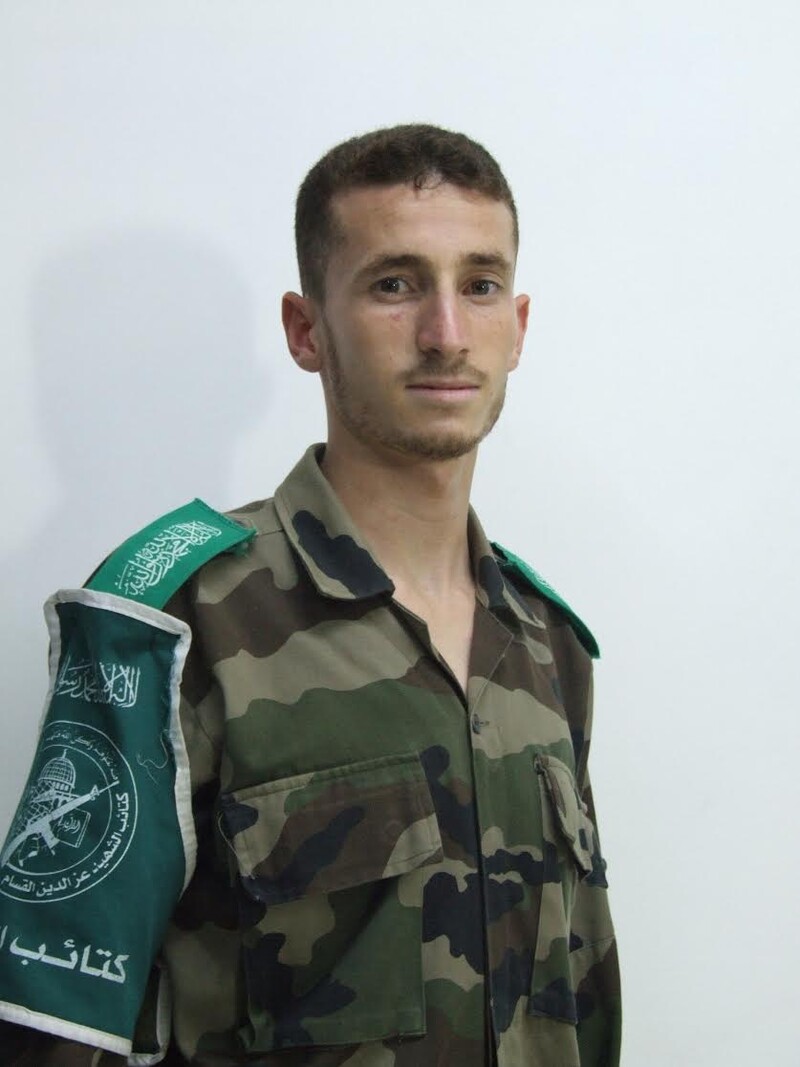 Thirty years ago this month, the Yassin family, from Nuseirat refugee camp in the central Gaza Strip, was enlarged by two.
Just under 21 months ago, the brothers were forever torn asunder as one became the first casualty of Israel's 2014 aggression on the Gaza Strip.
Entering the world just a minute apart, identical twins Rashad and Adnan were born to Abdulrahman and Zainab Yassin, originally from al-Jiyya village, which was cleansed of its indigenous population in 1948.
Despite their history of dispossession and a life as refugees, the Yassin family was essentially a happy one. And the boys grew up healthy and making fun of each other.
"I used to tell Rashad he was a coward, he had jumped from our mother's womb a minute before me because I was sitting on his chest," Adnan told The Electronic Intifada.
Rashad was well known for drawing charcoal portraits of those killed by the Israeli military. He was always "naughty," Adnan said: he prefered to "discover things by himself." An avid football fan – Barcelona was his team – he always broke a bone or injured himself somehow.
Once, when Adnan had broken a bone, Rashad told him it was about time: "At last I see you lying there hurt," he had told Adnan. "It's usually me."
Out of miracles
Rashad was a member of Hamas' military wing, the Qassam Brigades. He became the first Palestinian fighter to be killed in Israel's Operation Protective Edge, an all-out military assault that started on 8 July 2014.
The missilies that killed Rashad signaled the beginning of a 51-day offensive that would eventually claim the lives of more than 2,200 Palestinians, 551 of them children, and leave 11,000 people, including 3,540 women and 3,436 children, injured and maimed, according to the independent inquiry commissioned by the UN Human Rights Council.
This was not the first time the family had feared the worst for one of their own. Older brother Ala was shot in the head by an Israeli sniper when in high school during the first intifada.
He had been returning home from school. The family almost erected the traditional mourning tent, but somehow, he survived.
Rashad almost died in 2005, after he fell from an electrical tower from which he was filming the Israeli withdrawal of soldiers and settlers from Gaza. He suffered third-degree burns and those who saw him fall were convinced he wouldn't make it.
"His life was saved by a miracle," said Adnan. "So was Ala's."
But the miracles ran out and with them, the closest of relationships.
"I kept all his secrets and he kept mine. We went to school together. We would wear the same clothes. We could understand each other with a glance," Adnan said.
The brothers would often be mistaken for each other. At times, Adnan and Rashad would have fun with those situations, but sometimes, due mostly to Rashad's propensity to get himself into trouble, it would cause problems.
Members of Rashad's boy scout troop – the scout movement has been active in Palestine since 1912 – were less than impressed when Adnan turned up for one training session, fooling all but one, until Rashad sprang out from hiding.
"He was laughing his head off, calling them all bad names for being fools and mistaking me for him."
Last call
Shortly before the Israeli jets that killed him swooped in, Rashad had phoned Adnan. "He asked to me feed his birds. The first thing I did when I heard news of his death was to go to a shop and buy food for those birds. I fed them before I went to the hospital."
Adnan was on the top of his friend's house when the bomb fell. The two warplanes fired their missiles at the building in which Rashad and a friend were taking cover, leveling the area.
Adnan saw smoke rising from the camp in the west. "The explosion was huge, a tsunami, and I told myself, I pity those who were targeted," Adnan said.
It took some time before Adnan was told Rashad had been killed. As is often the case with fighters, their deaths are first kept quiet, and the family was initially told Rashad had been injured.
When the news was finally conveyed, Adnan was too emotionally shattered to help dig Rashad's final resting place. And at the funeral at the Central Martyrs' Graveyard in Nuseirat, he collapsed into the grave with his brother, where he found, he would later say, enough space for them both.
"He was everything to me. I wanted to be the last to hold him."
Rashad left a wife and Aseel, a two-year-old daughter. As per local tradition, Adnan proposed to his brother's widow. It's a common phenomenon in Gaza, where breadwinners are often in the firing line, whether or not they are combatants.
In the impoverished territory, moreover, it is almost incumbent on any unmarried brother to propose and take care of his brother's children.
Adnan now cares for Aseel and provides for Rashad's family, and his birds. Life, he said, has to go on.
Yousef M. Aljamal is a writer based in Gaza.
Tags