Two little girls, Manar and Sabine are showing us around blocks O and J of Rafah refugee camp, the site of Israel's largest home demolition operation since the start of the uprising in September 2000. "What's your name?", I asked a little guy walking around the rubble of demolished homes in Rafah's refugee camp. "I am Mahmoud," he said. The boy, perhaps 10-years-old, looks disturbed.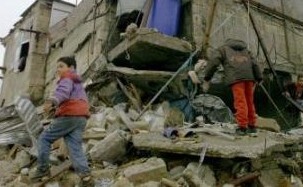 Rafah has been repeatedly subjected to home demolitions. From the beginning of the Intifada until 9 January 2002, 102 houses on its periphery have been completely destroyed.

On 10 January 2002, 59 additional homes in Block O were completely destroyed by Israeli bulldozers accompanied by tanks and jeeps of soldiers.

Again, on 12 January, 40 homes in Block J, next to Block O, were levelled. Another 41 homes were rendered uninhabitable and a further 70 homes sustained damage following the firing of heavy tank shells and an as yet unidentified large explosion, for which the Israeli forces are believed to be responsible. These home demolitions left some of the 1,700 Palestinian refugees affected homeless for the second or sometimes third time.

Mahmoud points to a poster on one of the walls. The poster shows two Palestinian faces. "That's my brother and my cousin." The poster shows fifteen year old Muhammad Abu Libde who was killed on 8 September 2001 by heavy machine gun fire and Akram Abu Libdeh who was killed two weeks later by shrapnel in his head during Israeli shelling of Rafah.

Half of Gaza's Palestinian population is younger than 18 years old. Palestinian children and youth in Gaza have a high prevalence rate of exposure to traumatic events and emotional and behavioral problems. This not only affects their behavior now, but also in the future.

We were accompanying Iyad and Ibrahim, two lawyers from the Palestinian Center for Human Rights in Gaza, on a visit to the families and owners of the demolished homes in Rafah. A committee representing the families was established and inhabitants of the demolished homes were filling forms and providing proof of ownership and damages to the lawyers to prepare for a lawsuit.

"But what about those lies about our homes being uninhabited, or that there were only 21 homes demolished?" asked one of the owners.

On Thursday night, January 10, the spokesman of the Israeli army said:

"Tonight, an

IDF

force carried out an engineering operation on the Israel-Egypt border near Rafah, during which a number of buildings that served as shelter for people shooting at the

IDF

forces operating in the area were discovered. There was also suspicion that these buildings served as a cover for tunnels used to smuggle arms from Egypt to the Palestinian Authority."
Lies were told about the number of homes demolished. The spokesman of the Israeli army stated on January 11 that 14 houses had been destroyed. On Saturday, January 12, the chief of Southern Command, Major General Doron Almog said that 21 homes that were demolished, which had been abandoned for the last three months. That same day, some Israeli officers told the Israeli newspaper Ha'aretz that some of the homes were inhabited.
This added to the standard confusion resulting from different statistics in the immediate aftermath of the events. UNRWA, the United Nations Relief and Works Agency reported that 58 homes had been demolished. The Israeli human rights group B'Tselem found 60 demolished homes and 112 families made homeless.
The bigger picture
The Gaza Strip is an area of 360 square kilometers, slightly more than twice the size of Washington, DC. Gaza's Palestinian population consists of more than 1.2 million Palestinians, of which three-fourth are refugees. Forty percent of this small area is fully controlled by more than 20,000 Israeli soldiers for the sake of 6,000 Israeli settlers. That is, 146 square kilometers out of the total area is used for Israeli settlements, military posts and roads, Erez check point area and border strip with Egypt. The remaining 219 square kilometers consist of 40 military checkpoints and road barriers.
Driving south from Gaza we passed two Israeli checkpoints that guard settler roads leading to Israeli settlements such as Gush Katif, dividing the Gaza Strip into half. One part of the road was blocked with cement blocks and barbed wire. Only settlers and Israeli army jeeps are allowed to use this road. Adjacent to this road is a narrow road for Palestinian commuters. Approaching the checkpoint, we saw a cement bunker from which the ends of machineguns were sticking out, following Palestinian cars as they pass by. The light is red, some 100 Palestinian cars, trucks and taxi vans wait. We watch patiently at the junction. After two cars belonging to Israeli settlers have passed, the light turns green again.
Speaking with various people in Gaza the situation seems hopeless. "We have nothing to lose, we've already lost every thing," says M., who prefers to stay anonymous. "The difference between this intifada and the previous one, is that now, I refuse to be humiliated, or to see my parents being humiliated."
Unlike what has been regularly portrayed in the media, everyone in Gaza is afraid. Every time the sound of helicopters or warplanes are heard, people look to the sky with fear in their eyes. "Unlike the first Intifada, where most Israelis were going to the beach, clubs and restaurants and didn't had any notion what it feels like living under constant threat, this Intifada has impacted the Israeli public. If we should live like this, they should too," added M.
People in Gaza are traumatised. Not only by the 16 months uprising and Israel's excessive response, but by the compacted trauma of 1948, the refugee experience, the wars, and Israel's occupation.
When we arrived back in Gaza we had lunch in Adeira restaurant on the beach. As three Israeli F-16 fighter jets fly over the possibility for an airstrike that night seems inevitable.
"Look," said our taxi driver back to Erez checkpoint, "although I am a refugee, and I should be able to return to my lands in what is now Israel, I am willing to stay in Gaza. I just want to live my life, not being afraid whether I'm going to get killed, arrested, tortured, or humiliated."
As we reach Jerusalem late on Sunday, the radio announces that Israeli F-16 warplanes have bombed the Ansar Presidential compound in Gaza City. Tens of Palestinian civilians were injured or suffered from shock. Several of the remaining buildings in the complex were damaged. The strikes by the Israeli warplanes, which came quick on the heels of an attack by Palestinians who killed two Israeli soldiers in southern Israel, also caused damage to a United Nations building in Gaza City, wounding two UN employees. The blasts blew out all the windows on the first floor of the office of the United Nations Special Co-ordinator in the Occupied Territories (UNSCO). It was the third time the offices were damaged as a result of Israeli bombings.
Three bombs completely destroyed the building housing the navy police headquarters and badly damaged the command centre of the Presidential Guard, Force 17. That same night, Israeli Apache helicopters fired five missiles at a metal workshop in the nearby Jabaliya refugee camp. The workshop was completely destroyed and four civilians were injured. One hour later another workshop located in a residential building in Tel El Zatar was hit by missiles from an Apache Helicopter gunship, destroying the workshop completely and injuring six Palestinians. One of those was a child, Mohammad Suleiman Nasar, 13, who was blinded in the attack.
Jabalya is the largest of Gaza's refugee camps. More than half of Jabalya's 100,000 inhabitants are younger than 15 years old. A decade ago, on 8 December 1987, it was youths from Jabalya who started to what people now refer as "the first intifada". Sunday night's attack shattered windows and brought down the roof at a nearby kindergarten. Home by home, Israel is leveling Gaza.