There you stand
between the dream of two gazelles,
breathlessly
questioning the poem
- Nathalie Handal
Catching a taxi to my apartment near Arafat's compound in Ramallah the other night, the Palestinian driver's immediate question concerned my nationality. "Germany?" he asked. No. "France?" No. "Switzerland?" No. "Italy?" No …

Before he covered the rest of Europe, I somewhat sheepishly admitted, "America."

He cut to the chase: "Do you support Bush?"

With an almost desperate note of pain in his voice, different from that of the jaded drivers I usually have, he asked me about occupied Palestine, about occupied Iraq. "Why does your country do this to us?" he asked me. "Are we bad?" "Am I no good?"

If you're unsure about what exactly it is that we do to them, you might consider looking into why most of the world views our proclamations on democracy, freedo,m and human rights to be hypocritical at best, and self-serving at worst.

How do I respond, when the driver asks why Bush is so close to Sharon? (as in former Republican National Security Advisor Brent Scowcroft's recent comment that Sharon has Bush "wrapped around his little finger"). [1] Merely answering that I don't support the President does not strike me as good enough.

How do I explain why Bush's policy toward the Palestinians is so rotten? If I answer, do I then have to explain why Kerry's policy would have been equally rotten (if not worse), and why Clinton's was rotten? In fact, would I have to explain why the picture has been rather bleak through a long line of US administrations all the way back to Truman's recognition of the Israeli state — "the most difficult decision [he] ever faced as president" — with little regard for the indigenous Palestinian population that had been living there for generations? [2]

Can I simply answer that most Americans don't really know what's going on here, but that if they did things would change? Somehow that doesn't seem sufficient either as I sit next to this man, who's just poured out enough emotion in our five minute ride to leave me afterward with a heavy heart.

I wonder from where his desperateness came.

Was this man detained by the Israeli army or thrown in prison at some point in his life? (Quite possibly, since roughly 40 percent of the total male Palestinian population in the Occupied Palestinian Territories — more than 650,00 — have spent time in Israeli jails since 1967. In the last four years, 40,000 Palestinians have been imprisoned. There are currently 8,000
Palestinian prisoners and almost 1,250 "administrative detainees" — meaning prisoners not even charged with a crime). [3]

Was he tortured? (Until 1999, Israel's law sanctioned torture — the only "democratic" country in the world to do so. Despite the much-publicized Israeli Supreme Court ruling — that did not ban torture absolutely, as required by international law — several human rights organizations reported in 2001 that Israel had "resumed systematic torture of Palestinian detainees.") [4]

Was he made homeless after an Israeli soldier drove an (American) armored Caterpillar D9 bulldozer through his family's house? (As were 16,000 Palestinians in the last four years in the occupied Gaza Strip city of Rafah alone, comprising 10 percent of the city's population, when 1600-1700 homes were destroyed). [5]

Was his mother denied access to Israel or Jordan for necessary medical care? (As were countless Palestinians in the past four years who don't have the "profile" of Yasser Arafat — including clients of the legal aid center where I volunteer — in violation of International Human Rights Law.) [6]

Was his father beaten with rifle butts by Israeli settlers on his own land while harvesting the olive trees belonging to his family for generations? (As have been Palestinian farmers for years, and recently even some international peace activists.) [7]

Was his brother deemed "collateral damage" after an Israeli missile struck a crowded market? (82 percent of the 3,334 Palestinians killed in the first four years of the Intifada were civilians. 621 of these were children below the age of 17, of whom 411 were shot with live ammunition and 200 were shot in the head, face or neck. As a member of the Israeli Parliament said on the floor of the Knesset recently: "It is no longer possible to claim that all these children were killed by mistake.") [8]

Was his daughter killed on her way to school? (As were brothers Jamil and Ahmed Abu Aziz, 13 and 6 years old, "riding their bicycles in full daylight, on their way to buy sweets, when they sustained a direct hit from a shell fired by an Israeli tank crew;" as was 13-year-old Iman al-Hasan, shot 20 times at close range by the commander of an Israeli occupation forces unit in Gaza last month; as was 6-year-old Mohamed Aaraj, shot at close range by an Israeli soldier while eating a sandwich; as was 12-year-old Kristen Saadaas, riding in her family's car when it was "sprayed" with bullets by Israeli soldiers; among many others). [9]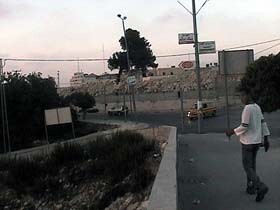 Was it the feeling of powerlessness and the sense that national aspirations may be slowly slipping away? (see the Negotiations Affairs Department's map, "Destroying the Two-State Solution," for graphical depiction of the shrinking Palestinian land due to de facto Israeli annexation over the last 57 years — now 12 percent of Historic Palestine.) [10]

Or was it rather, and more likely, the accumulation of a lifetime of small indignities, daily humiliations and the experience of little else beyond military occupation, domination and suffocation? (60 percent of Palestinians in the West Bank live below the poverty line; 40 percent are unemployed and have given up looking for jobs — compared to 10 percent before the Al-Aqsa Intifada.) [11]

What psychological toll is needed to know you've been betrayed by the world's "leading light," democracy's "beacon," leader of the "civilized" world, not to mention your own leaders, from whom you expected so much? Does it soften the blow to know your nation's leaders, despite their corruption and ineptitude, were facing circumstances under which other current world leaders would have fared little better?

I suspect this driver knew I could not answer his questions. Still, he was careful to point out that he distinguished between the American sitting next to him and the brutal foreign policy that followed that American to all ends of the earth. This distinction, remarkably, is made by everyone I meet in Palestine.

So how could I respond? "Sorry about your 165 brothers and sisters killed last month by Israeli occupation forces, but you'll be happy to know I'm a human rights activist … ?!?" [12]

Of course it is not to him that I, or we, as citizens and owners of our foreign policy, must respond. This man's questions were rhetorical because he already knows the answers.

But we must respond to those who would seek to support and maintain our country's bankrupt policy that turns its back on justice, human rights, and international law, whether out of ignorance, self-aggrandizement, fanaticism, or callous indifference.

Our failure to do so will make us complicit in these crimes, and reap tragic consequences for all involved.

Ryan Borgen is an American law student currently volunteering at the Jerusalem Legal Aid and Human Rights Center in Ramallah.

Endnotes:
[1] "Scowcroft lambasts Bush's unilateralism," Daniel Dombey, The Financial Times, 14 October 2004; "Bush and Kerry dance to the tune of Ariel Sharon," Simon Tisdall, The Guardian, 20 October 2004.
[2] "The US & Israel," Peter Grier, The Christian Science Monitor, 26 October 2001.
[3] Palestinian prisoners factsheet, from information provided by Addameer Prisoners' Support and Human Rights Organization, and the NGO Anssar Al Assra.
[4] "Israeli Occupation Policies," Palestinian Academic Society for the Study of International Affairs (PASSIA), 2004.
[5] "Razing Rafah: Mass Home Demolitions in the Gaza Strip," Human Rights Watch, 18 October 2004. The figure of 16,000 represents those whose homes were destroyed by Israeli tanks and bulldozers.
[6] "Medicine Under Siege: Israeli Attacks Upon the Palestinian Medical Establishment During the Second Intifada," Al-Haq, 2004 (available as a PDF file;" 'Jewish Settlers' Attack International Workers," BBC News, 29 September 2004; "Of settler crimes and media silence," Aljazeera, 13 October 2004; settler violence against Palestinians is also addressed in the report by the Israeli human rights organization B'Tselem, titled "Forseen But Not Prevented: The Israeli Law Enforcement Authorities Handling of Settler Attacks on Olive Harvesters" (pdf), November 2002.
[8] "Four Years of Intifada: Statistical Overview," Press Release by the Health, Development, Information and Policy Institute (HDIP), 29 September 2004; "Killing Children is No Longer A Big Deal," Gideon Levy, Ha'aretz, 17 October 2004.
[9] "Killing Children is No Longer A Big Deal," Gideon Levy, Ha'aretz, 17 October 2004; "Israeli commander under investigation for slaying of child," The Daily Star, 14 October 2004; "A Schoolchild Seriously Wounded by Israeli Troops in Khan Yunis While Sitting at Her Desk," Palestinian Center for Human Rights; "IDF kills girl, 13, on her way to school," Amos Harel and Arnon Regular, Ha'aretz, 8 October 2004.
[10] http://www.nad-plo.org/images/maps/pdf/killing.pdf
[11] "Occupied Palestinian Territories 2004," United Nations Office for the Coordination of Humanitarian Affairs (OCHA).
[12] "165 Palestinians, including 50 civilians, killed in October," Arnon Regular, Ha'aretz, 1 November 2004.