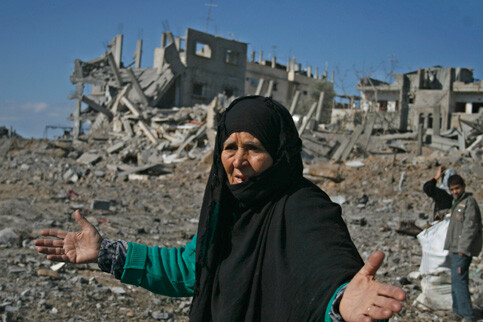 The following press release was issued on 23 April 2008:
Calling the Israeli military's self-exoneration "lacking in credibility," the National Lawyers Guild (NLG) on Thursday categorically rejected the Israeli military's findings that its soldiers did not commit war crimes during "Operation Cast Lead" in the Gaza Strip. The NLG reiterates its call to US President Barack Obama to lend strong support to the UN — commissioned investigation into the conduct of both Israel and Hamas during Israel's 22-day offensive — something Hamas has already agreed to, but Israel has indicated it will block.
"The Israeli military's conclusions that it acted in accordance with international law are at odds with the findings of several organizations including our own," said Vermont-based attorney James Marc Leas, part of an NLG fact-finding delegation to Gaza. "This discrepancy underscores the importance of an independent investigation." The Israeli military claims that it made a small number of errors and that no civilians were purposefully harmed by Israeli troops.
The NLG delegation traveled to the Gaza Strip from 2-8 February 2009, to investigate the circumstances that led to the high rate of Palestinian casualties during Israel's offensive. Contradicting Deputy Chief of Staff Maj-Gen Dan Harel's claim that no Israeli soldier ever deliberately targeted Palestinian civilians, the Delegation's 37-page report, released earlier this month, documents a number of disturbing instances of Israeli soldiers engaging in the willful killing of Palestinian civilians. One such case is that of Khaled Abed Rabbo. Israeli soldiers shot dead Abed Rabbo's two young daughters and severely injured a third daughter while his family stood, carrying white flags, in front of the soldiers. Another incident is that of 72-year old Ahmed Shrahi. Israeli soldiers shot the unarmed Shrahi from a distance and then approached to execute him at close range.
On the issue of Israel's use of white phosphorus, the military report concluded that use of the shells adhered to the restrictions imposed by international law. According to Israeli military officials, the military decided to halt use of white phosphorous on 7 January after receiving criticism. Nonetheless, several incidents in which phosphorus shells were used were recorded after the military claims it gave a cease and desist order, including on a United Nations warehouse, located in the center of Gaza City, on 15 January.
Following the release of the investigation results, Defense Minister Ehud Barak said that the army's willingness to probe itself "proves that the IDF [Israeli army] is one of the most moral armies in the world." The NLG considers a whitewash and attempt to cover possible violations of international law and war crimes as the antithesis of morality. "If Israel has nothing to hide then it should cooperate fully with the UN investigation," said Huwaida Arraf, one of the organizers of the delegation. "Since Israel receives over $3 billion in military aid annually, the US should do its part insisting that Israel complies with the law of nations."
Related Links