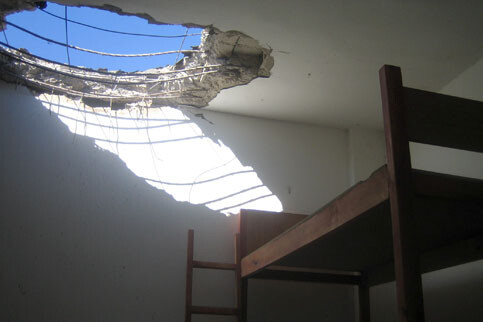 BEIRUT
/
GENEVA
— A newly-published assessment of health facilities in Lebanon shows that a quarter of those examined are not functioning due to physical damage, lack of staff or lack of accessibility, and that water and fuel shortages remain a serious concern. At the same time, demands on the health system are growing given the numbers of people injured during the conflict, and people returning to their communities requiring health care.
The assessment, by the Lebanon Ministry of Health and the World Health Organization, looked at more than 400 health facilities in Lebanon in the areas most affected by the conflict. These include dispensaries, health care centres, outpatient hospital departments and hospitals in the affected districts.
The findings are critical to determine priorities in the early recovery of Lebanon's health system. The assessment provides the basis for the Early Recovery Strategy for the Health Sector in Lebanon. It calls for USD 13.3 million for actions aimed at restoring access to critical health services for the 1.2 million people most affected by the conflict.
"In some areas of Lebanon, people simply cannot access a functioning health facility. Either it has been seriously damaged, or doesn't have the water, fuel or supplies required to provide life-saving services including emergency obstetric care. As Lebanon moves to early recovery, funds are critical to re-establish health services for all," said Dr Ala Alwan, the WHO Director-General's Representative for Health Action in Crises.
"People are especially vulnerable now, as many have lost their homes and livelihoods. They may not be able to afford basic health care," he added.
During one week in August, assessment teams fanned across the country to determine: whether facilities were damaged; staff were able to work; and the availability of adequate water, fuel and sanitation, and medical supplies.
The assessment finds that damage to buildings varies drastically from one place to another. In total, 26% of all health facilities are not functioning due to physical damage, lack of staff or lack of accessibility. A total of 12 buildings were totally destroyed and 38 severely damaged, with the most damage in Bent Jbeil, followed by Marjayoun, Nabatieh and the southern suburbs of Beirut.
Moreover, the assessment shows that serious shortages of fuel, power supply and drinking water continue. In general, only one third of health facilities have potable water, and just one in four remain linked to the general sewerage system or to a power supply. Meanwhile 31% use generators but less than one in five has enough fuel to run them.
Damage to buildings, combined with shortages of fuel, power, water and supplies has a major impact on service delivery. For example, there is a serious gap in maternal and child care services. Just one in four primary health care facilities are able to provide antenatal care, and just one in ten can support clean delivery and emergency obstetric care. One third are able to keep vaccines preserved, and just 13% only are able to provide some mental health services. Normally, all of these facilities should be able to provide all of these services.
The assessment also found shortages of health workers - including in general practitioners, and specialists in obstetrics and surgery. Nursing staff levels are just a quarter of what they should be. There are also too few laboratory technicians, pharmacists, internists and anaesthesiologists. The assessment found that some of these gaps predated the conflict, but like many people, health workers also fled the hostilities and some have not yet been able to return to work.
Since the beginning of the conflict in July, WHO has worked with the Ministry of Public Health and other health partners to provide immediate assistance to the people affected, including through access to safe drinking water, disinfection activities for the prevention of the breeding of insects and rodents, health care, vaccines and medicines.
The immediate challenge to the health sector now is to meet the health needs of the people who were displaced, particularly those who have lost their homes or their livelihoods.
In the medium term, it is crucial to re-establish and improve the health system in the areas most affected by the conflict, including ensuring enough qualified staff.
More Information

Fadela Chaib,

WHO

Geneva Communications, Telephone: +41 22 7 91 32 28, Mobile: +41 79 4 75 55 56, E-mail: chaibf@who.int; Sacha Bootsma,

WHO

Cairo, Egypt, Communications, Telephone: +201 0 10 82 64 23, E-mail: bootsmas@emro.who.int.

Related Links