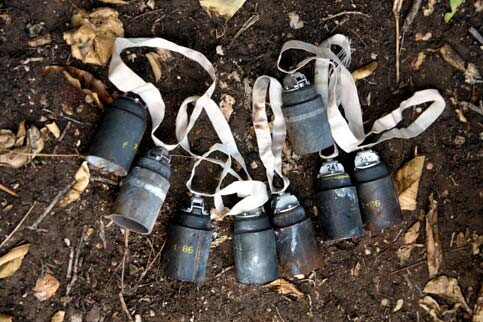 Damage and losses to agriculture, fisheries and forestry in Lebanon as a result of last summer's hostilities are estimated at around $280 million, according to an
FAO
damage assessment report issued today.
The conflict affected the agriculture sector directly, with crops, livestock and equipment damaged by the bombing. But much more important, according to the report, was the indirect economic impact in terms of lost markets and labour opportunities.
Poorest hit hardest
The military bombardments were directed mainly at southern Lebanonand the southern suburbs of Beirut, among the country's poorest areas. Overall, agriculture accounts for almost 70 percent of total household income in southern Lebanon.
The biggest economic losses were attributed to the lack of access to fields during the conflict period, the peak time for the harvest of some crops (mainly stone fruit and potatoes) destined for export. According to the report, much of this year's harvest perished on the ground, as bombing forced farmers to abandon their lands, and transport to market became impossible.
Moreover, many agricultural fields and pastures have been rendered useless until unexploded bombs can be removed. This is particularly important in southern Lebanonwhere an estimated 25 percent of the cultivated land is inaccessible due to unexploded ordnances.
Total financial losses due to physical damage and lost harvests of tree and field crops in southern Lebanonamount to approximately $94 million. Overall, the total financial damage to the crop production sector is estimated at around $232 million, according to FAO.
Some 3 050 head of dairy cattle, 1 250 bulls, 15 000 head of goats and sheep, 18 000 beehives and over 600 000 broilers were lost as a direct consequence of the hostilities. FAO estimates financial losses to the livestock sector of nearly $22 million.
With respect to fisheries, destruction of infrastructure and equipment in the portof Ouzaii, and the loss of 328 boats with their gear, resulted in damage of around $3 million. Targeting of the trout farms at Hermel in the BekaaValleycaused losses of about 300 tonnes of fish. The FAO assessment puts the overall financial loss to the fisheries sector at $9.7 million.
For forestry, the estimated damage is roughly $16 million, mainly due to the inability to address forest fires during the conflict.
Spiral of debt
"With the loss of income from harvests and lost animal produce, many farmers have become heavily indebted as they usually repay their debts during the May to October harvest period to secure credit for the following production season," said Anne Bauer, Director of FAO's Emergency Operations and Rehabilitation Division. "This year, their ability to repay these debts has been reduced to the minimum, making it impossible to start the new cropping cycle due to the lack of working capital."
FAO has identified priority initiatives for implementation within the next 6-12 months to address the critical situation of vulnerable farming communities in south Lebanon.
Start-up funding has been secured for the establishment of a small early recovery coordination office in southern Lebanonbut FAO is seeking approximately $17 million for other priority initiatives.
Particularly important is the provision of necessary farm inputs, such as seed and seedlings, fertilizers and small irrigation equipment, to permit resumption of agricultural activities, FAO said, adding that this should be carried out in close coordination with bomb clearance authorities. Small-scale horticulture farmers also need help with replacement of damaged greenhouses, replanting of orchards and training in good agricultural practices.
Assistance to war-affected livestock keepers, among the poorest of the rural population, will include restocking and distribution of animals and beehives, and provision of veterinary drugs, feeds and small equipment for dairy handling, hygiene and basic milk processing.
Funding is also being sought for rehabilitation of fisheries infrastructure and supply of inputs to fish farmers as well as for an assessment of forest cover damage, using satellite imagery, so that site-specific mitigation efforts can be proposed.
Related Links