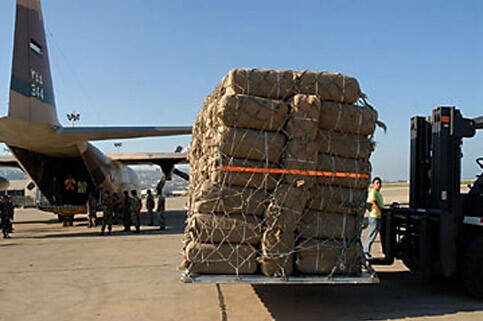 This is a summary of what was said by UNHCR spokesperson Jennifer Pagonis – to whom quoted text may be attributed – at the press briefing, on 11 August 2006, at the Palais des Nations in Geneva.
Yesterday, UNHCR started an airlift from Jordan and Denmark to help rush tonnes of urgently needed relief supplies to Lebanon. The severely damaged roads along the so-called northern corridor into Lebanon from Syria – where we have a major supply base – via the Al Aarida border crossing, have slowed up our convoys and made it increasingly difficult to move supplies in bulk.
The first flight – a Royal Jordanian Air force C-130 from Amman – arrived in Beirut on Thursday morning loaded with 14.76 tonnes of supplies including 9,000 blankets from UNHCR's regional stockpile in Jordan, and boxes of drugs for the World Health Organisation.
A second C-130 flight, carrying 15 tonnes of mattresses, finally landed in Beirut on Friday morning. On Thursday, the plane had reached Beirut but was not allowed to land for security reasons and returned to Amman.
Two UNHCR-chartered cargo flights – one from Amman and a second from Denmark – landed in Larnaca, Cyprus early this morning – and a third flight from Amman is loaded and waiting to depart later today. The total of 116 tonnes of supplies flown in to Larnaca by these flights will be transferred to a United Nations logistics ship bound for Beirut on Sunday.
The DC-8 flight from Denmark transported 45 tonnes of supplies from UNHCR's global stockpile in Copenhagen including 20,000 blankets, 7,000 jerry cans, 50 plastic rolls and 1,440 kitchen sets. Two Airbus A310 flights from Amman are carrying in a total of 71 tonnes of emergency relief items – tents, mattresses, jerry cans, cooking stoves and hurricane lanterns. More flights are being planned, but details are not yet available.
Sea routes are also being used to bring in supplies in large quantities to help some of the estimated 700,000 displaced people living in schools and with host families in Lebanon.
The southern Turkish port of Mersin is also expected to be used shortly to send some 8,400 mattresses to Beirut by ship through the joint UN logistics system. Loading was under way Thursday night with sailing expected Friday afternoon.
On Friday, a French ship left the southern port of Marseille for Beirut, carrying five Mercedes trucks which will be used by UNHCR to deliver relief supplies in Lebanon. It will also bring in 30,000 blankets, 15,000 jerry cans, 100 plastic rolls and 3,000 kitchen sets.
At the Syria-Lebanon border a seven-truck land convoy loaded with 2,340 mattresses, 3,200 blankets, 1,152 kitchen sets, 15, 336 pieces of soap from our warehouse in Damascus is now waiting at Al Aarida to cross into Lebanon. It has not got security clearance to travel today.
On the ground in Lebanon, a UNHCR team on Thursday distributed 400 blankets, 460 jerry cans, 200 mattresses, 352 kitchen sets and plastic sheeting to help ease conditions for some of the displaced sheltering in eight schools and public buildings in and around the village of Maaisrat, in mountains north of Beirut. Some 19,000 people displaced people are in the district – mainly from southern Lebanon and southern areas of Beirut.
Meanwhile in Syria, where an estimated 160,000 displaced Lebanese are sheltering, UNHCR is starting to set up tented camps within the summer youth camps in Homs, to help ease overcrowding. Distribution of relief supplies – such as pillows, bed linen, underwear and diapers – to host families and Lebanese in need is continuing. Over the last two days 6,544 mattresses have been distributed across the country.
Related Links