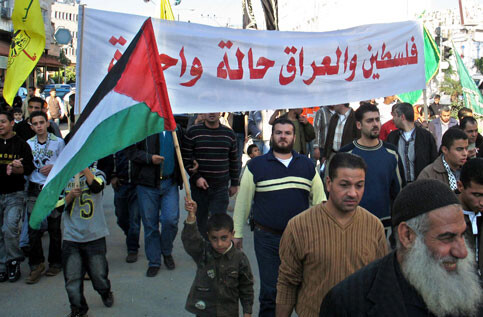 Following the recent massacre in Beit Hanoun, a group of citizens, united by sense of outrage at the silence of western and Arab governments, will be engaging in a four day hunger strike, outside of the
UNIFIL
office in Tyre in solidarity with the besieged people of Gaza.
Nationalities participating include Lebanese, Palestinian, US, and Irish activists. The participants have worked for the past months in humanitarian and community projects in villages in the South. This symbolic hunger strike will take place from Tuesday 14th November till Friday 18th, 2006. Participants will be engaging in a water-only hunger strike and maintaining a 24-hour tent for the four days in front of the UNIFIL office.
We are choosing to be hungry in solidarity with those who have no choice. As a result of continual economic and military siege the majority of Palestinians now live in extreme poverty.
This hunger strike seeks to draw attention to the hypocrisy of the speed at which UNIFIL forces were deployed in the south of Lebanon, where in occupied Gaza despite repeated Palestinian and international calls for an international observation force, citizens remain unprotected and vulnerable to repeated Israeli assaults. We call on the United Nations to disarm Israel, and to send peacekeeping observers to Gaza and the West Bank. We state that there is more need for U.N. troops in Gaza than in the South of Lebanon. If the mandate of the UNIFIL aims to provide protection to people in the south then their responsibility lies on the other side of the border.
We are taking personal responsibility for national silence. We wish to state that in the face of governmental and civil society silence we have a responsibility to act, and that we recognize that the situation in Occupied Palestine is fundamentally linked to events in Lebanon.
We call on civil society in Lebanon to join us in our symbolic hunger strike to mourn the victims of the attacks in Gaza and to stand in solidarity with the Palestinian people and their struggle.
The participants in the protest invite the press to visit the tent for a press conference on Tuesday the 14th at 1 pm. The tent will be located across the road from the UNIFIL offices in Tyre, next to the Central Bank.
Contact people, Caoimhe Butterly and Imad Mortada - 00961 70 974238 (languages spoken Arabic, English, Castellano, and French)
Related Links