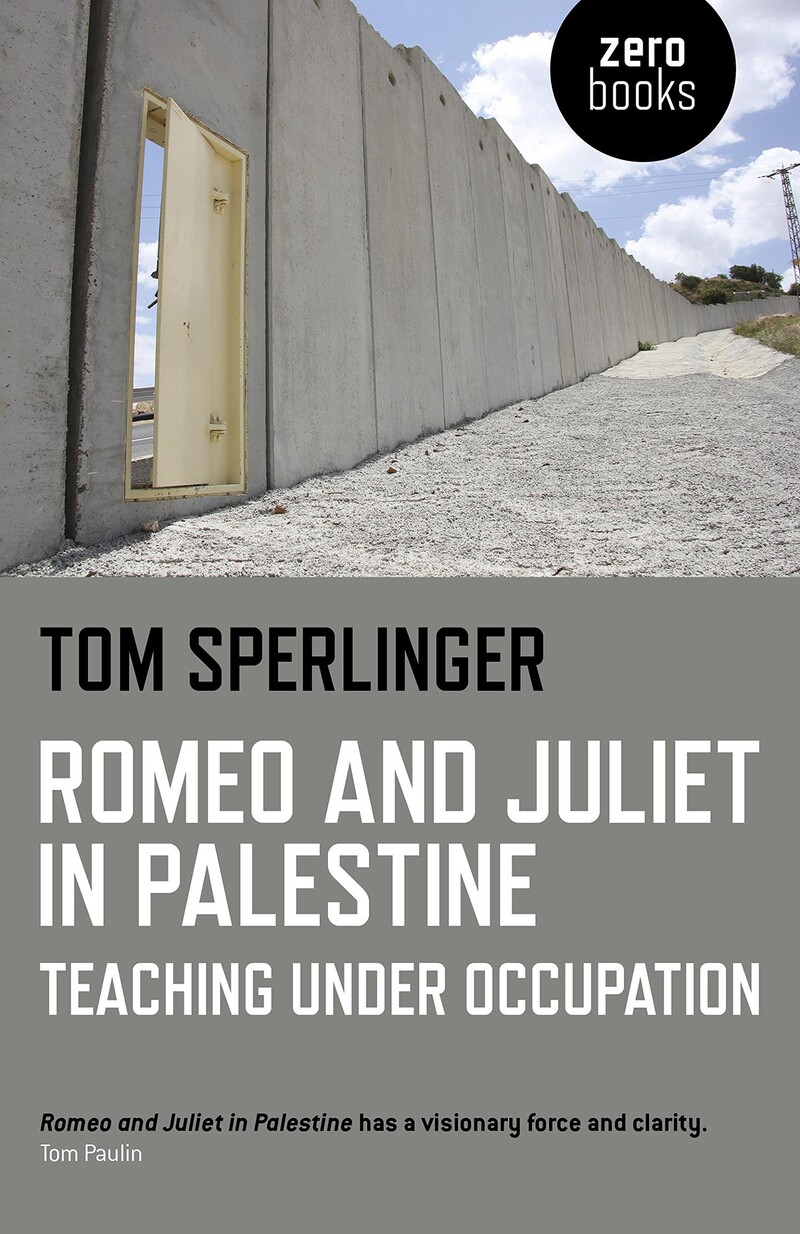 Romeo and Juliet in Palestine: Teaching Under Occupation by Tom Sperlinger, Zero Books (2015)
Romeo and Juliet in Palestine recounts the five months that Bristol University lecturer Tom Sperlinger spent teaching English literature at a Palestinian university in the occupied West Bank.
The memoir, the author's debut book, is made up of 13 episodic chapters narrating his encounters with students and faculty at Al-Quds University and his grappling with its political and social environment.
Sperlinger is mainly concerned with pedagogical strategies to effectively teach Palestinian students living under Israeli occupation. He finds that his experience with the British education system does not necessarily lend itself to its Palestinian counterpart, so he embarks on a journey to expand his outlook to accommodate the needs of his students in Abu Dis.
Challenges
The challenges Sperlinger faces are those that many local lecturers can relate to: small rooms with a large number of students and pupils' dependence on rote memorization as opposed to critical thinking.
Sperlinger also encounters skepticism about the importance of literature and its relevance to learning the English language. He attempts to cut through this by asking his students to reflect upon their experiences in relation to works by authors ranging from Kafka to Malcolm X.
Sperlinger has his students produce their own versions of Shakespeare's Romeo and Juliet. One pupil imagines the Montagues to be a Palestinian family and the Capulets as Israeli, and wonders if they would ever join hands. Another sets the love story between a Palestinian holder of a West Bank ID card and another with a Jerusalem ID — an inextricable situation lived by many under Israel's regime of movement restrictions.
The result is that not only are the students more engaged with the literature, but Sperlinger also has a better understanding of how political and cultural realities shape his students' lives.
Reality of occupation
Sperlinger finds that it is impossible to avoid the reality of the Israeli occupation, which impacts his students in complex and profound ways. Indeed, the first thing one sees from the main gate at Al-Quds University is Israel's massive concrete wall severing the town from Jerusalem.
"If you stand on the road, Jerusalem appears as a thin line, with the dome of the al-Aqsa mosque at its center, caught between the horizon above and the wall below," the author writes.
"The city should be a 20-minute drive away, but it takes students who live there up to an hour and a half to get to class," he adds.
Sperlinger — with a certain level of discomfort, given that his grandparents on his father's side were committed Zionists — listens to his students describe their experiences with the occupation that is "playing havoc with their lives, one way or another."
He does not divulge his own family background to his students, finding that he "could not connect Israel's behavior with the Jewish traditions" of social justice and alleviating the suffering of others. He also fears that doing so would change his relationship with his students: "It would mean making a claim on them — asking them to acknowledge my family's history, for example — before I had understood or acknowledged their situation, before I knew them."
Struggle to understand
This journey to understand is the ultimate purpose of the book. Early on, Sperlinger states that his narrative is about "the particular students and colleagues I encountered and is not intended as a general account of life in Palestine or at the university." He provides his readers with enough historical context while allowing them to come to an understanding of the situation in Palestine through his own struggle to do so.
Sperlinger is constantly rereading the situation, feeling unsure about his own view of it, and he admits that he "lack[s] local insights."
When Sperlinger first visited Al-Quds University, for example, he couldn't find it on a map. "I established that I would be visiting the campus in the West Bank but my guidebook made only passing mention of Abu Dis," he recounts.
And, at the end of his trip, when he accepted an invitation for dinner with his relatives, "Only when I looked up the address they had given me did I realize that Givat Ze'ev was a settlement."
The author's self-doubts extend to whether he has been useful to his students and how he wishes he had "more practical skills to offer." But he finds moments of "naive delight" during his teaching in Abu Dis and is grateful that Shakespeare's plays offer students a space to reflect on their lives. He describes this as "the alchemy between what we read and the students' experiences."
Sperlinger writes that it would be "easy to patronize the students of Al-Quds … [and] to mistake inarticulacy for lack of feeling." But he rejects this and instead appreciates the "extraordinary creativity, courage and humor" his students have shown in their daily lives.
Sperlinger also thinks that these students have "practical knowledge of ideas that we too often study as abstract concepts in the humanities." Here Sperlinger is critical of the British higher education system that "ignore[s] or exclude[s] certain kinds of experience routinely and structurally" and has reinforced the belief that "educational attainment is the only measure of intelligence."
Sperlinger believes that his Palestinian students have much to teach their counterparts in the UK — as well as those who read this short but informative memoir.
Bayan Haddad studied comparative literature at the University of Edinburgh and currently teaches introductory courses to literature at Hebron University. Twitter: @BayanHaddad
Tags