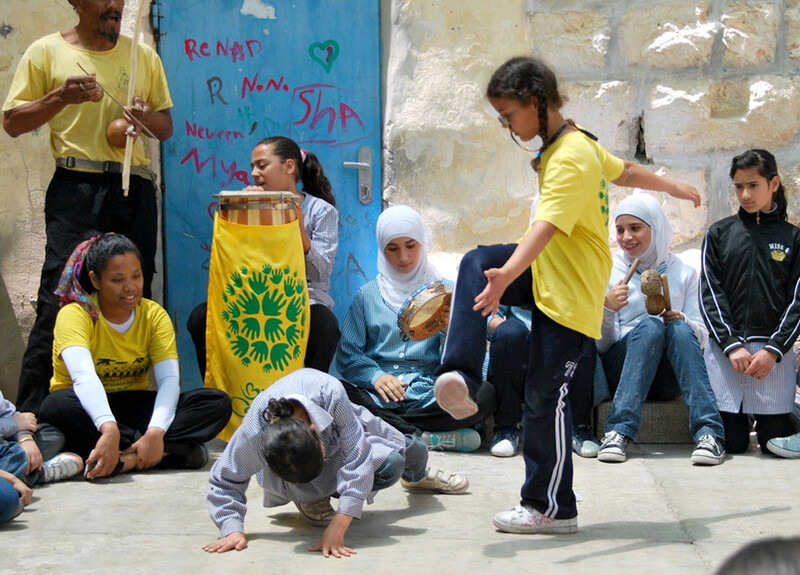 WEST BANK (IRIN) - Shufat refugee camp in occupied East Jerusalem is a difficult place for a child to grow up in.
"The area has very few opportunities for kids to do constructive and positive things," said Isaac Heinrich, project manager for an organization called Bidna Capoeira (http://bidnacapoeira.org).
"It is dirty [and] just outside the camp school they burn garbage while the kids are in class … The camp is right on the border with Israel, and half of it is encircled by the wall. The level of violence is high and the threat from outside feels overwhelming."
It is here that Bidna Capoeira started a project in March to help children cope with trauma by learning capoeira, an age-old Afro-Brazilian martial art.
Children transformed
The project aims to support children affected by armed conflict and improve community development and well-being.
"In Shufat, there's a huge need for young and adult role models," Heinrich explained. "A big part of our work is to strengthen young people and develop their leadership skills."
He tells the story of four young people who came to the first capoeira class earlier this year: "They were very arrogant, walked and talked with an attitude. Our first thought was 'OK, this means trouble.' But the teacher, Harami, told them, 'The four of you, I have a special task for you. You're going to teach the younger kids. But this will demand a lot of you, and it means you have a special responsibility.'
"Then he took them aside and did a first class with them only. The next week, they show up half an hour before class, ready to help the younger kids."
Nearly 500 Palestinian children and teenagers across the occupied West Bank are now involved, and there are plans to expand further. The project is financed by the UN agency for Palestine refugees (UNRWA) and other partners.
The martial art originates from the sixteenth century, when African slaves started mixing different techniques of fighting with singing, dancing and music. The game, which is played in a circle, is marked by kicks and acrobatics. Having been at the centre of Afro-Brazilian culture for hundreds of years, it was only during the last fifty that capoeira started being exported.
Today, the practice is spread across the world, with people from all backgrounds and cultures attracted by its special mix of social, artistic and physical aspects. Many are also drawn to the philosophical foundations and communal spirit of capoeira. In contrast to other martial arts, capoeira has no winners or losers.
Rooted in slavery
The game is not about beating or getting beaten; it's about expressing playfulness and collaboration.
"Capoeira is a true grassroots movement from the start, also literally. Capoeira is the name of a high grass which grows on Brazilian fields. The slaves cut down this grass to make a circle where they could play capoeira hidden from the outside," said Heinrich.
Before it spread to Palestine, the game had taken root in Syria where it spread to refugee camps, juvenile institutes and youth centers.
"In both Syria and Palestine, we have seen how well capoeira works with kids … There is something for everyone: action, music, dance, acrobatics and fighting moves. And above all, there is a strong sense of companionship," Heinrich said. It also provides an outlet for children who experience much physical and psychological stress.
According to the UN's Children's Fund (UNICEF), Palestinian children face threats of killing, injury, poverty, displacement, detention, psychological distress and low learning achievement (see UNICEF's April 2011 newsletter [PDF]).
In 2009, almost 22 percent of Palestinians were living below the poverty line (15.5 percent in the West Bank), subjecting 430,000 children to the vulnerabilities of poverty. In East Jerusalem, the poverty rate, defined as people living on less than a dollar a day, increased from 59 percent in 2008 to 71.2 percent in 2009. Life as a child is especially difficult in the Old City, where poverty, school dropouts and substance abuse have adversely affected youngsters.
Three months ago, the capoeira project spread to Jalazoun refugee camp (in the Ramallah and al-Bireh Governorate, seven kilometers north of Ramallah and adjacent to the village of Jifna) where one girl who was a known troublemaker started classes and took on another role. She began instructing the other children, telling them how to sing the songs and do the moves.
Jalazoun was established in 1949 and is in a mountainous area next to one of Israel's biggest settlements, Beit El. While teenage boys have the option of going to Ramallah to find things to do, most girls and younger children do not.
"Although three months is a short time to see long-term changes in the children's behavior, we've noticed very positive results," Heinrich added. "Many of the children we work with have experienced different traumas. They have learning disabilities, excess energy and often a lot of aggression inside them. But only after a few weeks of working with capoeira, they connect with its peaceful message."
This item comes to you via IRIN, a UN humanitarian news and information service, but may not necessarily reflect the views of the United Nations or its agencies. All IRIN material may be reposted or reprinted free-of-charge; refer to the copyright page for conditions of use. IRIN is a project of the UN Office for the Coordination of Humanitarian Affairs.
Tags