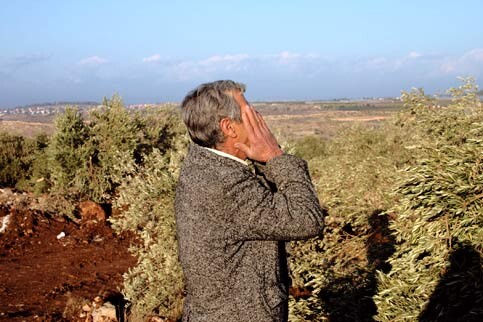 Israel's continued confiscation of lands, destruction of homes, and exploitation of natural resources had remained the leading causes of the socio-economic crisis in the occupied Palestinian territories, a senior United Nations official told the Second Committee (Economic and Financial) today, as it discussed permanent sovereignty of occupied Arab peoples over their natural resources.
Introducing the report on that subject, Mervat Tallawy, Executive Secretary of the Economic and Social Commission for Western Asia (ESCWA), stressed that agricultural losses in the occupied territories, especially the uprooting of more than a million olive trees, the demolition of homes and restrictions on the movement of goods and persons had deepened unemployment and poverty. In the West Bank alone, more than 700 physical obstacles, including checkpoints, military observation towers, and gates had obstructed internal movement, disrupting commerce and access to schools, as well as health services.
She went on to say that Israel's continuing construction of the West Bank barrier had severely restricted Palestinian access to thousands of hectares of olive trees. The construction had also led to an increase in land confiscations, isolated water supplies, thwarted investment, contributed to the environmental degradation of flora and fauna and sparked a sharp decline in commercial activities. Moreover, illegal Israeli settlement construction in the occupied Palestinian territory was also continuing, with the number of settlers increasing by 6 per cent to 256,000 between 2003 and 2004. In addition, about 20,000 Israeli settlers lived in 45 settlements in the occupied Syrian Golan, exacerbating the living conditions of the local Arab population, which was already suffering from a lack of access to natural resources and social services.
Reinforcing that point, the observer for Palestine said Israel had been exploiting and destroying Palestinian natural resources for 38 years, in violation of its obligations under international humanitarian and human rights law. During the initial construction of the West Bank separation wall, Israel had confiscated 200 cisterns and 36 groundwater wells, and had threatened to demolish 14 other wells, forcing Palestinians to pay 12 per cent more for water. The continuing construction of the wall and expansion of West Bank settlements would annex land containing Palestinian water resources, including the rich western aquifer.
The separation wall had also locked farmers behind randomly opened gates, while their crops withered and their poultry starved to death, he said. Residents in nearby areas currently received running water for only two hours every three days, while Israeli settlers in the area consumed 348 litres a day — 17 times more than Palestinians. In addition, some 200 Israeli factories produced harmful chemicals and toxins that devastated land and underground water, while Israeli settlements used Palestinian land to dump untreated waste.
Similarly, Egypt's delegate decried Israel's disposal of nuclear waste in unsafe containers in occupied land close to the Syrian border and called for that country to submit all its nuclear facilities to the International Atomic Energy Agency (IAEA) for inspection. It should also adhere to the Nuclear Non-Proliferation Treaty (NPT), a step that would reduce tension and create an environment that was conducive to peace.
Addressing the occupation of the Golan, Syria's representative said Israel had used water taxes to further impoverish the area's Arab residents, and decreased aquifer levels in Syrian villages by digging wells for the benefit of Israeli settlers. It had also provided extensive subsidies to Israeli settlers and their farm products, forcing the Syrian Government to purchase apples from the Golan's Arab cultivators to help market them.
Other speakers pointed to the occupation's detrimental effect on women and children, especially through the imposition of closures and curfews, which curtailed access to schools and health services. Jordan's delegate noted that exam pass rates had declined by nearly 50 per cent between 2000 and 2004. Immunization coverage had declined in some areas, while anaemia caused by food insecurity had struck 36 per cent of pregnant women, 43 per cent of nursing mothers and more than 60 per cent of children below 2 years of age.
Responding to those concerns, Israel's representative described the report as a one-sided, biased account that set statistical parameters to suit its own convenience, changing them when the same parameters would discredit its arguments. No effort had been made to corroborate those claims with other, more neutral sources, and the data sometimes conflicted with figures from the World Bank, and even with those from the Palestinian Central Bureau of Statistics.
Regarding poverty in the occupied Palestinian territory, he noted that it ranked seventh out of 103 developing countries in the human poverty index of the United Nations Development Programme (UNDP) Human Development Report 2005, on a par with countries like Singapore and Cuba, and higher than most States in the Middle East. The adult literacy rate in the Palestinian territory was significantly higher than that in the rest of the Arab region, the infant mortality rate was lower than that found in countries like Brazil, Iran and Algeria, while Internet usage was higher than that of many countries around the world.
When it came to every-day well-being, he said the Palestinian Authority was responsible for stopping corruption, restoring calm and ending the utter anarchy that ruled Palestinian streets. The pattern of corruption and incompetent leadership, wasteful spending of foreign aid and lack of transparency, internal quarrels, fragmentation and lack of internal stability were major factors in deteriorating living conditions for Palestinians.
The Second Committee will meet again at 10 a.m. tomorrow, Friday 28, October, to continue its general discussion on globalization and interdependence.
Background
The Second Committee (Economic and Financial) met today to take up its agenda item on occupied Arab territories. It was also expected to begin its discussion of globalization and interdependence, and to hear the introduction of a draft resolution on humanitarian assistance and reconstruction for El Salvador and Guatemala.
Occupied Palestinian and Syrian Territories
The Committee had before it a note by the Secretary-General transmitting the Economic and Social Council's report on the economic and social repercussions of the Israeli occupation on the living conditions of the Palestinian people in the occupied Palestinian territory, including Jerusalem , and of the Arab population in the occupied Syrian Golan (document A/60/65-E/2005/13).
According to the report, the Israeli occupation of Palestinian territory continues to deepen economic and social hardships for Palestinians, as the Israeli army persists with arbitrary detentions, home demolitions, severe mobility restrictions and closure policies. An estimated 7,600 Palestinians remain in Israeli prisons and detention centres, including some 848 held without charge or judicial procedure. During the first nine months of 2004, the army demolished an average of 120 residential buildings a month in the West Bank and 77 homes a month in Rafah, in the southern Gaza Strip.
The report says that restrictions on the movement of people and goods continued in 2004, becoming more severe in the Gaza Strip, which remained severed into three segments, where new pass restrictions have especially affected isolated communities. In the West Bank, over 700 physical obstacles, including checkpoints, military observation towers, concrete blocks, road gates and earth mounds obstruct internal movement, and city curfews are still imposed.
According to the report, economic indicators for the area continue to show high unemployment; greater dependency on food aid; and untold losses from physical destruction of Palestinian homes, public buildings, agricultural assets, infrastructure and private property. The general economic state has exacerbated poverty, rendering more than 2.2 million Palestinians poor –- about 1.27 million in the West Bank and 945,000 in the Gaza Strip. Israel's confiscation of Palestinian land and water resources for settlements, and the erection of the West Bank barrier accelerated during 2004. Malnutrition and other health problems afflict a growing number of Palestinians at a time of curtailed access to needed services. Over 60 per cent of children below 2 years of age, 36 per cent of pregnant women, and more than 43 per cent of nursing mothers in the Gaza Strip are anaemic, and an estimated 38 per cent of Palestinians are food insecure.
The report states that Israeli settlements, land confiscation and construction of the barrier in the occupied Palestinian territory, contrary to the Geneva Convention and other norms of international law, isolate occupied East Jerusalem, bisect the West Bank, curtail normal economic and social life, and continue to fuel the conflict. The barrier is about 209 kilometres long, forming a complex of fences, ditches, razor wire, groomed trace sands, electronic monitoring system and patrol roads. In the Syrian Golan Heights, Israeli settlements, with an estimated 20,000 inhabitants, continue to expand unabated. Access to natural resources and social services remain inadequate for the Arab population, who also continue to suffer from unemployment and job insecurity. Governmental and public institutions hire Israeli settlers exclusively, rejecting Syrian citizens on the pretext of Hebrew language criteria or for security reasons.
To download the full report click here.
Related Links
Economic and social repercussions of the Israeli occupation on the living conditions of the Palestinian people in the occupied Palestinian territory, including Jerusalem, and of the Arab population in the occupied Syrian Golan, A/60/65
E/2005/13 (24 May 2005)