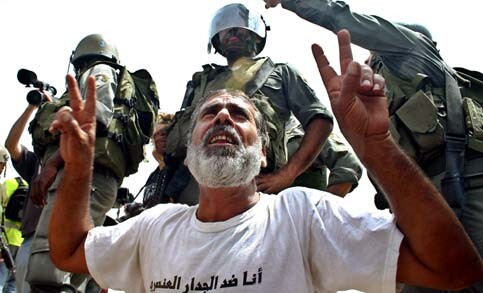 As the daily death toll of Palestinian men, women and children at the hands of Israelis clearly indicates, Israel's policy towards the Palestinians is driven solely by violence and aggression. No other avenues (the non-violent kind) are open.
Because of this, Israel is now escalating its practice of keeping internationals out of the West Bank and Gaza, the idea being that the presence of internationals puts a crimp in Israeli operations. When Palestinians protest on their own, the Israeli forces can and do use live ammunition against them. The presence of internationals is a deterrent to such violence.
Or you can believe the Israeli version: "The situation on the ground in the West Bank between Fateh and Hamas provides a reason for much stiffer entry "regulations."'
The bottom line is that for Americans and other nationals working for humanitarian organizations, it is getting near impossible to enter or stay in the West Bank. This Israeli policy is not in writing anywhere; it has recently manifested itself in "actions at border crossings, ports of entry and Ben Gurion by the Israeli Ministry of Interior."
As tourism in the Holy Land is not exactly flourishing these days, internationals who enter the West Bank and Gaza come either as activists to help organize peaceful protests against the occupation in its various terrible permutations, or they provide much-needed skills to NGOs or governmental institutions.
A bigger problem is that a sizeable number are Palestinian expatriate nationals (Palestinians forced by circumstances to acquire a nationality somewhere in the world or else be left with no national identity at all). At borders, the Israelis catch onto this group quickly, not only because of their names and the way they look, but also because they are asked to provide the names of their fathers and grandfathers and where they were born on their visa forms.
These people come with their children to connect with families, or to reside with spouses who are holders of Palestinian IDs, or to lend their skills to various development enterprises, to buy homes and to start businesses. If they could, they would be holders of dual citizenships, just like the thousands of American Jews who are also Israeli nationals, but there is no such option for them.
But now, it has become apparent (in the words of the American Consulate in Israel) that "unfortunately, American citizens residing in the West Bank are presently being denied entry into Israel (and therefore their homes in the West Bank). These cases are becoming more and more frequent." The wife of one such person who has been dutifully playing this game for thirty one years, - i.e., leaving every three months and turning back to get in on yet another three-month visa - has recently been denied re-entry and is stuck in Jordan. On top of this, the Israelis have been denying her husband the right to exit the West Bank for the past three years, a tactic they often use to punish Palestinian activists.
Being an activist, he is trying to do something about his situation and has, for example, brought the issue to the attention of human rights organizations. But it is well known that as far as the UN is concerned, one cannot really hope for action: the UN is, to a large extent, controlled by one superpower. Nor is there any reprieve possible from the PA, which has no power to negotiate with Israel. There is also no reprieve from the Israeli legal system, an avenue that is costly and that invariably ends in disappointment.
On June 6th, for example, Paul Larudee, the director of the International Solidarity Movement in Northern California and a piano tuner by trade, was refused entry at Ben-Gurion airport. Larudee had been to Israel and the OPTs four times in the past and was never arrested, as he had never done anything illegal. He was able to hire a lawyer and is currently in detention pending a response from the Ministry of Interior.
For an outsider, a few days in Palestine at present is a very depressing experience. But for expatriate nationals, there is no place like home. An estimated 40 to 50 thousand families are affected by this change of policy. Already, Palestinian newspapers are full of tragic stories of the hardships caused by the separation of one member of the family from the rest. The isolation of Palestinians and their siege is tightening its hold by the day.
One would think that the superpower, if not the UN, could do something about this issue, at least for its own citizens. The responses people are getting, however, are less than encouraging. The US Consulate is "aware of this issue and we are trying to pursue it to the best of our ability. I am sorry that there is no immediate answer or solution."
Shame!
Rima Merriman is a Palestinian-American living in Ramallah in the occupied West Bank.
Related Links
Israeli Authorities Deport Al-Haq Human Rights Defender, Press Release, Al-Haq (31 May 2006)
British human rights lawyer denied entry to Israel, Press Release,

PCHR

(29 May 2006)