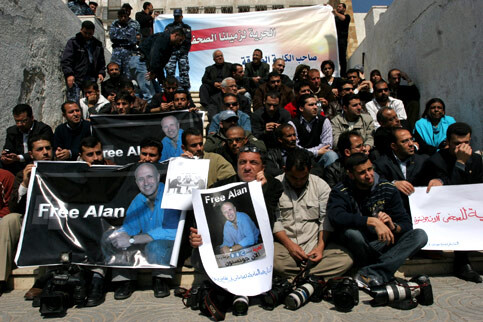 Reporters Without Borders condemned the use of violence by parliamentary security guards in Gaza to disperse a demonstration today by Palestinian journalists demanding the release of
BBC
correspondent Alan Johnston, who has been held hostage since 12 March. Three journalists were injured in the course of scuffles.
"We are outraged by this violence against journalists who had gone to express their fears and emotion about Johnston's fate," the press freedom organisation said. "With journalists already having to endure so much in the Palestinian Territories, it is unacceptable that violence was used when all they wanted was to be heard by the authorities."
More than 100 journalists took part in today's demonstration in support of Johnston, which was organised after a hitherto unknown group calling itself the Monotheism and Jihad Brigades issued a statement claiming it had executed him.
The agents in charge of the parliament's security use violence to disperse the journalists when they asked to meet with parliamentarians. Agence France-Presse photographer Mohammed Al Baba was injured in the face and his glasses were broken. Ashraf Al Kafarna, a cameraman with the Palestinian news agency Ramattan, had a finger broken. Zakaria Al Talmas, the correspondent of the German television station ARD, was injured in the foot.
Referring to the group's claim to have killed Johnston, Prime Minister Ismail Haniyeh said: "We are following this case. We are examining all the leads to verify the authenticity of this information, which for the time being has not been confirmed." The British authorities have said they are trying to obtain information "from other sources."
Related Links