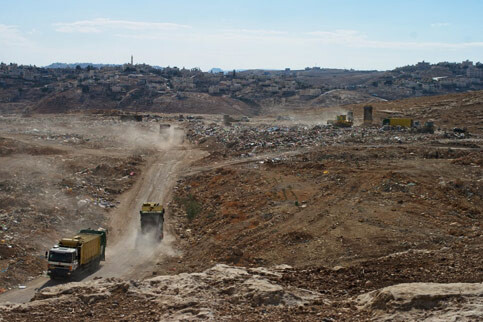 Beyond the demolitions in its suburbs and the frequent, violent clashes around the al-Aqsa mosque, Jerusalem is the scene of a quieter shame. Southeast of the holy city live the Jahalin Bedouin, a community that has been repeatedly displaced and transferred, now enduring unimaginable poverty beside Jerusalem's largest garbage dump. An embarrassment to Palestinians and Israelis alike, the Bedouin and their unique way of life are under grave threat.

Eid Raeb is a coordinator between the Jabal camp and the European nongovernmental organizations (NGOs) that are its lifeblood. "Bedouin life is finished," he declared without hesitation. "Sometimes when I look outside I imagine how it was before, but I know that life is over." Eid is one of the founding members of the camp after they were displaced from their land that became Ma'ale Adumim, one of the fastest growing Israeli settlements. "After they built [Ma'ale Adumim] in 1979, they began to move us. At first very slowly, one family at a time. After 1993 and the Oslo agreements they built many houses and said they needed all the land." The Oslo agreements placed them in Area C, under Israeli control. "At first when they told us to move here we refused, but the Israelis said they would use force. They promised us building permission, electricity, water and streets. When we came here there was nothing, just open land."

The Jabal camp was established in 1997, with each Bedouin family receiving around $10,000 compensation from the Israeli government. But the promises of infrastructural support were reneged on; most crucially the Bedouin were denied permission to build, forcing them to live for six years in shipping containers. In 1998, the UN Committee on Economic, Social and Cultural Rights expressed "deep concern at the situation of the Jahalin Bedouin families who were forcibly evicted from their ancestral lands to make way for the expansion of the Ma'ale Adumim settlement." The report also condemned the "manner in which the Government of Israel has housed these families — in steel container vans in a garbage dump in Abu Dis in subhuman living conditions." After concerted pressure from aid organizations and foreign NGOs the residents of Jabal were finally granted permission to build on their land.

Eid claims that the site was uninhabited when the Bedouin were moved in, that it was Israeli land to give away and that "Palestinians have no problem with us being here." This is not the case according to Dr. Abdullah Abu Helal, a long-time resident of Abu Dis, the neighboring Palestinian village. "Their village is built on land confiscated from Palestinians in Abu Dis. We think very badly of them, that they work with Israelis and sometimes they behave like Israeli soldiers. We had a demonstration against the stealing of our land and they came to shoot at us. That they have their own problems and difficulties does not mean they should accept to live on Palestinian land." Abu Helal referred to a neighboring Bedouin camp where he claims the residents refused to displace Palestinians and now live in temporary tents away from Abu Dis town, explaining that "they trade milk and cheese with us, we provide them with teachers. They are with us in our struggle against the Israelis."

Eid freely admits to his split loyalties. "The Bedouin here are Palestinians. But before when Jordan had this land we were Jordanians and most Bedouin feel closer to Jordan. We work with Israelis and if there is a problem, Israeli police come here." It is easy to see how their dealings with the occupation forces would be enough to poison a Palestinian's view of the Jabal Bedouin, while Eid has nothing but contempt for the Palestinian Authority (

PA

). He explained that "They are not a government, they are like thieves. We are starting from zero here, we need schools, water, roads but the

PA

is helping us only with teachers. We know that more than $1 million has come from international aid but we do not see it. Abu Mazen [Mahmoud Abbas] and the

PA

take it."

The camp's greatest concern is the massive garbage dump located just 300 meters away where the majority of Jerusalem's waste is disposed, including tons of chemicals and dangerous gases each day. The site predates Jabal but as Eid explained, "For the last ten years [the Israelis] have been promising to take the garbage. They say they will relocate it to a place near Jericho but even if they do the problem will not go away, it is in the earth now. We have now many cases of skin disease in our people and animals and we do not know how to treat it. One animal will catch it and then spread the sickness to many others. Sometimes we cannot see it for weeks." Jabal's 3,500-strong population does not include a single doctor, so anyone who falls sick must take a long drive to Bethany. "If we need a doctor quickly it is a big problem", said Eid.

Two months ago, Eid was visited by a representative from the Israeli Land Administration, guaranteeing the garbage would be moved in the next two years. "I would like to trust her but I believe only in actions," he explained. There was less optimistic news from the Israeli Committee Against House Demolitions. He added that the camp was informed by a spokesperson that "The most recent meeting between the interior minister and the mayor of Ma'ale Adumim resulted in a decision to postpone any kind of plan for at least six months."

There are many precedents for Bedouin being forced to endure such conditions. Between 2002-04 the Israeli government destroyed 7,500 acres of Bedouin crops in the Negev desert by spraying the area with illegal toxic chemicals. The effects were hugely damaging to residents and animals in the area and the policy was widely condemned. At the time Israeli Prime Minister Ehud Olmert defended the policy, stating "we will displace unrecognized Bedouin communities to make room for thousands of Jews." Recognition has been a huge problem for the Bedouin and around 20 percent of their population are not even registered as refugees, giving them no protection from displacement and brutal treatment. There is currently a court case on behalf of Ezariya camp (Bethany), to determine whether their residents have any right to reverse the 257 eviction orders that have been issued against them.

Their rights infringed upon by the Israeli authorities and resented by their Palestinian neighbors, and struggling to maintain their way of life, the residents of Jabal face an uncertain future. Although they now own the rights to the land, the continued expansion of Ma'ale Adumim poses a constant menace. Without the resources to support themselves they are reliant on a handful of foreign NGOs which have been unable to find solutions for the garbage problem or the resultant diseases. Without urgent attention Jabal could become a humanitarian crisis, but there is no authority willing to represent them.

Kieron Monks is a freelance reporter from London, writing for Ma'an News, Palestine News Network and publications in Europe.