Introduction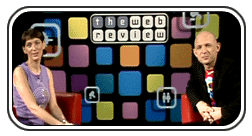 Jason Bradbury:
electronicIntifada.net publishes news, commentary, analysis, and reference materials about the Israeli-Palestinian conflict, from a Palestinian perspective.
A quarter of a million visitors per month come to view this 'weapon of mass instruction'. 7 basic sections combine to give a compelling picture of life behind the barricades of the West Bank, and equally importantly the role of the media.
Down the centre of the homepage is 'Features'; Sunday broadsheet in style with supportive photography where relevant, and links in the shape of opinion pieces and recent articles, ranging from other journals to specific UN resolutions.
To bypass your normal news channels, visit the 'Reference Library', a social, political and historical anthology of the region with key documents and essays available online. There's a dedicated human-rights library, and a 'Casualty Statistics' section sourced from both the Palestinian Red Crescent Society and the Israeli Ministry of Foreign Affairs.
'The Media' offers illustrations of bias in coverage from some of the world's leading networks. While acknowledging the need to remain objective on this programme, this collection of news clippings, video and audio streams presents some intelligent and forceful arguments about how information from the Palestinian side of the divide is filtered.
In form this site is a slick newsroom, rational and cross-referenced. But electronicintifada is also a democratic bombshell, a fascinating look between and behind the lines.
Discussion between both hosts
Jason Bradbury: This site states that it is pro-Palestinian.
Katherine Harvey: Absolutely, it is a political movement online, isn't it? We did look at the Debka File earlier in the series, which is a neutral site, but is based in Israel. This is not quite, kinda the opposite because it states that it is not neutral…
Jason Bradbury: But yes there is a balance there.
Katherine Harvey: It is so incredibly professional. It is so slick. It is so well done. It kinda blew me away, really.
Jason Bradbury: It is almost like having your own news channel like CNN, or the BBC, or ITV news, it is there but then about that particular region.
Katherine Harvey: The next time something big happens in this area, this is the site I'm going to, to see what kind of angle they're taking on it.
Jason Bradbury: Rest assured, I have monitored this site every few days, because some of the articles are just so interesting and there are new news stories there every single day, almost…
Katherine Harvey: …and more than every day…
Jason Bradbury: …almost hourly. The other thing is, a lot of people I have talked to, because this issue is such prevalent at the moment in people's minds, a lot of people have said: "So what is the history of this area? What exactly is it, who had what when? What is the British involvement?" It is all there in the Reference Library. That's another thing which is really important.
Katherine Harvey: So how many points?
Jason Bradbury: An unashamedly, very well deserved 10 out of 10.
Related Links: