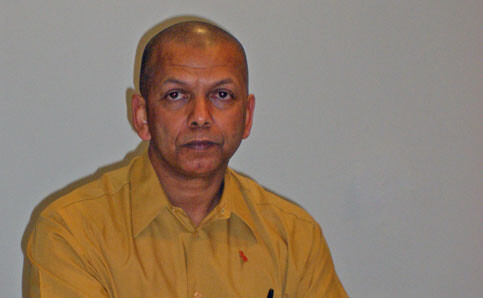 How is the current situation in Israel/Palestine similar to that of apartheid-era South Africa? How is it different? Is Zionism a form of racism? What can we learn from the South African experience to strengthen and empower the movement for justice and peace in Palestine and Israel? Leading South African Muslim Theologian and anti-apartheid activist Farid Esack addressed these questions in a timely engaging and moving lecture at Oak Park Public Library in Illinois on September 6, 2006, an event hosted and sponsored by the The Committee for a Just Peace in Israel and Palestine.
As an activist in the interreligious solidarity movement for justice and peace during the struggle against Apartheid, Esack played a leading role in the United Democratic Front, the Call of Islam, the Organisation of People Against Sexism, and the World Conference on Religion and Peace.
Esack is the author of numerous publications, including Qur'an, Liberation and Pluralism: An Islamic Perspective of Interreligious Solidarity Against Oppression; On Being a Muslim: Finding a Religious Path in the World Today; and An Introduction to the Qur'an. His current major field of interest and commitment is Islam and AIDS. He has also published widely on Islam, gender, liberation theology, interfaith relations, religion and identity, and Qur'anic hermeneutics. Esack was appointed a national commissioner on gender equality by President Nelson Mandela. He has taught at the University of the Western Cape, at Amsterdam, Hamburg, and Gadjah Mada Universities, and at Union Theological Seminary in New York. He was Distinguished Mason Fellow at the College of William and Mary, and he recently completed a three-year term as the Besl Professor in Ethics, Religion, and Society at Xavier University in Cincinnati, Ohio.
To listen to/download the interview click here [

MP3

format,

77MB

].
Related Links:
Committee for Justice and Peace in Israel and Palestine