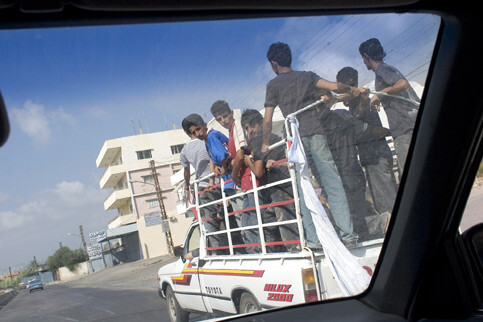 Israel's military assault on Lebanon continues to violate international humanitarian law as Israel pushes forward an agenda awash in unabated violent massacres and war crimes.
US
diplomacy has only complied with these war crimes through granting Israel impunity, thereby giving Israel the impression that it has permission to continue. Finally, it is plain to see that the international community has failed miserably in its duty to ensure the protection of innocent civilians during time of war.
Israel's latest assault on Lebanon was Sunday morning's massacre in Qana which killed more than 60 civilians, the majority of whom were children. With this massacre, Israel's war on Lebanon has entered a new phase. This war crime is also testament to the UN Security Council's failure to impose an immediate ceasefire to ensure the protection of civilians and to halt war actions. Furthermore, if following the massacre all that is made is a verbal condemnation, then Israel can only interpret that as being a green light to assault more civilians and civilian infrastructure.
The massacre in Qana has brought the death toll to over 750 in Lebanon, the majority of who are civilians. In addition, as Israel's crimes of collective punishment in Gaza continue, more than 160 Palestinians, also chiefly civilians, have been killed. The Arab Association for Human Rights (HRA) makes an urgent appeal to the international community to act towards an immediate cessation of violence and for Israel to comply with its obligations to international law.
Lebanon
Since the start of Israel's military assault of Lebanon on July 12, over a third of the casualties in Lebanon have been children. Furthermore, Israel's bombardment of Lebanon has given rise to over 700,000 refugees. Civilian infrastructure and institutions have been deliberate targets of Israel's aerial attacks - airports, ports, power stations, roads and bridges have all been hit. As casualties mount, there is an increasing humanitarian crisis in Lebanon, particularly in the south.
Gaza Strip
In addition to the 160 Palestinians killed since June 25, at least 700 civilians have been wounded by Israeli army gunfire. In addition, Palestinian ministries and educational institutions have been destroyed, as has the plant that supplies nearly 50 percent of Gaza's electricity. Bridges, roads, dozens of homes, and hundreds of dunams of agricultural land have also been destroyed. Furthermore, 27 elected Palestinian ministers, including eight cabinet ministers have been detained without charge.
The United Nations Security Council is the UN's most powerful body whose chief responsibility is the 'maintenance of international peace and security'. However, despite its numerous meetings following the crisis, it has been unable to enforce a ceasefire, much less condemn Israel's blatant violations of international humanitarian law, including the killing of four UN observers.
The European Union also has a special role to play in the crisis because of the Association Agreements it has signed with Israel and Lebanon. Article 2 of this Agreement contains a human rights clause that states, 'Relations between the parties shall be based on respect for human rights and democratic principles'. Furthermore, the EU-Israel Action Plan clearly stresses 'Common values of democracy, respect for human rights and the rule of law and basic freedoms'. Surely, Israel's targeting of civilians and civilian infrastructure, and its refusal to negotiate do not fall in line with these shared values.
The HRA believes that the failure of the UN Security Council to protect civilians in Lebanon and the Gaza Strip at a time when serious humanitarian crises face the two populations raises serious questions from civil society engaged in promoting international law and human rights principles, about the credibility of institutions and agreements that fail to stop war crimes against civilian populations. The failure of the EU to use existing agreements (Action Plan, Association Agreement) clearly resulted from a lack of political will by certain member states. This failure undermines the EU's credibility and its position in the region.
Through our work in the community, we receive clear signals that the EU and UN's failure to act and to apply agreements to protect civilians during war has been interpreted as having succumbed to the political interests of powerful states. This sends the negative message that these agreements will never be enforced to stop the daily human rights violations and discrimination that our community faces. This is viewed as a step backward, as people will look for alternatives outside the current system, which will only lead to more violence in the region.
The HRA strongly condemns Israel's war crimes and gross violations of international human rights law, international humanitarian law, and the Fourth Geneva Convention. We stress that Israel should not be allowed to stand above international standards and law.
We thereby urgently call on the EU and UN to firstly, take clear positions condemning the current breaches of international law; and second, to activate the existing mechanisms (Article 2 of the EU-Israel Association Agreement, Article 146 of the Fourth Geneva Convention) for an urgent and immediate international ruling to impose a ceasefire and to enable effective transfer of humanitarian aid to the needy. Third, given recent developments it is increasingly urgent that the UN establish an international commission for enquiry into the war crimes committed by Israel since its assault on Lebanon began on July 12.
In this moment, the want for international action is dire; at stake are not only the lives of innocent civilians but also the credibility of humanitarian morals and international values that have been held ransom by the belligerent forces of international politics and war machines.
Related Links