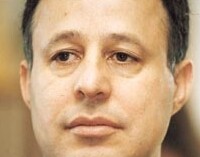 The Public Committee Against Torture in Israel (
PCATI
) condemns the ruthless and irresponsible remark made by Tzachi Hanegbi, Minister of Internal Security, regarding the hunger strike by security prisoners that "as far as I am concerned they can strike for a day, a month and onto death".
According to Hannah Friedman, Executive Director of PCATI, "it is unthinkable that an Israeli government minister would express himself in this fashion displaying a total disregard for the lives of the people in his custody. As a government minister in a democratic country it is his responsibility to ensure the basic rights of prisoners to dignity and to contact with family members. The security prisoners are human beings entitled to humane conditions of incarceration in accordance with Israeli law and the international conventions ratified by the State of Israel."
The prisoners' hunger strike follows a long line of complaints submitted by the prisoners, PCATI and other human rights organizations concerning appalling conditions of imprisonment in the Israel Prison Service facilities, and the Public Defenders report of July 8, 2004, which likewise paints a dismal picture of the situation in the detention centers and prisons. In spite of all of these, no action has been taken by the authorities thus forcing the prisoners to strike in order to ensure that their basic rights are respected.
Among the many demands made by the prisoners, PCATI wishes to emphasize the demand to discontinue the degrading strip searches the prisoners routinely undergo in Israel Prison Service facilities. These searches are in violation of the law and a severe infringement of the right to dignity as guaranteed by the Basic Law: Human Dignity and Freedom and are, seemingly, unnecessary and of no benefit to the security needs of the region.
Related Links
Palestinian prisoners demands are humanitarian not political,

CFPP

(16 August 2004)