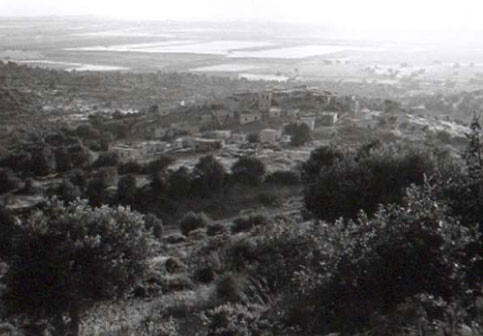 "We saw what could not be seen in other visits to the Galilee," said a Jewish Israeli after visiting six destroyed Palestinians villages in the Galilee area of Israel as part of an Israeli-Palestinian conference, March 26-28 in Haifa.
The Right of Return and Just Peace Conference, "The Haifa Initiative" brought together 300 Israeli Jews, Palestinians, internally displaced Palestinians in Israel,  Palestinian and Israeli academics, and supporters of human and civil rights groups in Israel, Palestine and abroad to coordinate their efforts in advancing the rights of Palestinian refugees in general and those inside Israel in particular.  A number of invited guests from the Occupied Territories were denied entry to Israel by the Israeli authorities so could not attend.
The significance of the conference will be realized with time said Israeli historian Ilan Pappe. "It has already refuted the claim that unconditional support for the Palestinian refugees' right of return is a taboo in Israel and a non-starter for peace negotiations…Those attending showed that growing numbers of Jews and Palestinians in Israel regard the implementation of the right of return as the only road to a lasting peace and reconciliation in the torn land of Palestine."
Emil Touma Institute for Israeli and Palestinian Studies, Haifa; ADRID, Association for the Defense of Displaced Persons' Rights in Israel; Zochrot, an Israeli association for raising Jewish Israeli awareness of the Palestinian Nakba and refugee rights; and Ittijah, Union of Arab Community Based Associations sponsored the meeting.
In a joint statement to the conference, initiating NGOs vowed to protect the memory of the 1948 Nakba (Palestinian catastrophe) from its denial in Israel and abroad; put the right of return at the center of peace making in Israel and Palestine; and find an appropriate political structure to enable the return of refugees. The initiators and supporting NGOs are convinced that return is the key for a better future, not only for Palestinians and Israelis, but for the region as a whole. Righting of the wrongs inflicted in the 1948 ethnic cleansing, and since, would allow all, for the first time, to enjoy normal and peaceful life on a democratic and civic basis.
For this purpose, the conference suggested various projects such as educational workshops on the Nakba, a Nakba Museum and an official Nakba day in Israel. It also called for a better coordination among the Right of Return organizations in the world, the advancement of practical programs for facilitating the return and urgent research of detailed schema for a united political structure that could contain the right of return. These and other proposals would form "The Haifa Initiative". Preparations have begun for a second Right of Return conference in March 2005.
Related Links