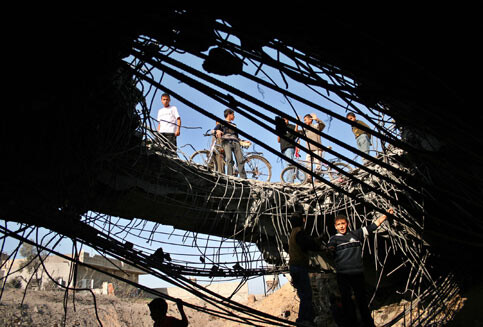 Israeli Occupation Forces (
IOF
) have continued air strikes on the Gaza Strip, especially on its north. They have attacked a number of civilian facilities and agricultural areas. This escalation has come in the context of a plan made by the Israeli Ministry of Defense to respond to launching locally made rockets at Israeli towns located to the east of the Gaza Strip.
PCHR
is concerned that such attacks may endanger the lives of Palestinian civilians and destroy their property.
According to investigations conducted by PCHR, at approximately 23:30 on Sunday, 18 December 2005, IOF started to launch a series of air strikes, which continued until Monday morning. IOF war planes launched at least 13 air strikes on a number of roads in the northern Gaza Strip towns of Beit Hanoun and Beit Lahia. They attacked the following targets:
A number of missiles hit al-Sikka Bridge in the south of Beit Hanoun, destroying it and making a large crater into the main road that links the south with the north of the Gaza Strip and leads to Erez crossing. Three missiles hit Salah al-Din Street, making craters and destroying it partially. A missile hit the road leading to a site of the Palestinian Naval Police in al-Sudaniya area in the west of Beit Lahia.
Three missiles hit the main road in Sheikh Zayed town in Beit Lahia, partially destroying it and damaging a number of houses;
A missile destroyed the road leading to Um al-Nasser village, nearly 100 meters away from Balsam Hospital, whose windows were also destroyed.
As a result of these air strikes, 6 Palestinian civilians, including a 3-month-old infant, were injured by shrapnel. Palestinian civilians were extremely terrified.
On Sunday morning, 18 December 2005, IOF war planes launched 6 mock air raids on the same areas. They also attacked agricultural areas to the east of the southern Gaza Strip town of Khan Yunis.
PCHR reiterates its condemnation for this latest escalation, which further proves that the Israeli Disengagement Plan was a form of IOF redeployment rather than an end of occupation as the Israeli occupation is still effective both physically and legally.
PCHR is concerned that more casualties may occur among Palestinian civilians in light of the green light given by the Israeli government to IOF to commit more extra-judicial executions and attack Palestinian areas in the Gaza Strip.
PCHR reminds the Palestinian resistance groups of their responsibilities with regard to protection of civilians in keeping with international law, and calls on them to abstain from launching any military activities from inside or near civilian areas or which target civilians or civilian areas. Attacks against civilians are in clear violation of international humanitarian law.
PCHR calls for campaigning for the complete implementation of international humanitarian law and that the perpetrators of attacks against civilians must be dealt with in accordance with international humanitarian law.
Related Links